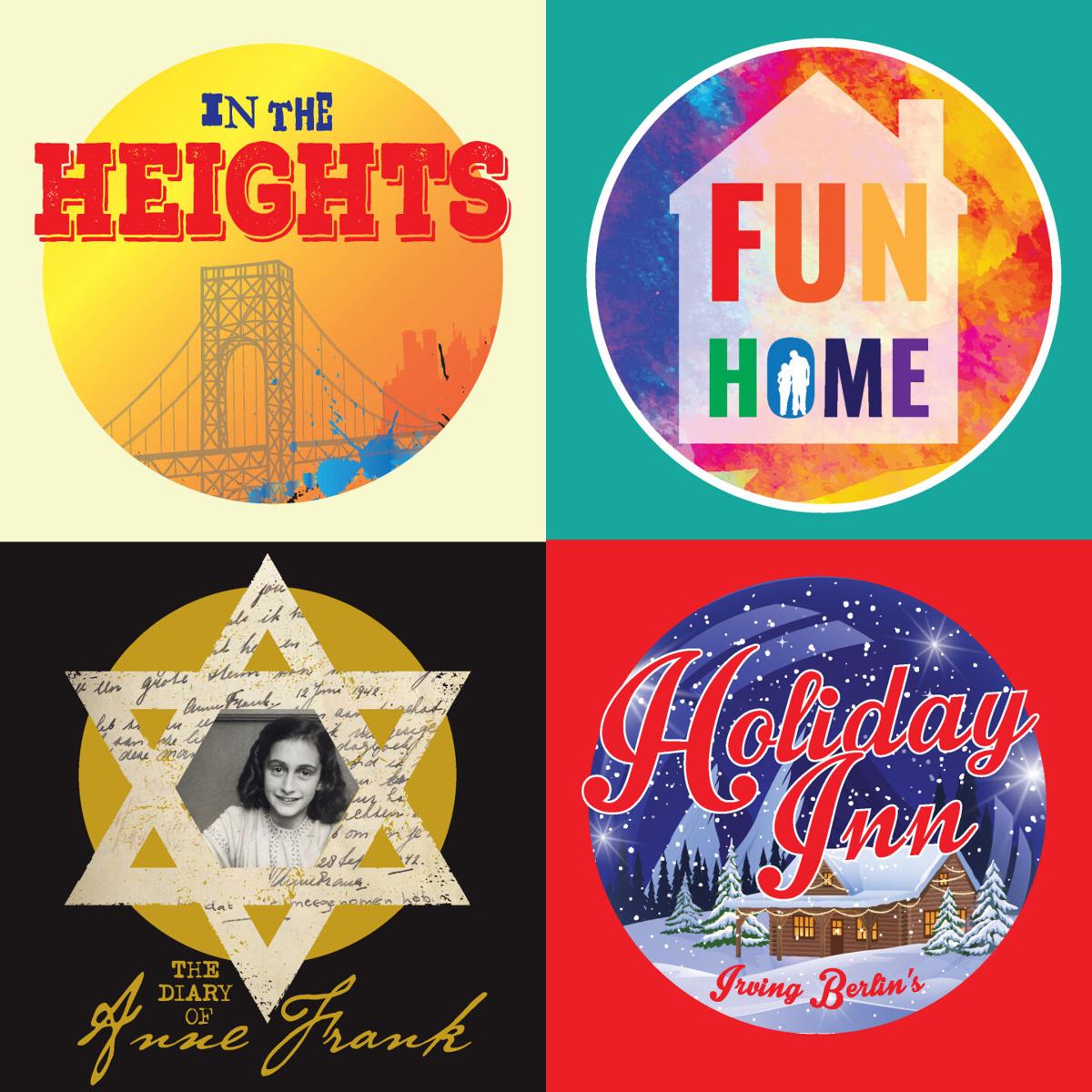 Mill Mountain Theatre in Roanoke intends to scale new heights with its 2022 season.
To be even more precise, MMT intends in April 2022 to mount the Roanoke premiere of Broadway superstar Lin-Manuel Miranda's Tony Award-winning musical "In the Heights." Presumably musical scales will be involved.
"It's very exciting," said MMT Producing Artistic Director Ginger Poole. "It was almost like a pipe dream request with the rights and royalty houses, and I was like, 'Hey, guys, let's go big and see what happens.' And, doggone it, we got it!"
Roanoke's Equity theater announced its new season Thursday evening with a preview show held on the Trinkle Mainstage inside Center in the Square. The lineup brings back some plays originally planned for 2020 that got nixed because of the COVID-19 pandemic: "The Cake," "The Diary of Anne Frank," "Peter and Wendy" and "Irving Berlin's Holiday Inn."
"In the Heights" will be Mill Mountain's lead-off musical in 2022. "It's current, it's diverse in the material and content, it's diverse in the casting," Poole said. "And it's, you know, Lin-Manuel Miranda's little Tony baby before 'Hamilton.'"
An April motion picture based on Miranda's Broadway hit was a critical darling, although the ongoing pandemic squelched its box office chances. Nonetheless, the recent film release also has Poole counting MMT's blessings.
"In the Heights" also dovetails with the mission MMT set out to accomplish with its next season. "We truly want something for everybody. We're educating, we're entertaining, we're enriching, we're challenging," Poole said. "The work that we're doing as far as diversity and inclusion, we want that to reflect on our stage as well. If it doesn't cover the diversity in the content, we can diversify it in the casting."
The 2022 season announcement comes with the bulk of MMT's pandemic-delayed 2021 season still ahead. Rehearsals are underway for Mill Mountain's production of "Legally Blonde: The Musical," which opens Sept. 22.
As a COVID-19-related safety precaution, the theater has reduced what would ordinarily be a cast of 22 down to 12 by having some of the actors in "Legally Blonde" play dual roles. Depending on the climate in Spring 2022, MMT may take similar measures with "In the Heights."
Here's the full schedule for the 2022 season.
Feb. 18-19, 2022: "Write Stuff!" MMT's annual festival showcasing work of middle and high school playwrights.
Feb. 24-March 6, 2022: "The Cake" by Bekah Brunstetter. A comedy about a devout Christian baker asked to make a wedding cake for a same-sex marriage.
April 6-24, 2022: "In the Heights," the Tony Award-winning musical about a Bodega owner and his friends in New York's Washington Heights.
May 6-15, 2022: "As You Like It" by William Shakespeare. Young audiences series.
May 27-28, 2022: "Boy Bands Through the Ages." A song revue that promises numbers from The Beatles to K-Pop sensation BTS.
June 15-July 15, 2022: "Curious George: The Golden Meatball." Young audiences series.
June 22-July 3, 2022: "Fun Home." A multiple Tony Award-winning musical that explores gender identity and family tragedy with insight and humor, based on an autobiographical graphic novel by Alison Bechdel, the creator of the "Bechdel Test."
July 28-Aug. 7, 2022: "Disney's High School Musical: One Act Version." Young audience series.
Aug. 19-20, 2022: "Ladies of the 80s!" A concert tapping into that '80s nostalgia, with songs by Madonna, Janet Jackson, Whitney Houston and more.
Sept. 21-Oct. 9, 2022: "The Diary of Anne Frank." The Pulitzer Prize-winning drama adopted from the diary of one of the best known Jewish victims of the Holocaust.
Nov. 4-13, 2022: "Peter & Wendy." A new adaptation of J.M. Barrie's tale of Peter Pan. Young audiences series.
Nov. 30-Dec. 23, 2022: "Irving Berlin's Holiday Inn," Based on the 1942 film starring Bing Crosby and Fred Astaire, featuring tap dance and some of songwriter Berlin's greatest hits, such as "Blue Skies," "Steppin' Out with My Baby" and "White Christmas."
Little Town PlayersThe Little Town Players community theater in Bedford has returned to live performances with the announcement of a 2021-22 season.
Friday-Sept. 19: "Postmortem" by Ken Ludwig, a whodunnit murder mystery that pays tribute to the greatest fictional detective of them all, Sherlock Holmes.
Nov. 5-14: "I Love You, You're Perfect, Now Change," the popular Off-Broadway musical comedy about dating by Joe DiPietro and Jimmy Roberts.
March 11-20, 2022: "Doubt" by John Patrick Shanley, the Pulitzer Prize and Tony Award-winning drama about a nun who suspects a priest of a crime.
June 3-12, 2022: "The Secret Garden," based on the beloved children's novel by Frances Hodgson Burnett.
Performances take place at The Elks – A Noble Senior Living Community in the Fred Harper Theatre, 931 Ashland Ave., in Bedford. Admission for "Postmortem" is $18; $12 for ages 12 and under. For more information call 586-5881 or visit littletownplayers.com.