Ernie Zulia is chair of Hollins University's Theatre Department and director of the Hollins Theatre Institute.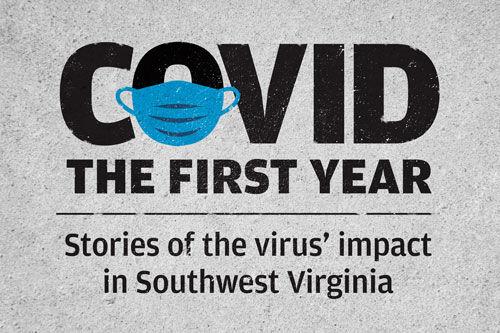 The harsh trials of this pandemic have been difficult for everyone, but for me there was an incredible silver lining. … I got to spend 316 days with a most remarkable man. He was not remarkable because he made groundbreaking scientific discoveries, or wrote Nobel Prize-winning literature. He was remarkable because he had a huge heart, and led a full and uncompromised life. His optimism was contagious, and his profound love was a gift. He was my dad and he died peacefully in his sleep on Feb. 10, not from COVID, but from natural causes of a life well lived.
Sam Zulia embraced hard work with gusto, and took great pleasure in the company of family and friends, especially when it involved food and good conversation. He had a way of making people feel special, and made friends easier than anyone I know. He was a great storyteller and loved barking out a song with whoever would sing along. He proudly wore a cap stamped with gold letters that read WWII Veteran, and he loved family more than anything. As the oldest living member of a noisy Greek clan of 138, he was anointed patriarch, a title he cherished. And he was probably the most positive person I ever met.
My adventure with Dad began last March when I got a call saying he'd been rushed to the hospital after experiencing a serious heart incident. I teach at Hollins University, and our campus had just closed due to COVID, and I found myself in the position to work from my computer at home. So I packed a bag and headed to Ohio. When he was released from the hospital, Dad needed around-the-clock attention. Rather than place him in a high-risk nursing home with a raging virus banging at the door, I was able to move in as Dad's full-time caregiver. Dad, Mom and I lived in isolation for three months in a three-room apartment, nestled in a retirement community that was on high alert. When this situation was no longer viable, I brought them to live in Roanoke, where Mom and Dad could wait out the pandemic and finish out their years. We rented a large apartment that could accommodate Dad's wheelchair and a couple of slick walkers. He would often roll up to Mom, rev up the handle bars of his walker and say, "Hey Babe, wanna race?" A sense of humor became invaluable in this collective time of distress.
Mom and Dad were precious cargo, and in the highest risk category. I couldn't help but feel their lives were in my hands. I became militant about their protection. We stocked up on masks and Clorox spray, ordered groceries online and wiped them down with ferocious intent. I kept people out of the apartment, with the exception of an angelic caregiver, who came in for three hours a day, compliments of the VA. My two amazing sisters from Raleigh, and a few loving relatives and close friends, provided precious support.
During this unplanned detour, we were forced to create a new way of living, and surviving. Dad was an extrovert and never could sit still. Claustrophobia was a horrible side effect of this new pandemic life, and the car became our great escape. We'd pull out of the driveway, and I'd say, "Right or left?" He loved pondering as if it were a major government decision before declaring our direction for the day. We rarely had a specific destination in mind, and enjoyed the rambling of a couple guys on an afternoon adventure. And like a proud new citizen of the valley, he loved spotting the Roanoke Star, declaring, "We're almost home!" Our daily drives often turned into 15-minute driveway visits with friends. We'd roll down the windows, and with masks, outdoor air and social distancing, I could share the unique charms of Sam with my friends who delighted in his warmth and good cheer.
During our drives, Dad would get me to join him in barking out old songs or Christmas carols, no matter the date on the calendar. Driving and singing comes with a special exhilaration. When Christmas Eve finally came, we were spotted around town performing drive-by caroling in Santa hats. We were "laughing all the way" as we drove off into the gathering night. Who were those masked men?
Meal time was the high point of our days. Dad shared stories that he'd accumulated over nine and a half decades of a rich and rewarding life. His stories were colorful, touching, often very funny, and maybe just a little exaggerated. Mom would chime in with recollections of her own, and I got to be the privileged audience of one. My father apparently proposed to my mother by tossing her a diamond ring and saying, "Hey, try this on, will ya?" When she looked at him with an incredulous stare, he dutifully dropped to one knee. She rolled her eyes, then sealed the deal with the kiss of a lifetime. Recalling this moment brought a kind of laughter that comes with a long life together.
Dad was a twin, and weighing in at around 3 pounds, he was not expected to live when he was born, but the determination in his DNA won out. Growing up as one of six children in a Greek family during the Depression provided him with plenty of funny and touching material. He lived to tell tales of his first job as an ace shoe shine boy, and crazy antics when he served as a radioman in the US Navy. He worked as a baker's assistant with an uncle in Greenwich Village after the war, and grasping the American dream, started his own successful business the year I was born.
We'd talk for hours at the kitchen table. But some of the sweetest time was when Dad and I sat chatting and chuckling on the edge of the bed before I helped him settle in for the night beside my mom, just as he'd been doing for 74 years.
On his last night, we sat together and recited the Lord's Prayer in Greek — something his immigrant father taught him as a child, and he, in turn taught me. I looked forward to this ritual every night because it made me feel closer to my father and connected to the Big Picture. Dad was quieter than usual, and had been weak and very tired all day. So instead of our typical bedtime musings and joking, we just sat quietly in the moment. I rubbed his back a little, then put my arm around his shoulders to offer a little comfort. It's impossible to describe how I felt when he gently took my other hand, and holding it to his heart, said, "I love you. I love you all so much." This wasn't the first time he told me he loved me, but on this night it resonated deeper than ever. I could tell by his deliberate and sincere tone, he meant it to last. We sat a while breathing in the peaceful air of the dim quiet night. Finally I asked if he was ready to lie down, and with a calm expression and maybe a slight smile, he nodded yes. I helped him get comfortable and tucked him in, the way he once tucked me in when I was a boy. Tables do turn.
I sat in the chair beside the bed for a long time thinking how fortunate I was to be here with my dad. It was not only a gift, but an unexpected beam of light in dark times. My heart was full. I went to my room and dozed off. Just as dawn was beginning to break, I went in to check on him, and found him in the same comfortable position, but his big beautiful heart had stopped during the night. This remarkable man got what we all had wished for him; the gift of slipping away gently in his sleep. Sometimes the good guys do win. And how perfect that his last words were, "I love you. I love all of you so much."
Dad's death came only 10 days after my brother Mike died of complications from multiple myeloma. Because of COVID, we'd barely seen him in the past year. We felt robbed of our last chance to be together. It was a tremendous blow for all of us, but especially Dad, and I'm certain it contributed to his rapid decline during his last days. His heart was broken. He kept saying, "Parents are supposed to go before their children."
The two men were inseparable from the time Mike was a child. They ran the family business together, and in the old-world Greek tradition, Mike and his wife raised their family in a home across the street from our parents. For a real adventure, Dad and Mike decided to go to ground school together, get their private pilot licenses and buy a Cessna Skyhawk for hobby flying. On clear nights, after work and on weekends, they'd take off for a flight. Something about the open sky captured their souls. It lifts my heart to imagine them flying off, into the sunset, side by side for one last great adventure.
Even though I was off on my own adventures, I got to share so much with them over the years. I feel tremendous grief over their departure, but more than that, I feel tremendous gratitude that my father and brother not only walked with me, but embraced me throughout my life. Love at its best. I'm a lucky man. This past year of the pandemic changed my life in surprising ways. I feel blessed to have survived it with good health and two vaccine shots. But especially with such deep appreciation for the lives of these two men. And some day, hopefully a good while from now, when the sky is clear, I plan to catch up with them on the other side of that sunset. Fly on guys, fly on.