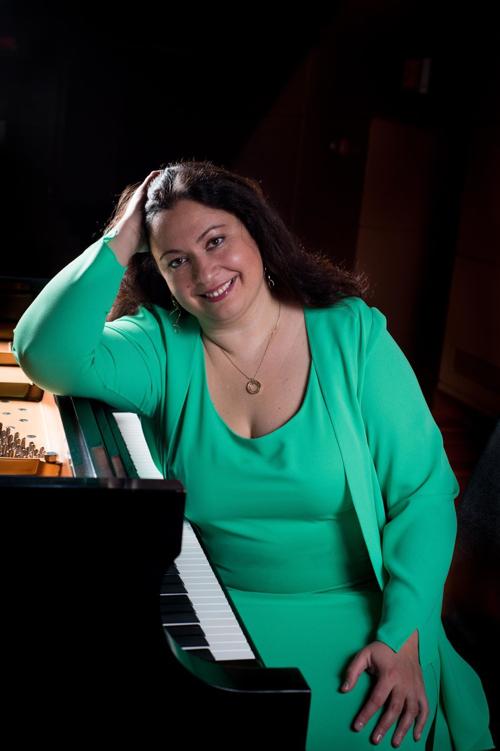 Russian-born pianist Yuliya Gorenman has loved jazz since she was a little girl.
As a child living in the Soviet Union, she had to keep this love for jazz a secret. "It was basically forbidden," she wrote. "Growing up I listened to the bootleg recordings of Ella Fitzgerald, Louis Armstrong, Art Tatum and other jazz legends."
She dreamed of one day getting to play American composer George Gershwin's "Rhapsody in Blue." She copied some of Gershwin's songs by hand in secret.
When Gorenman, 51, joins Roanoke Symphony Orchestra for its "Celebrating America" masterworks concert Saturday, she will perform "Rhapsody in Blue" live for the first time.
She's performed the world over, just not that particular piece. She noted an intriguing bit of serendipity in her life that heralded Saturday's performance. She flew United Airlines to Croatia in March to play the entirety of Bach's "The Well-Tempered Clavier" over two days. United uses "Rhapsody in Blue" as its theme. As the Gershwin music played on the plane, she received an e-mail from RSO inviting her to return to Roanoke to play "Rhapsody."
"I laughed out loud right there on the plane," she said. "I got to enjoy the 'Rhapsody in Blue' that I was to play a few months later."
As a trained classical musician in the USSR, she racked up a lot of experience playing Beethoven, purportedly Vladimir Lenin's favorite composer. "That meant that, every imaginable Soviet holiday, they would make me play Beethoven over and over and over and over again."
Her family emigrated to the United States 30 years ago, but she's continued playing Beethoven. Under the rules of six degrees of separation, she has a direct historical link to the German master. At the Peabody Institute of Johns Hopkins University, she studied under pianist Leon Fleisher. "Through him I have this amazing connection to the great German school and to Beethoven specifically when only five generations of students and teachers separate me from the great composer himself."
As a young pianist, "I had a grandiose plan. I even remember I wrote it down. I said I wanted to play all Beethoven's sonatas, and all Beethoven's piano concerti and then I wanted to do 'Well-Tempered Clavier' by Bach. And I did it. It's a pretty awesome feeling when your lifelong dreams come true."
Gorenman first performed with RSO in 2005. (The late music critic Seth Williamson praised Gorenman's "joie de vivre" in a Roanoke Times concert review.) She is delighted to be returning to Roanoke, especially because this time she gets to bring her entire family with her: "My dad, Lazar Gorenman, my husband Ted Slusarczyk and our kids Michael and Claire." Ordinarily, "it's just me and my suitcase."
She mentioned that she and RSO music director David Stewart Wiley recently crossed paths at a music festival in Alaska. "It was so fun. We visited some bear sanctuaries. We went on a boat together. It was a blast. Apparently we share the same passion. I love deep-sea fishing. So any chance I get, I go."
Saturday's program also includes Gershwin's "An American in Paris," American composer Robert W. Smith's "Great Locomotive Chase," and a recent work by Grammy Award-winning composer Michael Daugherty called "Night Owl," inspired by the works of the late photographer O. Winston Link. Images from the O. Winston Link Museum's collection will be projected above the stage while the orchestra plays this piece.
Tuesday, Roanoke College and Hollins University announced the winners of the 2019 Perry F. Kendig Arts and Culture Awards, which celebrate excellence in Roanoke Valley arts. The recipients were:
Susan Jennings, recently retired as the arts and culture coordinator for the city of Roanoke.
Jimmy Ray Ward, a Radford University theater professor who has designed sets for many Southwest Virginia productions.
The Studio School, a 28-year-old center for arts education in Roanoke.
The award is named for the late Perry F. Kendig, a Roanoke College president known for his patronage of the arts.