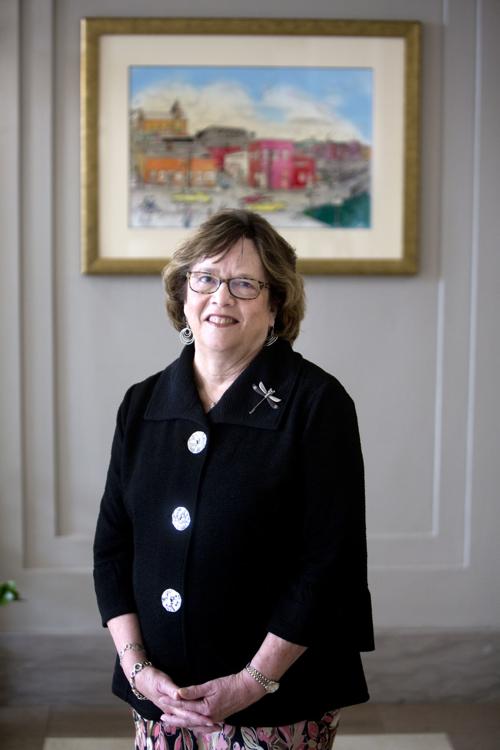 Susan Jennings has every intention of promoting arts and culture in Roanoke for many years yet.
She just won't be doing it as a Roanoke employee. At the end of this month, she will retire from her position as the city government's first arts and culture coordinator, a job she has held for 13 years.
"Susan has been a tireless advocate for all of the arts," said Roanoke Symphony Orchestra music director and conductor David Stewart Wiley. "It has been a real privilege to collaborate with her on projects that benefit our diverse community."
"Infrastructure" is a word most people associate with roads, plumbing and electricity, but Jennings said much of her time on the job involved building infrastructure, by which she means creating the procedures city officials use to select new public artwork and receive arts grant applications.
When she was hired in 2006, the city had for 10 years been setting aside funds as prescribed by the Percent for Art Ordinance adopted in 1996, requiring that 1% of Roanoke's capital improvements budget be set aside for acquiring and commissioning public art. Yet no projects had been launched, in part because the city arts commission had no staff.
"I was actually hired to establish the public art program," Jennings said. "We didn't have guidelines and methods for how all of this was going to be done. I had to spend about two years putting things in place."
Jennings was no stranger to the Roanoke art scene. A Hollins College graduate who studied art history and political science, she had spent 14 years advocating for the arts as executive director of the Arts Council of the Blue Ridge. She had also served on boards of state and regional arts organizations, including the Roanoke Arts Commission. She was an early consultant on Art Venture, the children's activity center at what was once the Art Museum of Western Virginia, now the Taubman Museum of Art.
As her duties with Roanoke expanded to include administering arts grants, her title was changed to arts and culture coordinator.
The first major work acquired under the Roanoke public art plan was "In My Hands" by Baltimore sculptor Rodney Carroll, a 30-foot-tall abstract work that from some angles resembles a musical instrument, placed in 2008 at what's now the Berglund Center.
In March, the city capped off a year-long commemoration of the decade-old public art program by dedicating Arizona artist Stephen Fairfield's "Global Harmony," a steel and fiberglass light-up sculpture of a hand holding a globe that rises by the fountain at Wells Avenue and Williamson Road Northeast.
In between, there have been rotating exhibits of temporary outdoor sculptures — the latest of which lines the Elmwood Park Art Walk. There have been murals painted under bridges, on snowplow blades and on storm drains, paintings reproduced giant-size on the sides of buses, sculptural bus stations, little free library kiosks and solar-powered trash disposals covered in art and many more projects large and small.
Though the large outdoor pieces tend to garner the most attention, Jennings had a lot of smaller works to attend to, as well.
"There was a lot of art around that the city had collected," she said, "but it wasn't cataloged." Nor was the collection stored in an organized way. "It was like a treasure hunt. The arts commission, as volunteers, had kept track of a lot of it, but then we went looking for some of it. We found things in closets and not in heat-controlled conditions."
The commission worked not just on getting the art cataloged, but also reframed, rematted and rehung. The city's art collection includes more than 160 pieces, with more than 110 by regional artists. Most are on public display, with a searchable database on the city's website providing image, title, artist, location of each piece and date of acquisition.
Jennings' personal favorite projects include "Reading Garden" by Colorado artist Madeline Wiener, which sits by the Gainsboro Library. "Of all the projects we've done, that had so much community input," she said. "The artist came and did two workshops. People could send in their ideas to be engraved on the sculptures. The day we had the unveiling," in November 2009, "students from Roanoke Catholic came down and helped the artist pull the tarps off."
Of course, there's Roanoke artist Ann Glover's "Trojan Dog," which perks its ears up outside the Raleigh Court Library on Grandin Road. There was also the three years of the Parks and Arts program, a series of events held in neighborhood parks organized in collaboration with Roanoke Symphony Orchestra. Parks and Arts was one of three endeavors under Jennings' watch that successfully landed grant funding from the National Endowment for the Arts. The latest one, "Arches," is still in development. It will be located under the Memorial Avenue Bridge in Southwest Roanoke.
Jennings sees the establishment of the Roanoke Cultural Endowment in 2015 as the most important development in the Roanoke Valley arts scene, even though it will take years for the public-private partnership to reach the point that it will start paying out grants to assist arts organizations with operating costs.
Former city councilman David Trinkle, who helped create the endowment and serves on its board, wrote in an email that he was impressed with Jennings' ability "to bring diverse people together to support arts and cultural programming including politicians, artists, non profit organizations, neighborhoods and citizens."
In the future, Jennings said, "I'd like to see all the arts groups flourishing." She would also love to see arts offerings in the region marketed to the world with the same emphasis and enthusiasm as its outdoor recreation. "We are the arts and cultural hub of Southwest Virginia, and a lot of people, including our own citizens, don't realize the diversity of offerings."
With a dedicated arts commission working away and a city council that's universally supportive of the arts, she feels that she's leaving the job on a high note. "I want to see the next person come in and be really creative with it," she said. "Now it's time to let more of those creative juices flow."
Though she intends to stay a part of other arts efforts, such as her position on the advisory committee for Carilion Clinic's Dr. Robert L.A. Keeley Healing Arts Program, at 67, with her husband also retired, she's looking forward to more time with her grandchildren. "We've got grandbaby number seven coming in October," she said.
Stay up-to-date on what's happening
Receive the latest in local entertainment news in your inbox weekly!