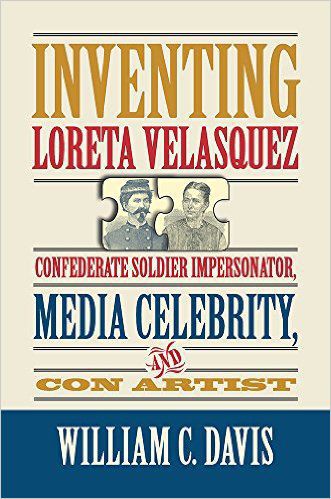 On more than one level, this is an astonishing book. First, it represents a colossal amount of research, by an eminent Civil War scholar and what appears to be a small army of diligent assistants. William C. Davis — recently retired as executive director of the Virginia Center for Civil War Studies, and historian-emeritus at Virginia Tech — has almost literally unearthed the story of a woman whose life reads like a Grimm's fairy tale. The subtitle of his opus may serve as a spoiler for the casual reader who wonders who this charming fraud might have been. For a stupendous fraud she was; even her name was a masque for her nefarious activities.
Second, the book peels back, like the skins of an onion, layer after layer of the elaborate series of disguises, aliases and outright false identities by which the subject neatly mulcted sizable fortunes from hundreds of gullible investors in her schemes. It would be impertinent in this brief review to attempt to list them all, but among the foremost is Davis' usual spelling of her first name as "Lauretta." Doesn't matter, she was not Lauretta, nor Rebel soldier Lt. Harry T. Buford, nor Annie Williams, the name by which she was known in the New Orleans brothel where she once worked.
But above all, she was known to her scores of victims as a woman of astounding versatility in assuming different characters, a keen eye and grasping fist for the dollar, and nerves of steel, for when confronted with bald truth about her machinations, she would stare the sucker down, denying everything, even that she had acquired five husbands and (maybe) three children, without bothering about a divorce.
Lauretta's origins were murky and obscure, deliberately so, as part of her deceptions, but she seems to have come from Louisiana, born in either 1842 or '44 and, judging by her vast flood of correspondence, had perhaps a better education than most young women of that time. She never had the slightest compunction of going straight to the top executives, civil, military or commercial and, using a combination of feminine wiles and brass-bound nerve, persuaded them to invest in some very shaky enterprises, all of which were designed to fatten her purse.
One truly remarkable thing about her operation was the number of dismal failures she concocted. But it never fazed her, and the next day she would be back with an even grander, riskier plan. Davis puts his finger on Lauretta's pulse in noting that "the word psychology may not have been in her vocabulary, yet she grasped its meaning instinctively and used that understanding cannily."
Physically, she was about 5 feet 5 inches or 5 feet 6 in height, with a definite female figure that even a Confederate uniform failed to conceal. Dark-eyed and dark-haired, her many victims almost unanimously described her as "handsome rather than pretty," and beneath that ladylike exterior beat the heart of a tiger. And unblushing liar.
All this being said, it remains a wonder of the age that Lauretta was able to get away with it time and again, for even the ones she swindled — by far the greater proportion were supposedly shrewd businessmen — seemed reluctant to clap her in irons. And her travels! The miles she put on her personal odometer were incredible, spanning the continent, Europe and South America, and though frequently in dire financial straits, she was always able to wheedle train fare from soft-hearted patsies.