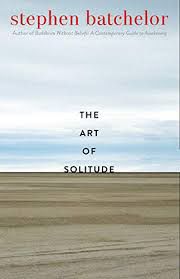 By Stephen Batchelor. Yale University Press 200 pages | $18
"There is something banal and everyday about solitude. Even in company we spend much of our time alone, absorbed in our innermost thoughts and feelings, quietly talking to ourselves. Whether we live in Manhattan or the middle of nowhere, this is our condition."
As lockdowns end and many of us return to social situations we avoided for months, it might seem an odd time to read a book on solitude. However, the author of "The Art of Solitude," Stephen Batchelor, would say that confusing the isolation we have experienced recently with "solitude" is precisely the problem, why so many of us feel more exhausted, not refreshed, after being alone for so long. Batchelor, a Buddhist teacher and writer for more than 40 years from the United Kingdom, describes his observations, experiences and ideas in ways that can speak to everyone, religious or secular, rural or urban. Indeed, his emphasis on the idea that solitude is one of the rare universal conditions of being human is especially interesting to explore at this time of social fragmentation and upheaval.
Reading Batchelor is refreshing, his writing style clear and crisp, like wading through a small, cold stream. The 32 sections that make up the structure of the book resemble vignettes more than full chapters.
Batchelor says he wrote each of these to be able to stand on its own, yet still fit with each other harmoniously — in this, he succeeds. These sections are broadly divided into four themes: philosophy, contemplation, medicine and art & solitude.
He moves effortlessly from discussing his early meditation experiences in India in the 1970s; the 16th-century writer Michel de Montaigne; the paintings of Vermeer and Agnes Martin; and his use of hashish, LSD and ayahuasca in order to induce experiences of complete solitude. In weaving all these potential paths into a fuller and healthier relationship with yourself, he leaves the door open for everyone to find their own way.
What is solitude? It is certainly not simply being alone — most of us are alone too much, usually with a screen. But this aloneness is empty, simply reflecting our surface thoughts back to us.
For Batchelor, true solitude is a way of being in everyday life, alternatively taking care of one's soul, developing autonomy of the self, and observing the world, rather than reacting. Your behaviors lead to your either inhabiting, exploring and relishing different forms of solitude — of being with yourself — or trying to avoid it, to push it away. While activities like mindfulness, conscious breathing and meditation are helpful, they are certainly not the only ways to be fully with oneself.
Though the thought of using sports metaphors usually makes me shudder, the idea of being "in the zone" makes most sense here. Think back to the times when you are so involved, so entangled in a task, a project, a moment of time that the rest of the world melts away. For a few brief moments, you lose even a sense of yourself: the constant murmur of self-centered thoughts, murmurings, judgments and doubts. You simply are, in harmony with the world around you.
Running, fishing, walking, painting, writing, lying on the grass and staring at the sky — you are inside the moment to an extent that you forget you yourself are there, your ego melting away. Such a return to yourself, Batchelor writes, reorients you to be back in the world with others.
If, at this point, my language is getting too light, too airy to be of any practical use, consider the horrors we are now facing in our world, a world that for a long time has shunned solitude in favor of mindlessness, of being socially, politically and economically isolated, atomized, with no real sense of who one is or how to be with others.
If this common fear of real solitude is at least in part at fault for the current state of the world, then by all means, I join Batchelor in calling everyone to do those things that make them feel fundamentally connected to themselves and the world, whether it is meditation, taking a walk or taking shrooms under the guidance of a shaman.
Toward the end of the book, Batchelor briefly describes the Buddha's world in north India during his lifetime in the 5th century BCE. Batchelor wonders if part of the allure of this new philosophy and way of being in the world during a time of extreme social and political upheaval is because solitude helps humans be creative, to deal with the unexpected contingencies that the universe presents us with.
Perhaps this is a similar time now calling for a similar way of living.
Stay up-to-date on what's happening
Receive the latest in local entertainment news in your inbox weekly!