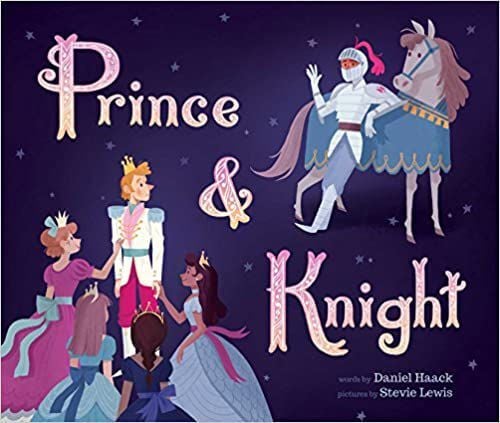 By Daniel Haack; Stevie Lewis, Illustrator
There's no better time to introduce children to diversity, acceptance and equality for all.
"Prince and Knight" is a typical fairy tale throughout much of the book. It starts with the usual blond prince who is in search of someone to marry. His parents introduce him to various young ladies, none of whom appeal to him. Of course, you need a dragon to slay along the way, but that's as far as the story goes in the usual sense.
Instead, the end will surprise you when he meets his true love. His parents' and the villagers' reactions to his choice are notable. Hopefully, adults who read this picture book to children will react in much the same way: with compassion and understanding as to the author's intent.
This is Daniel Haack's debut children's book. Many authors' first books are unfairly ignored. "Prince and Knight" is a sweet story with a gentle message. Make sure to look at the front-end paper which is pasted to the inside front cover, and when you reach the end of the book look at the back one, which is glued inside the back cover. The illustrator did something quite clever.
"Stuck on the Bench with Stench"
By Ginger Dakin; Vladimir Milosavljevic, Illustrator
"Stuck on the Bench with Stench" is a delightfully engaging romp of a read with a perfectly crafted message for children. The poems and pictures are captivating, and highlight a meaningful way to connect to a child's imagination regarding protecting our planet.
The message is important yet remains entertaining and whimsical, without being scary. Children are often inundated with information much too sophisticated for them to unravel today, and are often concerned about what they hear. This book offers a wonderful way to simplify things that sometimes feel complicated.
This story is exciting and enlightening from a child-eye view, and is fascinating and fun. The verses are catchy and the illustrations bold and exciting. Phrases like "electric cars can be the superstars" are easy to remember, lending an almost musical tone to the rhythm and rhyme of the verses. Colorful illustrations by Vladimir Milosavljevic are brilliantly textured and visually stimulating.
The messaging is clear and compelling and very relatable. Dakin does an excellent job using adventure as a teaching tool to plant the seeds of environmental awareness in early child development. It is the perfect partner for her earlier book, "Tippy Toes Hot," which is the first in her collection about climate change.
"Stuck on the Bench with Stench" continues that saga, offering children a voice in creating the world they will inherit woven into a story they will love. In these moments where parents are increasingly seeking new ways to enhance home learning, this is a perfect choice.
Stay up-to-date on what's happening
Receive the latest in local entertainment news in your inbox weekly!