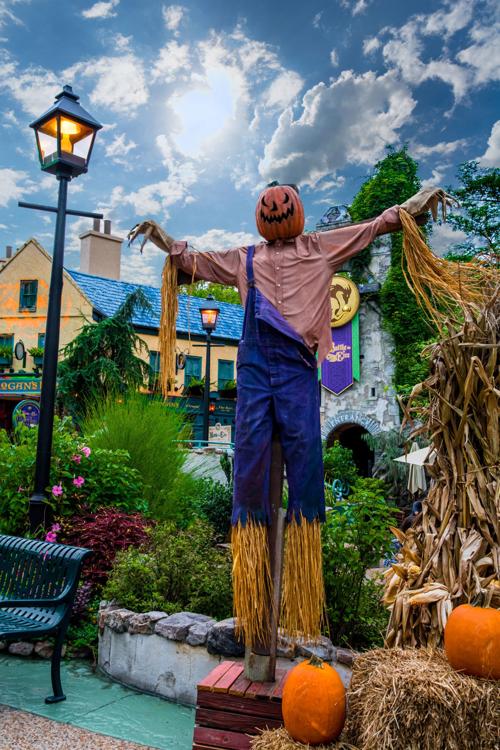 Making Halloween plans might be a bit iffy this year, but a couple of area theme parks have tried to find a balance so people can have some spooky, seasonal thrills.
The theme parks are making it happen by requiring that people wear masks and practice social distancing. They're also requiring reservations to keep the number of visitors to the parks manageable.
This year, Six Flags is offering Hallowfest, presented by Snickers, with "Thrills by Day" and "Chills by Night." The park, located in Upper Marlboro, Md., will be open through Nov. 1.
Six Flags spokeswoman Denise Stokes said the park asks that people wear masks, wash their hands, sanitize often, keep their distance, cover their coughs, and above all, have fun.
The park consulted experts and is following recommendations set by the Centers for Disease Control and Prevention.
"One of the first things we did was reach out to experts, and epidemiologists were part of the team. We worked with state and local health officials as well, and we're following all CDC guidelines," Stokes said.
Another precaution the park has taken is allowing people to pay with their mobile devices.
"We've also instituted mobile food ordering. Once you get to the park, you can order everything from your mobile phone," Stokes said. "Our food vendor gets the order, we send you a text when your order is ready, and you pay via your mobile phone."
The park will also accept credit and debit cards. People with only cash can convert their cash to cards at the park.
"Thrills by Day" is aimed at the younger visitors with rides decked out in thematic décor, trick or treating and a corn maze, which is quite popular, Stokes said.
The treats offered at the park are also a big hit, she said.
"The kids want something that is kind of Halloweenish, so we hand out candy to kids and other stuff, as well. It's individually wrapped and in a bag," she said.
Shows will include "Boo Man Crew," with drummers pounding out rhythms on unusual objects.
"Boo Man Crew is a high-energy percussion group. They use common objects like a bicycle to make music. You would never have thought that someone could do that with a bicycle. They will drum on absolutely anything," Stokes said.
"Zombie Rock," with singing and fast-moving choreography, will get the whole family moving to Halloween-themed songs, including "Ghostbusters" and "Thriller," to appeal to all ages.
"Chills by Night" is set for the older visitors, and Reaper Railways, conducted by the Grim Reaper, is the main attraction at Six Flags during Hallowfest.
"Capital Railways is our train that goes around the park. For Hallowfest, we name it Reaper Railways and you have to make a separate reservation. For that, I would suggest people register as soon as they can."
Prehistoric creatures will roam the land at "Medieval Mayhem" and the ghouls in "Zombieville" will terrorize while the ghosts haunt what remains of Cedar Creek in "Ghost Town."
All of the activities at Six Flags will be outdoors for Hallowfest, Stokes said.
Busch Gardens Williamsburg has also taken precautions during its Halloween Harvest to stand guard against COVID-19, said Busch Gardens spokeswoman Cindy Sarko.
"We have worked diligently with state and local health officials, outside consultants and attraction industry leaders to enhance our already strict health, safety and cleanliness standards," Sarko wrote in an email. "We are excited to continue to provide our guests with fun, inspiring and memorable experiences, while addressing important health and safety needs during this time."
Tickets are selling briskly for the Busch Gardens event, running through Nov. 1, and the park has added a few extra days to accommodate visitors.
"Halloween Harvest is proving to be popular and we've recently added three more reservation sessions for guests to attend the fall event. There are still a few Saturday reservations available for Busch Gardens Halloween Harvest," she wrote.
Visit the park's website to search available dates and times, get ticket prices and make the required reservations.
Fun for the children during Halloween Harvest includes the Sesame Street Forest of Fun, and the rides Little Balloons and Little Gliders.
The park will offer contactless trick or treating, as well as a parkwide scavenger hunt.
"Kids can explore the park searching for special pumpkins hiding in the park. A small prize is given if all the pumpkins are found," Sarko wrote.
The park's 15 rollercoasters, including Verbolten and Apollo's Chariot, are in operation during Halloween Harvest and six of the park's European villages are decorated for the season.
Roaming ghouls and goblins will lurk in the park during the night for some scary fun.
Sarko wrote that autumn at Busch Gardens promises to be a good time.
"Fall is a perfect time to visit Busch Gardens and we're thrilled to offer another limited-capacity special event that will showcase new villages and attractions we have not offered yet this year along with the greatest of Halloween experiences for all ages," Sarko wrote.
Stay up-to-date on what's happening
Receive the latest in local entertainment news in your inbox weekly!