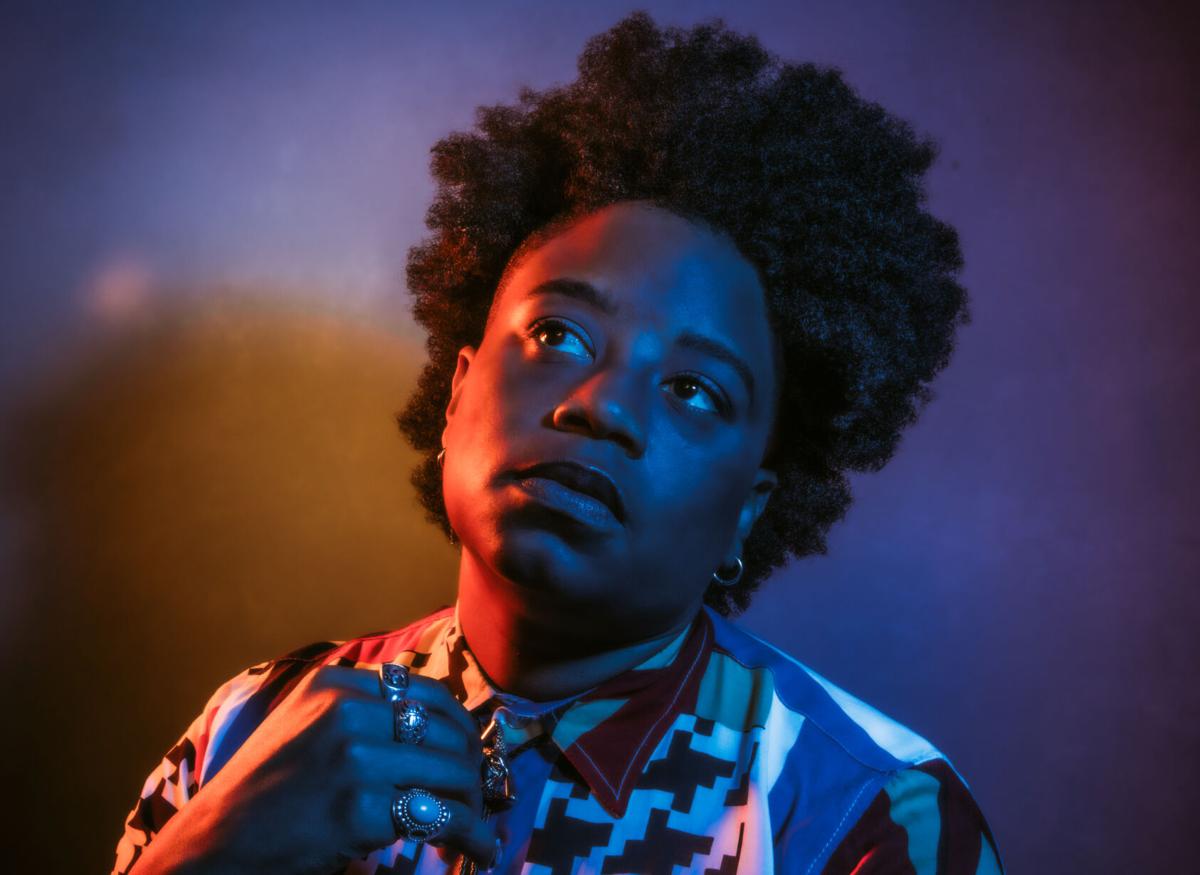 Roots music fans will know a lot of names on the bill at Bristol Rhythm & Roots Reunion. Jason Isbell and the 400 Unit, Tanya Tucker, Blackberry Smoke, The SteelDrivers and Rhonda Vincent are among the headliners.
Another name — Amythyst Kiah — may soon be as well known as theirs. But she'll be no stranger to regular patrons at the Bristol event. Kiah has been playing there every year for about the past decade.
A festival news release this week showed that she's on the bill again for Rhythm & Roots, which returns to the Virginia-Tennessee state line town Sept. 10-12, after a COVID year off. This time out, though, she is the Grammy Award-nominated Amythyst Kiah, with an album coming this summer on the iconic folk music label Rounder Records. That album will be out by the time she hits the stage in Bristol, and lots of folks will have heard the disc's first single, "Black Myself."
That number was part of the "My Native Daughters" project she did with Rhiannon Giddens, Leyla McCalla and Allison Russell. The album version is far different from the Grammy-nominated version that quartet recorded. It signals growth and an adventurous spirit, yet still connected to the old-time music tradition that Kiah employed in her earliest forays at Bristol, as a member of the East Tennessee State University Old-Time Pride Band.
Kiah is a great example of a festival truism: Pay attention to the acts further down on the bill, because they might be the ones to blow you away. That happened to me, hearing Kiah with the Old-Time Pride Band at Rhythm & Roots in 2010. She was part of a band of very talented performers, and was a good clawhammer banjo player. But when she got the spotlight and began to sing, she was an inspiration.
For Kiah, Bristol Rhythm & Roots and the ETSU music scene were equally formative. It was in college that the Chattanooga, Tennessee, native not only became serious about music, but took to it, with the guidance of such musicians as the school's Bluegrass, Old-Time and Country Music Studies founder, Jack Tottle.
"I dove into a world that I did not envision being my college career, let alone my real life career," Kiah said in a recent phone call. "So it really started from there and really snowballed into something amazing."
She got her first taste of Bristol's signature festival with the Old-Time Pride Band, which played a pre-show reception for the Carolina Chocolate Drops concert at the Paramount Theater on the Tennessee side of the city. She didn't meet her future bandmate, Giddens, on that day. But Giddens' Chocolate Drops bandmate, Hubby Jenkins, came to see the ETSU players and sat in on bones.
"I was like, oh my God, this is so cool," Kiah remembered. She added: "It was a huge deal, especially for me, because the Chocolate Drops were one of the reasons I decided to dig in to old-time."
Equally cool was meeting the festival's director, Leah Ross.
"I straight up said I would love to play at the festival," Kiah remembered. "And she said, 'Well, we'll make that happen.'"
It has happened again and again, with Kiah going from stages built from two-by-fours to hold one person to the Tennessee side's premiere venue, the Paramount Theater, which filled to capacity. In 2019, she played the main stage outdoors, right in front of the famous "A Good Place To Live" sign that arches over State Street.
"To me, my barometer for how things are going for me was really set on Rhythm & Roots," she said. "Every year, the stage was getting bigger and bigger and bigger."
Along the way, she became close with festival spokeswoman Charlene Baker, who helped her along as she was searching for management and a record label. Kiah wound up with Ramseur Management, whose small roster started with and still includes The Avett Brothers. From there, it was on to signing with Rounder, a legacy label with a roster of folk stars.
"She helped get me to the right people who could really get me to the next level," Kiah said. "It's cool that … we are still able to have a good friendship. So I'm really grateful for that."
She still lives in Johnson City, Tennessee, where ETSU is based, and maintains contact with teachers and peers there.
Dan Boner, director of Bluegrass, Old-Time and Country Music Studies at ETSU, said that Kiah developed quickly.
"She's very intelligent and really studious about her music and how she wants to perform it and how she researches it," said Boner, a southern New Jersey guy who came south to study at ETSU and never left. "She was kind of born with this Martin, herringbone, D-28 voice, and then in addition to that, she put the effort in. She wrote songs. Through time, look at what she's starting to achieve now."
The video for "Black Myself" played recently on the big screen at New York City's Times Square, he noted. Rolling Stone online has regularly featured her, including in a recent piece that embedded the new video.
She's one of multiple people from the school's program who have appeared on Bristol Rhythm & Roots stages. Megan McCormick, Adam Steffey, Becky Buller, Hunter Berry and Corbin Hayslett are among them.
Their participation is part of a scene that draws younger people to music they may not necessarily have appreciated before witnessing it on and around State Street, Baker said.
"When you come to the festival and when you see it performed live, it's a much different experience than hearing it on the radio," she said. "And when you see young people picking up those instruments and performing that music, it adds a little something else. It adds a cool factor that you can't replicate on an album.
"When see see teenagers or young kids dancing and enjoying that music … and you see that light in their eyes as they appreciate it, that's what it's all about. … It's definitely one of the ways that we want to carry on the tradition of our region's music heritage."
Go to this story at roanoke.com/entertainment/music to see a video, provided by the festival's organizer, Birthplace of Country Music Museum, in which Kiah, Marty Stuart, Jim Lauderdale and others discuss the event.