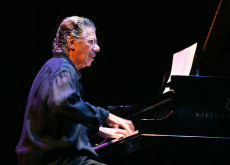 In an era that has been overwhelming us with death, it can be easy to grow numb. Given that possibility, seeking lessons from the departed might be a way to pull back from the idea that it's ultimately meaningless.
I mean, we know we're here for something, right? But when they're going by the hundreds of thousands, from COVID and multiple other ways, meaning gets muddied — over here in this corner it does, anyway.
The past couple of months brought news that hit home fairly hard. Chick Corea, a pianist, composer and bandleader of seemingly endless talent, died on Feb. 9, losing to cancer at 79. Ralph Peterson, a powerhouse jazz drummer who made a mission of keeping hard-bop standard bearer Art Blakey's memory alive, died on March 1 at 58, also of cancer.
Roanoke, or more specifically Jefferson Center, was cool enough to have hosted both of these performers in recent years. Corea spoke with us before his September 2010 show at Shaftman Performance Hall with bassist Christian McBride and drummer Brian Blade. Corea seemed always to be collaborating with new people while rejoining previous partnerships to revisit old music and create new.
It was likely the result of it that his stuff was always vital and exciting, even when it was too much to comprehend at times.
"These years, I've been connecting up and collaborating with dear friends and musicians who I really love to play with, and it's been very fruitful, you know," he told us of before the show. "It's not so much like a reunion as it is a friendship. But musically, it's like picking up a lively conversation and just continuing it. It's been great. I've been really digging it."
There was no secret, he had said before the show.
"I try and stay healthy and do the right thing with my life," he said. "When I see audiences, listeners, enjoy themselves and get pleasure and have a bit of aesthetics in their lives like that, it spurs me on. It makes me want to keep a healthy life so I can do it a lot."
Regardless of self-care, time had its way.
Peterson, who brought a version of his mentor Blakey's Jazz Messengers to Jeff Center's Fostek Hall in February 2020, had been living with cancer for six years, according to his website, ralphpetersonmusic.com. One wouldn't have known he was ill when we spoke with him.
We had been unable to connect before that show, but spoke to Peterson backstage the night of his two Jazz Club at Jefferson Center sets. Peterson  was just 20 when he played his first gig with drumming hero Blakey, rounding out a two-man rhythm battery. He remained keen to keep hard bop alive and thriving. Teaching at Berklee College of Music, he had a great platform from which to do that. Like Blakey, he used his bandstand to develop young players.
"With my GenNext Big Band … and the recordings that we have, I'm trying to continue that custom of passing knowledge down," Peterson said. "I really feel like as an educator, it's my job to guard. I feel like a guardian, you know. You're so lucky to be around musicians like Walter Davis and Art Blakey, and Reggie Workman, who is still with us; we'll be honoring him at Jazz at Lincoln Center, in May."
By May, of course, COVID had shut down New York, and as the fog slowly lifts, Peterson won't be around, either to celebrate the greats of pass down his own vast knowledge.
Thinking about those guys in retrospect, it was their love of music, their need to keep jazz alive, that strikes me hardest. It was way more than an academic exercise. It was high level communication. It would be wrong to go numb when people — including many that Corea and Peterson influenced — are still navigating ways to make life beautiful.
Check the video at the top of the page for our interview with Peterson. Among the topics is keyboardist Alan Watson, a great jazz keyboardist who entertained a lot of people in Southwest Virginia before his death in 2015. Peterson and Watson were classmates at Rutgers University, and remained close friends.
"His spirit is with us tonight, for sure," Peterson said before taking the stage.
Speaking of players on a mission, the North Carolina-based rockers Southern Culture on the Skids continues doing it well.
The trio, which features Roanoke natives Mary Huff on bass and Dave Hartman on drums, released the album "At Home With Southern Culture On The Skids" on March 12. 
It's doing well on radio charts, too, Hartman said in a message exchange. As of Tuesday, it was sitting at No. 1 for the second consecutive week among the most added albums to Americana radio playlists, according to The Americana Music Association's website, americanamusic.org. It was No. 13 on the site's overall chart, sharing space with Valerie June, Chris Stapleton, Sturgill Simpson, Aaron Lee Tasjan, Lucero and Steep Canyon Rangers.
The record debuted at No. 12 on the The North American College & Community Radio Chart's folk albums list.
"Even the folkies like it!" Hartman wrote.
Here's hoping we see SCOTS again in the valley soon. Till then, check out the record for yourself, at scots.com. It's cool as all get out, as usual.