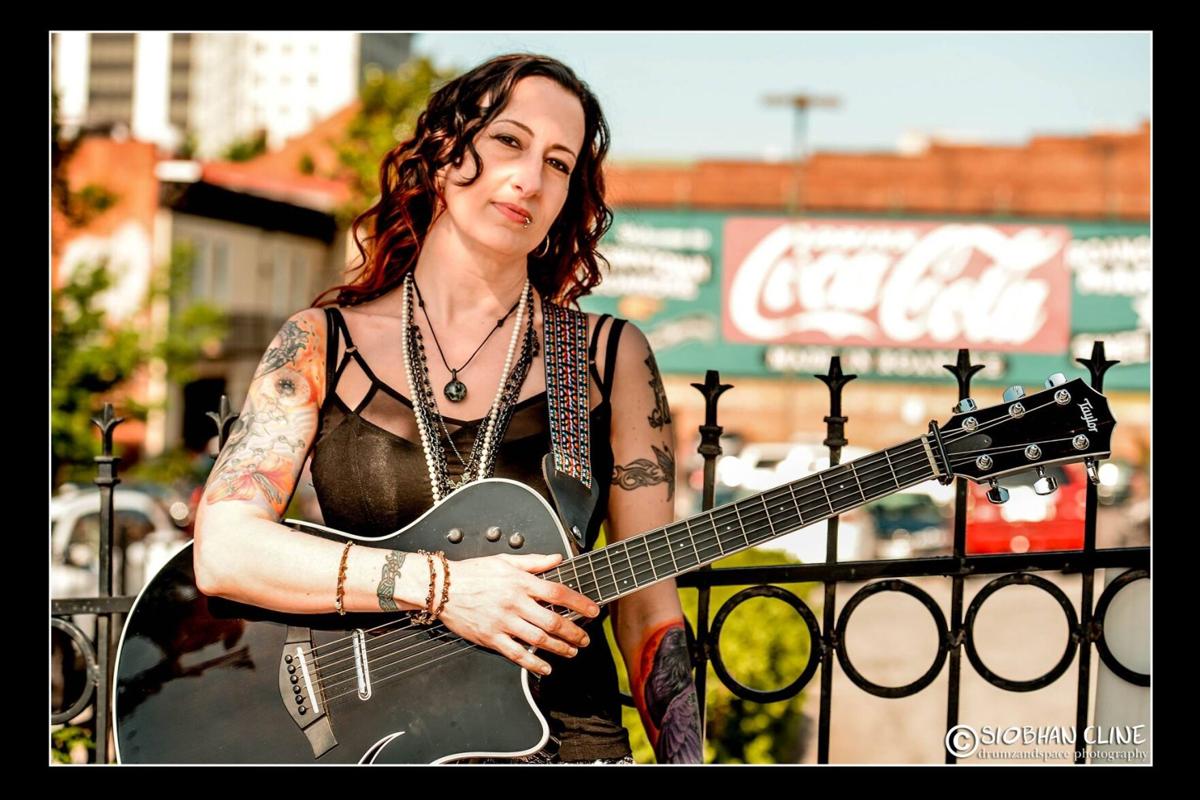 2020 has been a seemingly endless bad news grind, with death and economic devastation all around. We couldn't even soothe ourselves much with live music.
The tail end of this absolute mess of a solar revolution brings some hope for the future, even as people crowd airports to do their holiday travel in what will be the year's final super-spreader event.
Two items that provide big hopes make up my top 5 music news items for the year.
Save Our Stages Act passes
A bipartisan measure to keep music venues alive is part of the recent COVID-19 relief package that Congress finally passed, and which awaited President Trump's signature.
The National Independent Venue Association, which formed as the pandemic shut down most large gatherings, advocated for the Save Our Stages Act. Last week it issued a statement that celebrated its passage.
The legislation, when and if passed into law, will provide grants equal to 45% of 2019's gross revenue, with a cap of $10 million per entity, according to the NIVA.
"This grant funding will ensure recipients can stay afloat until reopening by helping with expenses like payroll and benefits, rent and mortgage, utilities, insurance, PPE, and other ordinary and necessary business expenses," according to NIVA's statement.
Roanoke native Micah Davidson, the Charlotte, North Carolina-based owner of booking and talent buying agency Midwood Entertainment, said that this will save his company. He thanked NIVA's Rev Moose, Dayna Frank and Adam Hartke for their work.
"What's been accomplished, in my opinion, is a defining moment in the history of the music industry," Davidson wrote in a message exchange. "Never before have I seen the industry come together as such a collective to accomplish something so important. It's truly the saving grace for the music industry."
In a text exchange, Jefferson Center executive director Cyrus Pace wrote: "The SOS act has the potential to save thousands of venues and tens of thousands of people who depend on those venues for employment, not to mention the people who are so deeply missing the live music experience."
While the live performance world waits for the government wheels to turn, ever so slowly, NIVA continues with its Emergency Relief Fund. Read more about it and donate, if you're able, via nivassoc.org/erf.
Fret Mill to get new ownership
Roanoke-area musicians felt a spike to their collective soul when the Fret Mill Music Co.'s owner, Ken Rattenbury, announced that he was retiring. He had seriously considered liquidating at year's end, as he is 71 and wants to live a life that doesn't center on the Salem Avenue Southwest business he opened in winter 1979.
But he found a buyer, Moneta-based musician Marie Anderson, who will take over in early 2021.
"We had a number of people come through the past four, five years that were interested in purchasing it," Rattenbury said in a phone call last week. "We just never got past the talking stage. Marie was the first one that actually got past the point of doing due diligence, looking at the tax returns and financials.
"I didn't really want to close it, but this year, I was like, I'm ready to punch out. She came along at a good time."
Anderson is buying the business and will lease the Salem Avenue building from Rattenbury for at least two years, then consider buying or moving elsewhere in the valley. Longtime Fret Mill employee Aaron Oberg will be the general manager, and Anderson will be there every day. The hard-working performer will reduce her gig schedule as she gets her arms around everything about owning and running a music store.
The Bassett native, who has worked most weekends and many weeknights as a solo act, said she is a longtime customer who has built a trusting, professional relationship with Oberg. She and Rattenbery said the store will close at the end of the month, then reopen Jan. 6, 2021. Rattenbury will remain behind the scenes to help her with such store duties as payroll.
"I'm gonna be all about catering to the clientele and what they need," Anderson, 45, said. "I really want input of what they want in the store. I'm talking to staff about what they want. I want everybody's input. I want it to be successful. I want it to continue to be around for another 41, or 100, or however many years."
Rise of live-streaming musical concerts
Whether catching local acts streaming from social media pages or national acts performing on such apps as Bandsintown, audiences got much of their music on devices, instead of in concert halls.
That formula may well flip as people are vaccinated against COVID-19 and venture out into larger groups, but some see streaming as an annex to future in-person performances.
For example, after a certain ticket sales threshold has passed, a streaming feed could open up to remote audiences, for an additional fee.
Davidson, whose Midwood Entertainment organized a series of streaming shows from Hickory, North Carolina, noted that this concept was underway even before the pandemic.
"So I'd think that will continue for sure," he wrote. "Not sure to what extent and how many venues will do it, and do it well … but I can't see that going away."
Southwest Virginia, with FloydFest, Rooster Walk and Bristol Rhythm & Roots Reunion — and central Virginia, with LOCKN' — have made summers awesome for thousands of music and pop culture fans. Except for this year.
With apologies to Thayer, hope springs eternal, and FloydFest in particular has been rolling out the hope with announcements of an ever-expanding lineup for FloydFest 21~Odyssey, scheduled for July 21-25, 2021. The Avett Brothers, Sturgill Simpson, Old Crow Medicine show and a performance of Talking Heads' classic "Remain In Light" (featuring Heads' keyboardist Jerry Harrison and guitarist Adrian Belew, joining the band Turkuaz) are at the top of the list.
Bristol R&R, set for Sept. 10-12, 2021, will feature Jason Isbell and the 400 Unit, Tanya Tucker and Blackberry Smoke atop a big and varied bill (Davidson books the talent for that festival, btw).
LOCKN,' planned for Oct. 1-3, 2021, has John Mayer, Leon Bridges, Brandi Carlile and Gov't Mule booked, among many others.
We will admit holding onto worry about Rooster Walk, traditionally held on Memorial Day weekend, and sure enough, still scheduled for May 27-30, 2021. Will enough vaccines have been delivered? Will we know how effective they are in the general population? Will too many people who refuse the vaccination be running around, super-spreading amongst each other before heading home?
Rooster Walk has really come into its own as a smaller event with quality comparable to the other three on this list, so we'll hold hope in one hand, along with worry in the other. We'll see what shakes out.
Goodbye to local music figures
This wretched annum has delivered the deaths of too many world-known performers to recap. All the national publications will have that for you, if you're ready to deal with that, in total.
We've lost some good ones around here, as well. The latter part of 2020 saw the passing of interior design genius/formidable folk song songwriter/singer Mickey Nelson, stalwart jazzer Bob Hale and freaky good electric guitarist Andy Bullington.
And here's to an immeasurably better 2021. Be *careful* out there!
Web extras: Fret Mill Music Co.
We asked Rattenbury what he would miss most about his business.
"You come in every day, you just don't know who's going to come through the door," he said. "And sometimes the most fun people are the people who are farthest out. Especially downtown, we've had a number of people who are … interesting is probably a huge understatement. Not everybody who works here is fond of those people, but I always have been. We just have so many stories.
"When I first opened up, this area was not a real comfortable or safe place to be at times. I had friends who would hang out. The police were a bigger presence down here at the time, so a lot of the police would come in here and hang out. So I always felt safe, even though there were a lot of derelicts and a lot of things I'd never seen before. It's something completely different.
"It's always great when somebody famous comes in, but it's always great when somebody you like comes in."
Rattenbury said he trusts that Anderson will do well, and he will do all he can to help her succeed.
"I've been in places where I don't feel like I belong, and I don't go back," he said, comparing an owner's presence in a store to a restaurateur's activity at front of house. "It's a face that you want to see. For instance, "Ron, at Kelley's [Music}, he's a good guy and people always speak highly of him."
He heard good word of mouth about Anderson's gigging professionalism, and he was impressed by her personality as he got to know her.
"It's not the same, because [we're] two different people," he said. "But she's very very outgoing and friendly, and she's got her eyes open.
"I'm very optimistic, and I told her I'm going to do whatever I need to do to help her be successful, because it's to both of our benefits."
Web extras: Remembering musicians who have passed
Mickey Nelson made his living as a brilliant interior designer and antiques dealer, but he was an evocative songwriter and a good performer. He died on June 23, at 75. The following quotes are from a story I had planned but never got the chance to write, which I regret. I'm betting Nelson didn't leave here with a lot of regrets, judging from what folks said about him.
Nelson played many gigs in a duo with Valerie McQueen, who wrote: "I first met Mickey in his living room while playing some music with his son, Taylor, and friends. We had an immediate connection and began our almost 10-year journey of writing, singing, & making music together.
"He was a hybrid of a mentor, father figure, & friend to me. I am one of many other musicians that Mickey took under his wing, gifting me a guitar, mic stands, & other equipment that did not have so that I could begin playing out.
"One of the first trips we went on together was to the Swannanoa Gathering, a summer music camp in North Carolina that he had been attending for many years. His energy seemed to out last any of the young musicians around him. He was always up for a late night writing session, a jam, or just to sit around and talk.
"I spent many mornings at his kitchen table hammering out a new lyric or getting a guitar lesson by Mickey. We just clicked. Outside of my own parents & husband, Mickey believed in me & my music more than anyone else. There is an irreplaceable part of my heart that he filled.
"Mickey gave me opportunities to record, open for different artists traveling through Roanoke, and meet the amazing community he had gathered around him over the years. But the things that sticks out the most is the love Mickey & his wife, Nancy, showed to me and my family. He treated me like family and I will miss him every single day of my life. My comfort is the handful of songs we wrote and recorded together. His music will forever live on in my life and the lives of those he touched."
Roanoke developer Ed Walker met Nelson when Walker was in eighth grade and part of what he said was a "very mediocre" band. But Nelson was friendly and supportive, even lending the band some gear. The remained friends and were part of the group that founded the old Downtown Music Lab (now the Music Lab at Jefferson Center).
Walker said: "The thing to remember about Mickey as a musician … he really had all the touchstone abilities. He was a great singer, he was a great player, he was a great performer, lyricist, melody writer. I think he was very rare that way.
"Mickey contributed so much to this region, to Roanoke, over the course of his life, as much as anybody I know. I really think he was a giant. Sweet guy, delightful company, a wonderful gentleman, a wonderful conversationalist. But very much this man's man in a lot of ways. He could talk music. He could talk art, he could talk boxing, connoisseurship. Ran a great business. Traveled extensively. He was very cosmopolitan, but at the same time he was very grounded and devoted to the places he called home, Roanoke and later life in Montana.
"This one really hurt. It was shocking, unexpected, and it was the real loss of one of the giants of the last 50 years Roanoke. He touched people in so many interesting ways and in such durable ways. He stayed super-connected to people."
Local rocker Will Henson used to work at the parking lot next to Nelson's store on Campbell Avenue Southwest. They became good buddies. Henson wrote: "I worked next door to him for nine years, and it was always one of the highlights of my day when he'd pull in … he always made it a point to run over and talk to me … he would often bring over strange and exotic instruments he knew I would take interest in, most notably an electric Dobro plugged into a Heineken beer can converted into an amp, or a guitar that was centuries old … he'd let me keep it for a few days much to my astonishment …
"One of the funniest days was when he ran over to show me Zac Brown's credit card, left behind accidentally during a shopping spree while on tour through Roanoke … we got a kick over guessing how many millions of dollars were on that card … and he was excited as a little kid when he told about getting backstage at the Berglund Center to return it …
"he often encouraged me to keep writing and made me feel really good about it, which is unusual in this town … oftentimes we'd just pick up a guitar and sing each other Snippets of songs we were in the process of writing at the time … he was always pushing me to keep going and for that I am forever grateful to him … this community has lost a really good talented songwriter and musician … and I will no doubt be feeling sad and empty whenever I pass by that space on the corner of Campbell and Jefferson … Rest easy Mickey Nelson thank you so much for making us feel like we were doing and writing important things …"
Nashville-based singer/songwriter Tom Kimmel played at Nelson's shop, Antique Blue, and the two were friendly. Kimmel, in an email exchange, wrote: "My main personal connection with him centered around him as host for my trio the Waymores at his gallery for a concert and songwriting workshop back in 2011. We had some personal time together around those events, and I remember him as being thoughtful and gracious —and very passionate about his own music and his role in the local community. He very much wanted to share that with us, and it was a joy to witness it. People like Mickey are the lifeblood of grassroots music and art in community, and in my opinion we need people and artists like him now more than ever.
Talented and inventive guitarist Andy Bullington died on Dec. 6 of ALS, in Nantucket, Massachusetts. He was 70. He had been working on new music with his old Roanoke pal, fiddler Gene Elders (George Strait). Elders texted: "That's a truly dreadful disease and he navigated it with grace and courage (and more than a little gallows humor). Andy will be missed but his music remains."