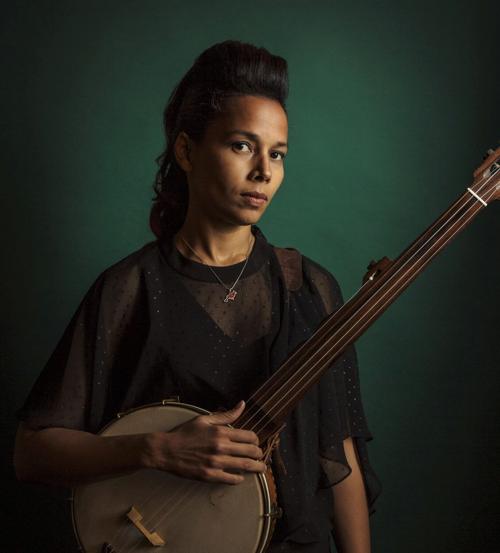 An online series from Blue Ridge Music Center features Carolina Chocolate Drops co-founder and Grammy Award-winner Rhiannon Giddens in conversation about women in the music industry.
"A Place in the Band: Women in Bluegrass & American Roots Music" dropped on Tuesday at the Galax-based music center's YouTube channel, with links posted at blueridgemusiccenter.org. Interviews with Giddens, upright bass juggernaut Missy Raines and North Carolina Folk Festival director Amy Grossman launched a 10-part series, according to a news release from the the Blue Ridge Parkway-based venue.
The series, which Blue Ridge Music Center associate program director Marianne Kovatch created, sprang from a 2020 project that honored the 100th anniversary of women's suffrage in the United States. The right to vote was just one step on the path toward equality, Kovatch wrote in an email conversation.
"Applying this idea to the music business, we quickly saw that it would be a good moment to explore the past, present, and future of women in bluegrass and American roots music," Kovatch wrote. "We spoke with women in various stages of their careers, from musicians who have been on stage for many years to others who have started out more recently, as well as women involved in other aspects of the music business. Through their stories, we are highlighting their struggles and successes over time towards a greater gender parity, both on stage and behind the scenes."
Two more rounds of interviews are scheduled. On Jan. 19, the BRMC will feature Giddens' Our Native Daughters bandmate, Amethyst Kiah, along with frequent Floyd Country store performer Alice Gerrard, folk singer/fiddler Laurie Lewis and artist manager Traci Thomas. On Jan. 26, ace banjo picker Kristin Scott Benson, sound engineer Haley Miller Coots and musician Ruth Ungar Merenda (who with her husband produces upstate New York folk festival The Hoot) will appear.
Laurelyn Dossett did the interviews, and Joseph "JoeBass" Dejarnette of Studio 808a edited and packaged the videos.
An accompanying conference is set for Feb. 26, in which participants will look ahead and discuss breaking "glass ceilings" in the bluegrass and American roots music industry, Kovatch wrote.
"The discussion series highlighted many ideas, such as education and mentorship for young artists, the importance of taking risks, and the need to have women involved in all aspects of the music business," she said by email. "The conference will include panel discussions with musicians and women in the industry exploring ideas like these to come up with ways to create more and better opportunities for women in music."
Fauci and the fallAs vaccines roll out in the new year, The New York Times reported information that gives hope to live music fans: The country's top infectious disease expert said that theaters and other indoor performance venues could open again in the fall.
A lot still depends on getting between 75% and 80% of the U.S. population vaccinated, to achieve herd immunity, Dr. Anthony Fauci told a performing arts conference. He said that audiences might still have to wear masks for a while, though.
"If everything goes right, this will occur sometime in the fall of 2021, so that by the time we get to the early to mid-fall, you can have people feeling safe performing onstage as well as people in the audience," Fauci told a virtual audience at an Association of Performing Arts Professionals-hosted event.