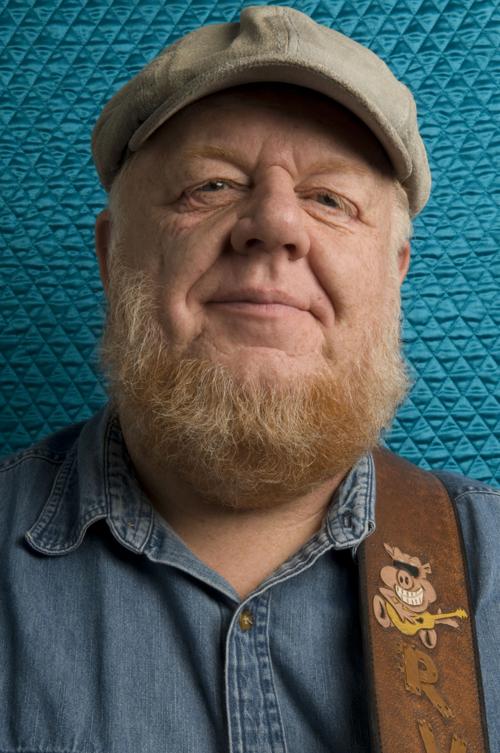 Telecaster guitar master Redd Volkaert was one of Austin, Texas's busiest musicians for a couple of decades.
Volkaert's desire to slow down his schedule was part of what brought the 62-year-old guitarist and his wife from Austin to Galax. But Volkaert, whose resume includes stints with Merle Haggard, George Jones, Dolly Parton and The Statler Brothers, wasn't expecting the bottom to drop out of the Southwest Virginia music scene.
Of course, no one expected that, before COVID-19 interrupted everyone's itinerary. Floyd Country Store, for example, had its usual busy summer schedule of Friday Night Jamborees, Saturday Americana Afternoons and Sunday Old-Time Jams — plus a twice-monthly Thursday night show with Volkaert — on the calendar.
On Saturday, the honky-tonk and western swing instrumentalist will finally be playing at the venue. But instead of plugging up in front of a live audience, he and his sidemen will be live-streaming for an internet crowd. It's part of the Virtual Floyd Radio Show, and its mission is to keep the Floyd Country Store viable in the midst of a pandemic that has shut down the closely packed crowds of listeners and dancers that made the venue what it is.
It will be, incidentally, the kickoff for season 10 of the Floyd Radio Show. Elizabeth LaPrelle, who was the show's original co-host, will be part of the lineup. Her musical partner and show co-host, Anna Roberts-Gevalt, has said that she became ill from COVID-19 four months ago, and is still struggling to recover.
Volkaert's trio, which bassist (and Floyd store co-owner) Dylan Locke and drummer Nick Falk round out, is part of a lineup that features Sammy Shelor and Jesse Smathers of Lonesome River Band, Gene Parker and Alan Mills of The Lost & Found, Alice Gerrard, Bill and the Belles, and Dori Freeman with Falk.
Shelor will host the show.
"It's a blast," Volkaert said of playing with his new trio. "Dylan and Nick are both fantastic players, so to me, it's easy. We're just jamming and probably could record it. Really good and easy going … and we had a blast doing it, unless they're lying to me."
The three got together after Volkaert settled on a farm he bought near Galax. They jammed in the attic recording studio at Locke's County Sales record store, across the street from the country store that he and his wife, Heather Krantz, own. They had a few sessions and schemed some gig ideas before the novel coronavirus hit.
Volkaert, a native Canadian who moved to California, then Nashville, Tennessee, before moving to Austin two decades ago, had two house gigs at Austin's Continental Club, plus plenty of work every other day of the week, when he wasn't on the road. That intense schedule, Austin's four months of three-digit heat and the steady stream of new — and, often, music-averse — residents had the guitarist itching for a change.
He and his wife looked in New Mexico, but they changed course after Volkaert and his picking buddy, D.C.-based Bill "Hot Rod Lincoln" Kirchen, got a gig at the Wayne Henderson Festival in June 2019, at Grayson Highlands State Park. It rekindled memories of the countryside that he had gotten to know in the early 1990s when touring with Nashville-based Clinton Gregory, a Martinsville-born singer and fiddler.
"I was like, wow, I forgot how beautiful it was out here," Volkaert said. "So I sent a little video and a bunch of pictures … to my wife, and said maybe we've got to cancel our New Mexico thoughts and poke around out here."
After scouting Southwest Virginia and parts of North Carolina and northeast Tennessee, they settled on Galax, where they have a place on a hilltop "that would be a mountain in Texas," he said. They moved in December and have added some horses, miniature donkeys, dogs and a barn cat to the farm. Chickens are next, he said.
Volkaert admitted that he has enjoyed the time away from the live music grind.
"I've just been loving the break and not being in a club till 2 or 3 in the morning," he said. "That's all I've ever done."
A student from Austin talked him through setting up video conferencing technology, and Volkaert has taken on students around the world.
But when Locke invited him to be part of the Virtual Floyd Radio Show, he was happy to rekindle that recent musical partnership. He'll surely cross paths on Saturday with Shelor, an old friend with whom he sat in on some pre-COVID Lonesome River Band shows.
"As it sits now, it's not looking good for that Floyd store," he said. "So I said, yeah, I'll try and help that out if I can at all."
The virtual concert, from the store and other remote locations, is part of a fundraising campaign that a group called Friends of the Floyd Country Store kicked off on July 17. The crowdfunder at gf.me/u/ynmy9q had by Wednesday raised more than $25,000 of its $60,000 goal.
Lydeana Martin, who spearheaded the fundraiser, said it's important to get the store through the winter, a notoriously slow, non-touristy time in Floyd.
Locke, a talented bassist who was a member of acts including Yams From Outer Space and Baaba Seth, looks forward to joining forces with Volkaert. By the way, Locke said that everyone inside the Floyd Country Store on Saturday will be masked-up.
"What an amazing musician, and how lucky is Southwest Virginia to have him living here," Locke said of Volkaert. "It's kind of a secret to everyone at this point. The rumor is out among the musicians who know who he is. … And just a super-nice guy. We've been having a good time getting to know each other, and I feel like I'm hanging on for dear life [musically]. I'm loving it."
Locke said he is grateful for the network of performers who didn't hesitate to say yes when he asked for their help. He is grateful for the wider community's support in this time of financial stress for the decades-old business, too. Krantz and Locke bought the store in late 2014.
"One of the things for Heather and I is that the Floyd Country Store is bigger than us," he said. "The Floyd Country Store, regardless of era … is a bucket list place to play for a lot of old-time and bluegrass musicians.
"The entire community that surrounds the Floyd Country Store is just amazing … from people who come here every day of their lives, people who have just been here once and people who want to come."
Stay up-to-date on what's happening
Receive the latest in local entertainment news in your inbox weekly!