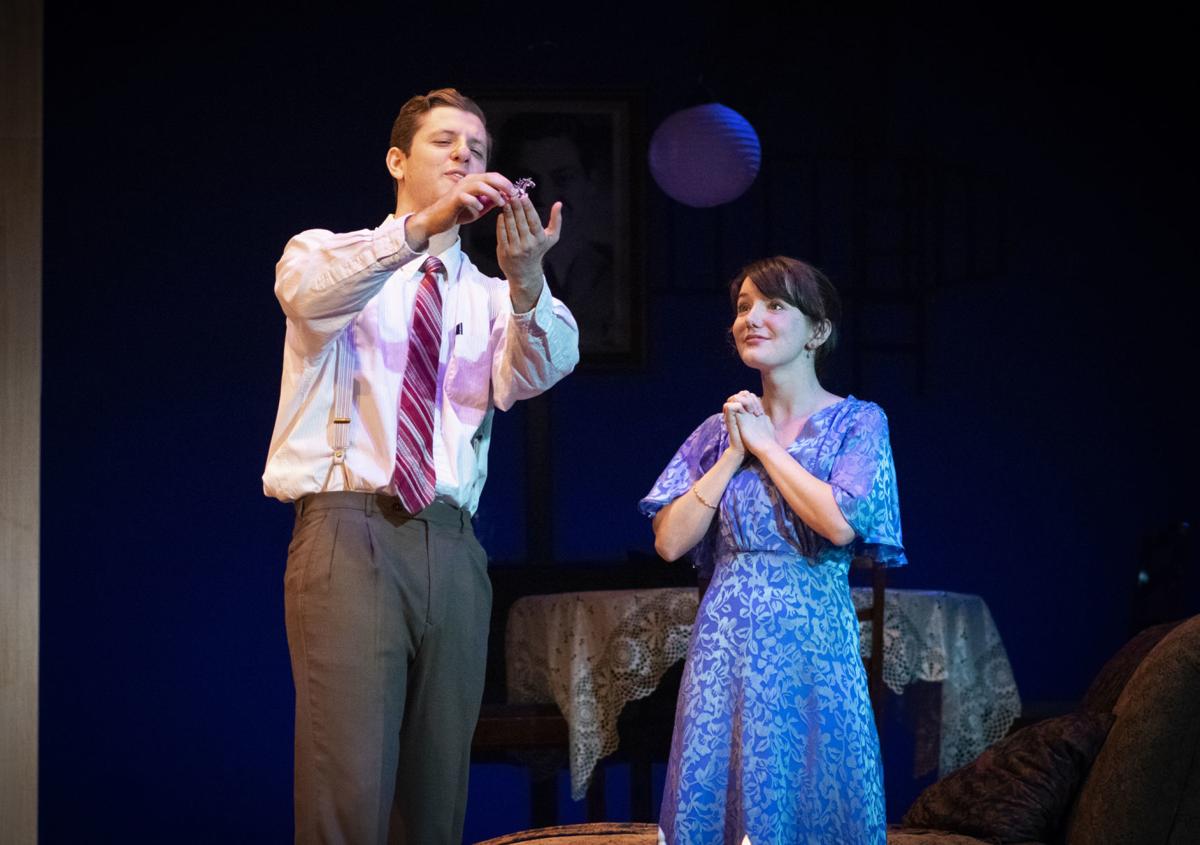 We've all replayed memories in our heads: repeating over (and over again) specific moments in time, wondering if we could have or should have said or done something differently. These "what if" and "if only" thoughts can tether us to the past. Memories and the past they represent live at the core of Tennessee Williams' "The Glass Menagerie." In this play, Williams deftly explores truth and trust, and familial relations and obligations through the playing out of memories.
When the play was first produced, Williams explained that he did not intend the work to be produced in a realistic manner, instead he described the setting as "dreamlike." Memory is tricky work for the theater. How does one convey the ethereal nature of memories on a stage? Mill Mountain Theatre's production benefits from the imaginative set designed by Jimmy Ray Ward and the haunting and mystical lighting design by Bill Webb. From the opening moments of the play, the past and present collide. Distant sounds and fractured images fill the stage space.
We meet our storyteller, Tom (an aptly tortured Logan T. Sutton), who breaks the fourth wall to address the audience directly: "Yes, I have tricks in my pocket, I have things up my sleeve. But I am the opposite of a stage magician. He gives you illusion that has the appearance of truth. I give you truth in the pleasant disguise of illusion." Tom goes on to introduce the players — his mother Amanda (an effervescent and yet cutting Amy Baldwin), his sister Laura (played with appropriate timidity by Lauren Wainwright), and Jim, the gentleman caller (an affable David Federman).
The play was Williams' first success; it ran on Broadway for 561 performances in 1945-46. Since that time, there have been numerous revivals and film versions. While the familial conflicts of the play still resonate today, aspects of this 75-year-old work creak, and I noticed a few cracks. But, this production is ably directed by Peppy Biddy and it showcases the richness of William's language and the wryness of his humor.
For example, Tom confides to the audience: "There is a fifth character in the play who doesn't appear except in this larger-than-life photograph over the mantel. This is our father who left us a long time ago. He was a telephone man who fell in love with long distances." The cast has a strong rapport with one another and the familial relationships are well-crafted. The banter of the play reminds me of tetherball, the backyard game where two players hit a ball in opposing directions, and round and round they go.
Stay up-to-date on what's happening
Receive the latest in local entertainment news in your inbox weekly!