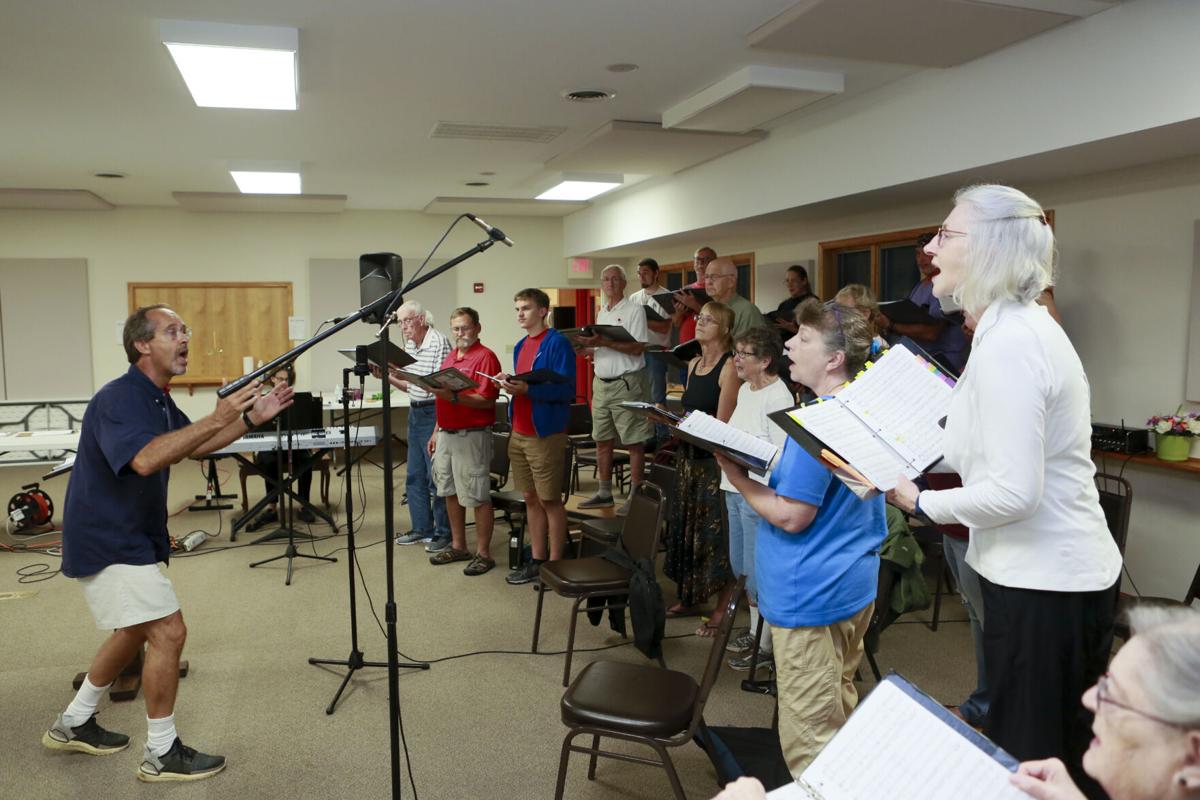 Thomas Debusk's work days involve judges and courtrooms and lawbooks. But in his time off, the Christiansburg-based attorney is more concerned with songbooks.
A longtime leader of choirs and choruses, Debusk spent the summer forming a new, all-ages singing group called Blue Ridge Vocal Connection. After a few months of weekly practices, much of it outdoors, the group of about 30 singers is presenting its first concert: a free event scheduled for Sunday at 4 p.m. at the Blacksburg Farmers Market.
The concert will promote the idea of community, Debusk said. The song list, mostly sure-to-be-recognized music featured in movies, is designed to be fun. It features sometimes quirky arrangements — like singing the usually all-instrumental theme of Hawaii Five-O as a melodic set of nonsense syllables.
But there's a more serious underpinning to the selections, as well.
"I didn't just randomly grab a bunch of songs from movies," Debusk wrote in an email. "I focused on songs that celebrate perseverance and triumph. 'Eye of the Tiger' isn't just cool music. It's about meeting a big challenge by taking it on. I put 'The Morning After' last because I want people leaving to think about the fact that we've been through a rough time, but it's not The End. There will be a morning after, and we'll get there in better shape if we pull together and help each other make the journey. So it's not just the idea of singing together. The music was deliberately selected to carry that theme and challenge and encourage listeners."
In a Wednesday phone interview, Debusk, 57, said he began his singing life as "a functional montone" during his teenage years. But in college, Debusk said, he got interested in improving his voice and in directing other singers. This led to years of working with vocal groups.
"I found teaching was my thing," Debusk said. Having played piano and organ, Debusk said that he discovered "my best instrument turned out to be a whole bunch of voices."
Debusk said his most recent group before Blue Ridge Vocal Connection was the Giles County Community Chorus, where he was director for about five years. After the Giles group went on hiatus – "COVID kind of did a tune on us," Debusk said – he began looking into starting a group closer to his home in Blacksburg.
Blue Ridge Vocal Connection is a no-audition group, intended to include anyone who wants to sing, experience not required. Through the summer, the group grew to include an age range of 17 to older than 80, Debusk said. At least one group member had never sung before. Many in the group do not read music, which Debusk said actually aided his goal of having the singers focus on him, as the director, rather than on song sheets.
"I've told many a choir, 'It doesn't matter how bad you are – if you'll just watch the director, you can always stop that awful racket at the same time,'" Debusk said, laughing.
Debusk invited anyone interested in joining the group to contact him through the website blueridgevocalconnection.com, or to come to one of the group's rehearsals. Debusk said he hopes to present the movie music concert several times, then it will be time to start work on a Christmas program.
"There's something about putting a whole group of people together," Debusk said, "and bringing harmony out of them."