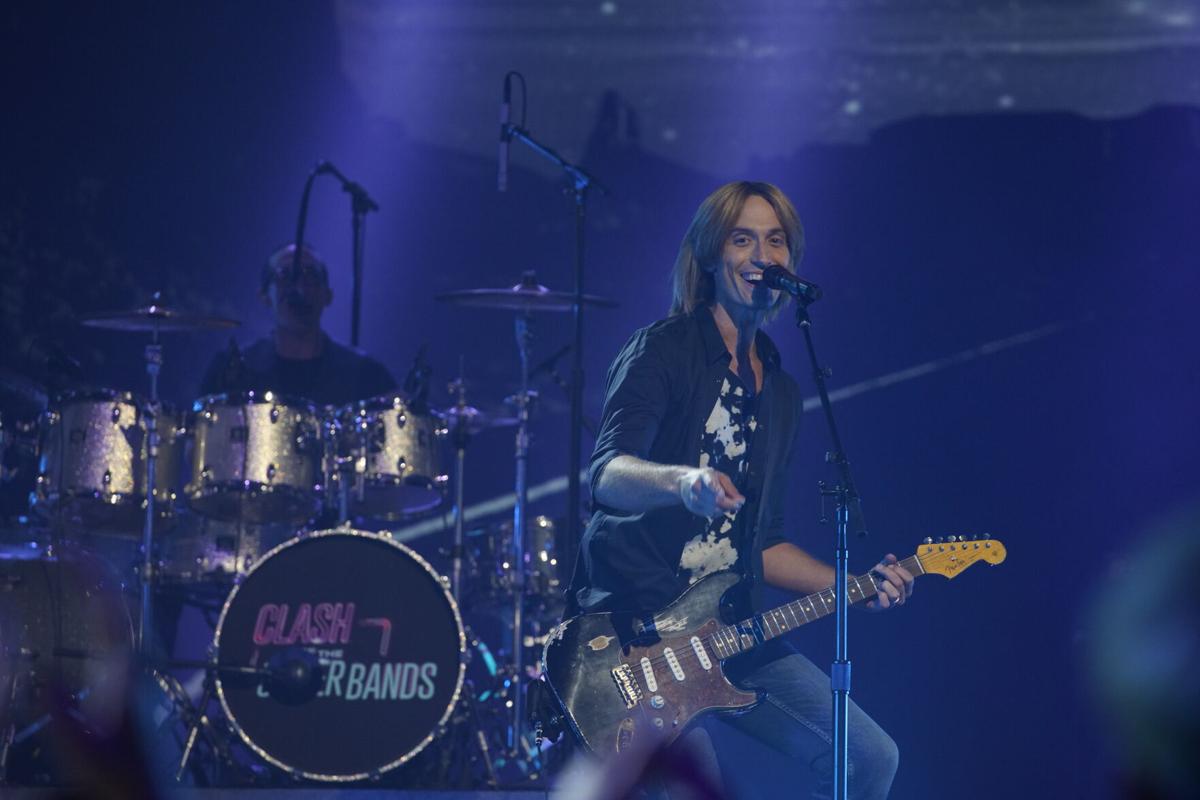 On a wacky planet that includes an awful lot of unscripted television, a guy like Adam Rutledge stands to reach a bigger audience doing a Keith Urban impersonation than he has recording and performing his own music.
Fincastle-based Rutledge, in a shoulder-length wig, can be seen on E! Entertainment television network's "Clash of the Cover Bands" on Wednesday, doing his Urban thing, Rutledge posted on social media last week. Rutledge said in a text message exchange that Salem-area players Andy Neikirk (bass guitar, harmonies) and Chris Neikirk (drums, harmonies) will be on the show with him.
According to Deadline magazine online, the Jimmy Fallon production will feature host DJ Stephen "tWitch" Boss ("The Ellen DeGeneres Show") and celebrity judges including Meghan Trainor, Adam Lambert and Ester Dean.
Deadline reported Trainor telling comic Kevin Hart in an "upfront presentation" that viewers will cap the season by picking which band will appear on "The Tonight Show Starring Jimmy Fallon."
Rutledge, a Salem native, is used to playing musical characters. He was scheduled to be part of a KISS cover band playing Dr Pepper Park in the summer of 2020, but the COVID-19 pandemic forced its cancellation.
Speaking of Rutledge and Dr Pepper Park, he and his erstwhile southern rock band, Crobar Cane, are scheduled to reconstitute and open there for 38 Special on Oct. 15.
Beach Boys, California Guitar Trio coming to Harvester
Another 2020 pandemic cancellation was the Beach Boys show at Harvester Performance Center. It has been rescheduled for Jan. 31, 2022, according to the venue. Tickets are on sale for the beach music hitmakers, whose hits include "Good Vibrations," "Surfin' USA" and "Kokomo."
The Rocky Mount venue, in the same email this week, announced that the multi-genre fret burners California Guitar Trio will hit town on Nov. 19. Guitarist Trace "The Acoustic Ninja" Bundy will open. Tickets for that one are on sale, as well, at harvester-music.com.
Country music figure from Boones Mill dies
Betty Amos, a Roanoke Valley native who performed and wrote hit songs in Nashville, has died. Amos, 87, of Hendersonville, Tennessee, had suffered from dementia, according to Roanoke-area music historian Warren "Wick" Moorman (not to be confused with the onetime Roanoke railroad executive).
Moorman wrote in an email that Amos, born and bred in southwest Roanoke County, was part of a well known local family band, the Buck Mountain Ramblers, in the 1930s. She would go on to have a "significant career" as a performer and songwriter, he wrote.
Amos was part of hillbilly-style country band the Carlisles, which had hits on Mercury in the early 1950s, then she had a solo career on Mercury, Starday and other labels, he wrote. Songs Amos wrote include the 1964 Jean Shepard hit "Second Fiddle To An Old Guitar." Amos was the headlining performer the night that Elvis Presley debuted on the Louisiana Hayride. Moorman notes that there is a great picture of them together on Google images.
That photo, albeit grainy, can be seen on YouTube with a recording of her rockabilly rave-up song, "I Gotta Know."
"She pioneered an all female band in the sixties, then left music after becoming born again," Moorman wrote. "More recently she'd been featured in several Country Music [Hall of Fame] history programs."
She was a superb banjo and guitar player, who wrote and played "Franklin County Moonshine," "16 Wheels A-Rollin'" and many others, he wrote.
According to an obituary that a Tennessee funeral home posted online, she will be buried at the Amos Cemetery, in Boones Mill, on Sunday.
Wednesday nights at Martin's Downtown can be surprising and special. Some really good bands with a date to fill on the road have been known to stop in for a midweek romp on that stage. This week, Roosevelt Collier was there, with some fellow Miamians from south Florida jazz/funk outfit Electric Kif.
That's a nasty combination right there, and the quartet vibed hard. Go to this column at roanoke.com/entertainment/music to check out a video montage of music they made that night.
Collier told the smallish but mighty crowd that he would be back, and I really would like to hold him to that. This guy has been slinging good vibes on a pedal steel guitar since he first came to FloydFest as a member of sacred steel band The Lee Boys.