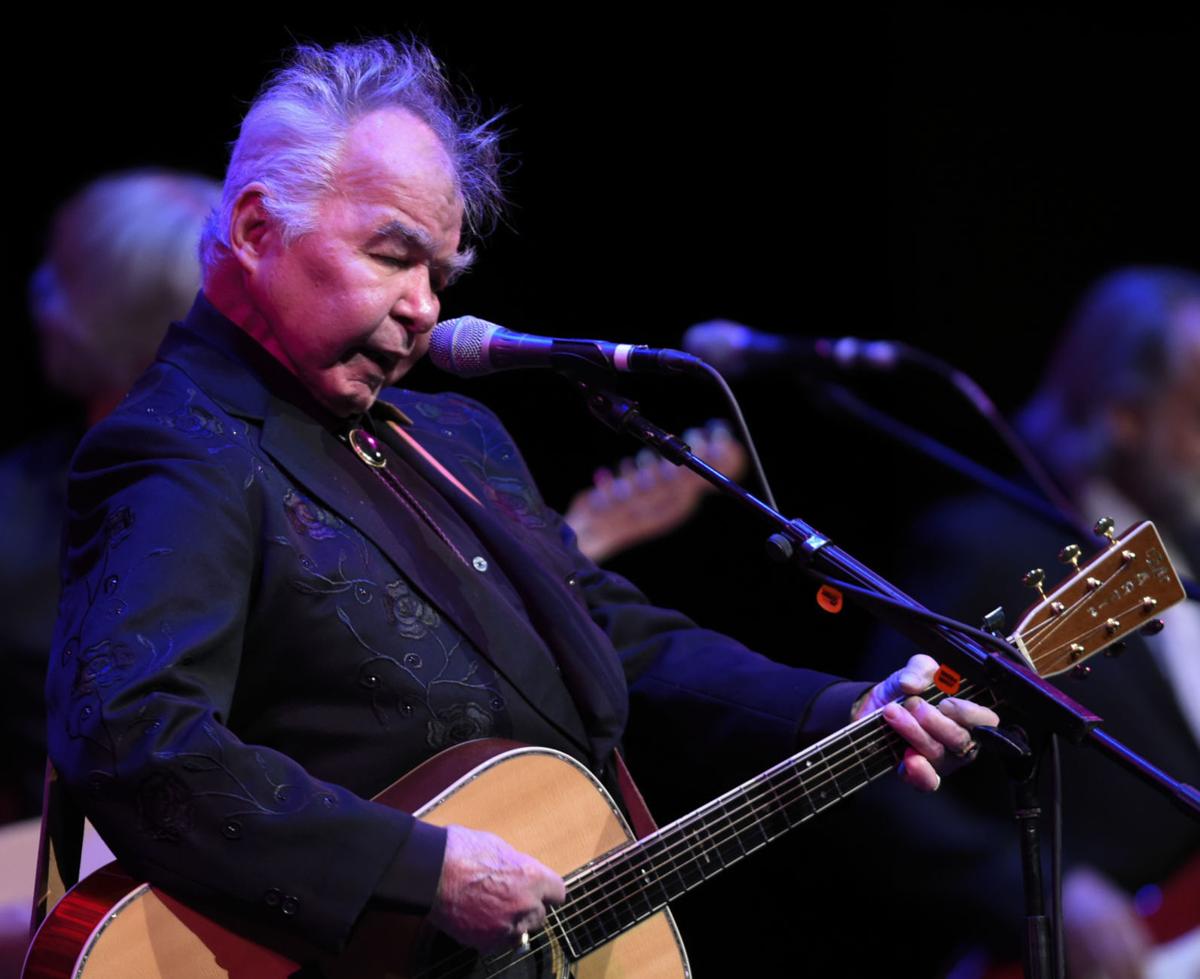 edit 11:42 pm 4.7.20: John Prine's body is gone, but his work is immortal  - td
A set list can tell you a lot about a performer/artist relationship. Faithful crowds typically love the familiar but remain open to the new. Wise performers give the crowds what they want, while mixing in enough new songs to keep a show from coming off rote.
John Prine, who has been writing folk and country classics for about a half-century, seems to know just how to put them all together. In a Saturday night concert that ran just shy of two hours at Berglund Performing Arts Theatre, he and his multi-faceted band gave a sold-out room of about 2,100 a night of brilliant lyrics, lived-in vocals and comfortable music that spanned his Songwriters Hall of Fame career. 
As usual when Prine hits a stage, shouts of love and song requests rained down on him. He took it all with wide grins and gentle humor. "I know them all," he replied to one onslaught of requests. "They come in alphabetical order," he said after another burst.
He was still spry at 73 — you should have seen him dance off the stage at the end of "Lake Marie." He showed that he remains a deft guitar picker, too, and lyrically, he kept his place on the pantheon. Proof of the latter came from the 24-song set list, which featured six numbers from the Grammy Award-nominated 2018 album, "Tree of Forgiveness." Many in the audience rewarded his confidence in the new material with cheers of recognition, as he sang opening lines. The album's success showed at the box office, too. Prine's last stop in the venue, in February 2009, drew 1,250.
It was a given that the crowd of many an old folkie would respond well to the Prine classics. He opened with "Crooked Piece of Time" and "Six O'Clock News." The sweetly sad "Hello in There," the oft-covered "Angel From Montgomery," the forlorn-but-funny "Christmas in Prison," the ragtime-y "That's The Way That The World Goes Round," the devastating "Sam Stone" and set-closing signature song "Paradise" were all a part of it.
Every one of those songs dropped in the 1970s. It's remarkable how well they have held up, and that's chiefly due to Prine's lyrical genius. "There's a hole in Daddy's arm where all the money goes," which opens the chorus to "Sam Stone," tells it all, yet Prine fleshed it out with a chaff-free story for the ages.
He introduced it by telling the crowd that it was the first song he ever performed on a stage. He said he wrote it back in the days when war songs seemed to be all protest, all anti-soldier. Prine, a Vietman-era Army draftee who served in Germany, said he needed to write one from a soldier's point of view. That very first audience was dead silent for about 20 seconds after he finished, finally applauding about the time Prine wondered if show business might not be his thing, he remembered.
He was no authoritarian, though. Songs from "Tree of Forgiveness" included "Caravan of Fools," which Prine said was addressed to "the current administration." 
He sang: "The dark and distant drumming / The pounding of the hooves / The silence of everything that moves / Late at night you'll see them decked out in shiny jewels / The coming of the caravan of fools."
Prine has always leavened his darker observations with some good old fun. The new "Egg & Daughter Nite, Lincoln Nebraska, 1967 (Crazy Bone)," evolved from a fishing trip with friends. As the men sat lazily on a boat, drinking beers and "telling b------- stories," one fellow told of his younger days, when farmers would come into town to sell their eggs, leaving their daughters on their own, which was a delight to the boys. "You don't realize it, but you just started writin' a song," Prine said he told his friend.
Prine called the man to tell him about the finished number, repeating the title. The man said he was from Norfolk, Nebraska, not Lincoln. "That's too bad, because Lincoln rhymes with some of the best lines in the song," Prine replied.
The only cover in his set was "Clay Pigeons," a Blaze Foley song. Prine called up opening act Ben Dickey to help him sing it. Dickey is an actor, too, and he played the ill-fated, wildman country music singer/songwriter Foley in the 2018 movie "Blaze."
During Dickey's own, 25-minute set, he sang "Livin' in the Woods in a Tree," a song that the late Foley wrote about his time with Sybil Rosen, a Patrick Henry High School graduate. Rosen's 2008 memoir about her time with Foley caught actor/director Ethan Hawke's attention, and he combined with Rosen for the screenplay to the indie movie success that starred Hawke's friend, Dickey. The only small-world ingredient missing was Rosen, who lives in Georgia.
Dickey's own songs, placed among gems from Mississippi John Hurt and Blind Willie McTell, were quality folk, as well.
Concerned about COVID-19?
Sign up now to get the most recent coronavirus headlines and other important local and national news sent to your email inbox daily.