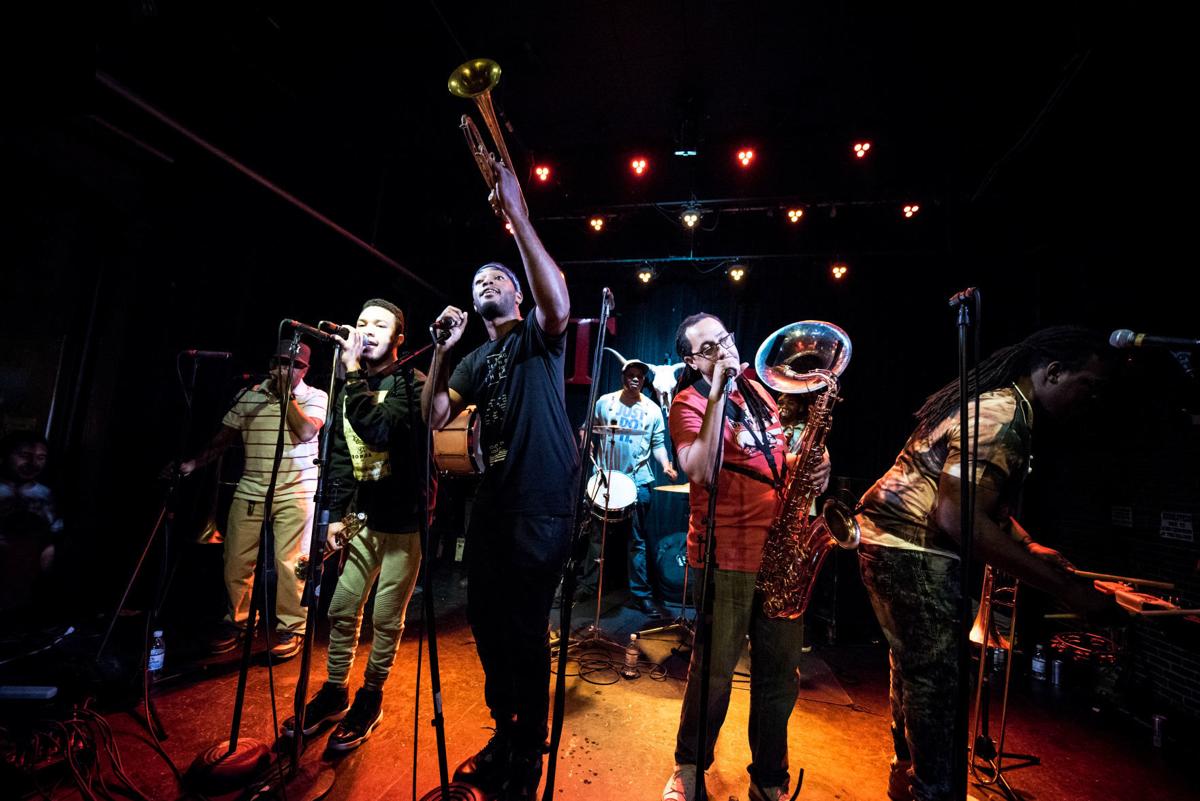 Honky-Tonk Thursdays: Redd Volkaert & Friends
Volkaert kicks off a residency in Floyd. The onetime Merle Haggard sideman, now based in Galax, is a red-hot, world-traveling throwback guitar picker, but don't sleep on his baritone voice. That good instrument keeps things going in between guitar solos on songs from the likes of Bob Wills, Wynn Stewart, Waylon Jennings and of course, the Hag.
Nashville-based indie/Americana rockers return to a venue that knows it by name.
A traveling soul-jazz organ band stops again at a favorite haunt, Martin's.
Front Porch Fest 12 With Rebirth Brass Band, Toubab Krewe, Big Daddy Love, The Wooks, Fireside Collective, Jonathan Scales Fourchestra and more
A great variety of outstanding music across three days at a beautiful spot in Patrick County.
Details: 4:30 p.m. Thursday, 1 p.m. Friday, 11:30 a.m. Saturday, 10 a.m. Sunday. Spirithaven Farm, Stuart. $140 four-day general admission, $20 Thursday, $40 Friday, $60 Saturday, $30 Sunday, free 12-younger; $10 parking pass. frontporchfest.com, rebirthbrassband.com, toubabkrewe.com
With Sean Johnson & The Wild Lotus Band, Joe Troop, Mighty Joshua & Zion5, Justin Trawick & The Common Good, The Dead Reckoning, Music Road Co, Holy River, The Ambassador & The Chosen Few and more, including yoga workshops and presentations
The annual event focuses on yoga, but the music is typically strong, too.
Details: 3 p.m. Thursday (music 5:30 p.m.), 7 a.m. Friday (music 11:30 a.m.), 7 a.m. Saturday (music 11:15 a.m.), 7:30 a.m. Sunday (music noon). 5430 Indian Valley Road, Willis. $140 general admission Saturday-Sunday, $175 general admission Friday-Sunday, $185 general admission Thursday-Sunday, $75 four-day general admission 13-16, free 12-younger; $65 Thursday, $80 Friday, $85 Saturday, $75 Sunday; and other packages including camping and shuttles at floydyogajam.net. seanjohnsonandthewildlotusband.com, joetroop.com
Appalachian Vibes Festival
With The Snozzberries, Rebekah Todd & The Odyssey feat. Kyle Travers, Megan Jean and the KFB, Disco Risque, Radar Rose and more
A new festival, tied into Amanda Bocchi's Appalachia Vibes radio show and podcast, features some excellent regional bands. Combining singer Rebekah Todd with guitarist Kyle Travers is a bright idea.
With Greensky Bluegrass (two nights), Grace Potter, Goose, Melvin Seals & JGB with Karl Denson, Galactic feat. Anjelika "Jelly" Joseph, Yonder Mountain String Band and more
Road trip alert: Get some serious musical kicks at this West Virginia ski country fest.
Taubman Late Nights: Jazz
With Gabe Morales, Tom Ford Trio
Remember a preteen Morales, sitting in with Snarky Puppy and others, then starting his own band? He's a college student now, wrapping up summer break, and he has grown exponentially as a musician. Catch him.
Two popular regional acts, playing bluegrass and jam-rock, take the Harvester stage in a free show celebrating the return to live music for Rocky Mount's venue. BTW, masks are not optional here.
Good old bluesy rock from a Roanoke act that is making a new record.
With Leonid & Friends, 1964 The Tribute, Music Road Co, Crobar Cane, Harvest Blaque & Co., Eric Wayne Band and more
The annual family celebration at Elmwood Park is back on, after a 'rona hiatus. It's mostly free, except for two of the headliners' sets. Flip back to Sunday's paper to read Dan Casey's column about Leonid & Friends, a Moscow band that pays tribute to Chicago (the band, not the city).
A Knoxville, Tennessee-area multi-instrumentalist grew up in bluegrass and is on a country journey now.
With Hubby Jenkins, Twin Creeks Stringband, hosts Ashlee Watkins & Andrew Small
This internet "radio" show kicks off its 10th season with Jenkins, who came to national attention as a member of Carolina Chocolate Drops.
Details: 7:30 p.m. The Floyd Country Store. $15 advance, $18 day of show.
Singer Eric Bloom and guitarist Donald "Buck Dharma" Roeser remain from the classic lineup that delivered "Don't Fear The Reaper" and more. There's new music, too.
Albert Hash Memorial Festival
With Redd Volkaert, Crooked Road Ramblers, Larry Sigmon & Martha Spencer, Whitetop Mountain Band, Gap Civil
This annual event, which fetes old-time musician and fiddle-maker Hash, returns to Grayson Highlands.
With Wayne Henderson & Herb Key Bluegrass pianist Little and luthier/finger-picker Henderson have shared a lot of stages together.
Winterfest Beach Bash: Summer Version
A winterfest in the summer? Thanks, COVID. Beach music and a "Great Gatsby" theme are on the agenda.
Details: 7 p.m. Salem Civic Center, Salem. $10 advance, $12 door; $80 eight-person table (purchase at Salem Parks and Recreation Department, 620 Florida St., Salem, or via 375-3057). salemva.gov, bandofoz.com
Shaping Sounds: Star City Playlist Series One
Roanoke rapper, writer and producer is no stranger to The Spot.
Onetime contestant on "The Voice" hits Big Lick Brewing, which has been booking some higher-profile stuff.
Fun and energetic rock 'n' roll from a New York duo that has long been in the Martin's rotation.
A new supergroup with members of The Kind Thieves and The Dead Reckoning.
With Steve Guidas and Night Train, Heat of The Night, The Willies, Tim Shepherd and the Nightcrawlers, Juice
Many musical friends and co-conspirators pay tribute to the late bassist Counts, who played with national folkies Steve Forbert and David Bromberg, but had a long and fun career of local gigs. Show opener Juice will feature sit-ins and will play some of Counts' originals.
Details: 2 p.m. The Coffee Pot Roadhouse, Roanoke. Donations accepted at the door for Counts' widow, Geri Counts. 774-8256, facebook.com/Roanokesroadhouse
Todd Snider With Jamie Lin Wilson