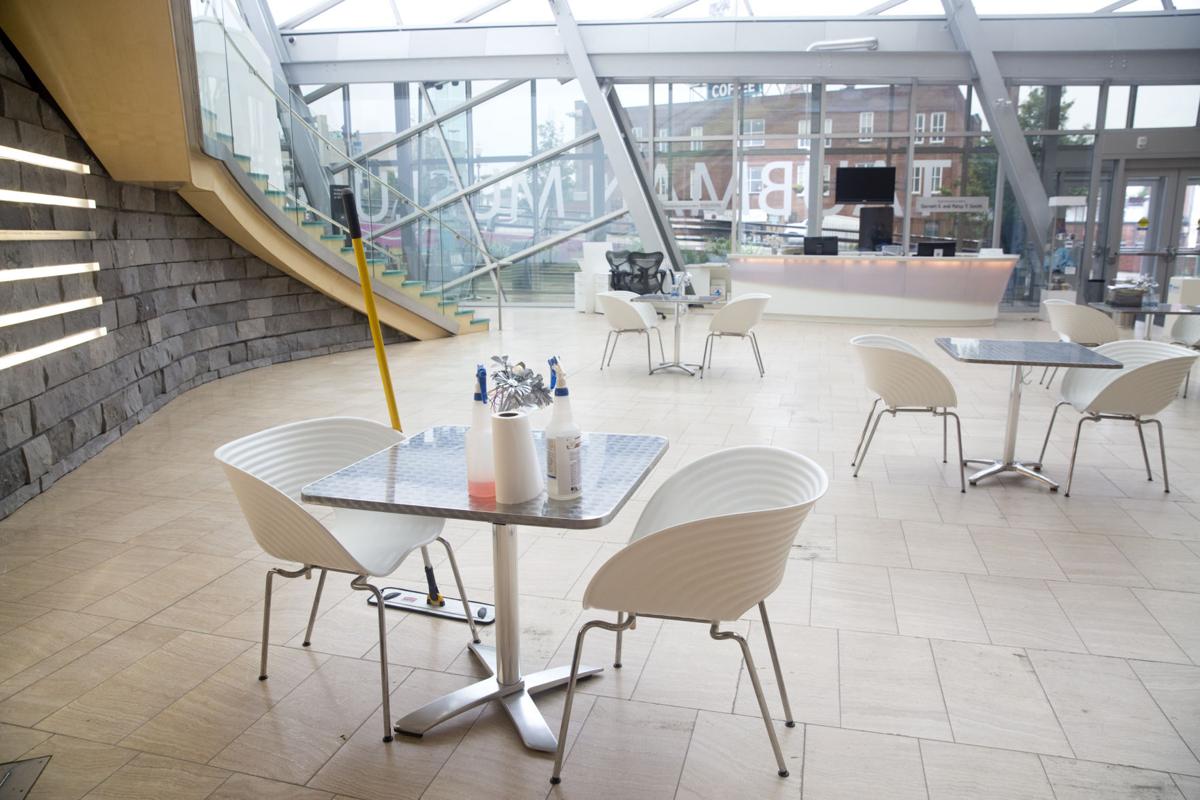 Multiple arts and entertainment organizations, and restaurants that host music, received notice on Wednesday that they were approved for coronavirus relief grant money.
Cultural stalwarts including the Taubman Museum of Art, Jefferson Center, Center in the Square, Mill Mountain Zoo and the Grandin Theatre each received more than $28,000.
Downtown Roanoke Inc. and 13 restaurants received $2,000 apiece to host live shows, according to information from Roanoke Arts & Culture Coordinator Douglas Jackson.
Ten more grants are available to restaurants, Jackson said, and applications are due Monday via bit.ly/restaurantCARES.
After 150 canceled live performances and many quieter-than-usual nights, Martin's Downtown CEO Jason Martin said that his venue is ready to put on some shows. The restaurant and bar with a long live music history received a $2,000 CARES Restaurant Performance Grant and has scheduled a trial run of four shows this month.
Martin said he used his portion of the city's COVID-19 relief grant money to pay the bands. All the shows will start at 10 p.m. and are $5. The cover charge will cover sound production and extra security, Martin wrote in an email exchange. Capacity will be 75.
"Live bands and music lovers have been a huge part of Martin's identity since our beginnings in 2005," Martin wrote. "However, since March of 2020, it's been very quiet ... and we've dearly missed the artists and music lovers that have filled our venue so consistently over the years."
More than $8 million filtered to Roanoke, most of it from the CARES Act, the nation's largest piece of coronavirus relief. The city council appointed a task force, chaired by Mayor Sherman Lea and Vice Mayor Joe Cobb, to prioritize needs.
Ultimately, the task force designated $400,000 for arts and culture organizations, and $50,000 for restaurants to hire musicians.
Jackson wrote in an email exchange that the Roanoke Arts Commission approved 15 performance-related grants in a special meeting on Sept. 3. Jackson sent memorandums of understanding for $2,000 grants to each of the following businesses (not including Martin's):
Two to The Hotel Roanoke and Conference Center (one for its Pine Room Patio and one for the Regency Room Courtyard); two to Downtown Roanoke Inc. (one for City Market Saturdays and one for Dickens of a Christmas carolers); Fork in the Market and Fork in the Alley; Morning Brew Coffee Co.; Local Roots Restaurant; Lucky; Three Notch'd Craft Kitchen & Brewery; bloom | restaurant & wine bar; Sweet Donkey Coffee House; and Fortunato.
"You'll see that we accepted applications from restaurants and associations doing collective programming that ties to restaurants, such as Downtown Roanoke, Inc.," Jackson wrote. "Some restaurants are further ahead in planning than others but a good number have their plans firming up."
The following arts and culture organizations are receiving grants:
Cultural Arts for Excellence ($9,000); The Grandin Theatre ($28,330); Harrison Museum of African American Culture ($28,330); Jefferson Center ($28,330); Mill Mountain Theatre ($28,330); Mill Mountain Zoo ($28,330); Opera Roanoke ($28,330); Virginia Children's Theatre ($28,330); Roanoke Symphony Orchestra ($28,330); Science Museum of Western Virginia ($28,330); Taubman Museum of Art ($28,330); The Humble Hustle Co. ($9,000); Center in the Square ($28,330); Virginia Museum of Transportation ($28,330); Historical Society of Western Virginia ($9,000); Roanoke Ballet Theatre ($9,000); Down by Downtown / The Spot on Kirk ($5,000); Local Colors of Western Virginia ($5,000); Roanoke Outside Foundation ($5,000); and the Southwest Virginia Ballet ($9,000).
Stay up-to-date on what's happening
Receive the latest in local entertainment news in your inbox weekly!