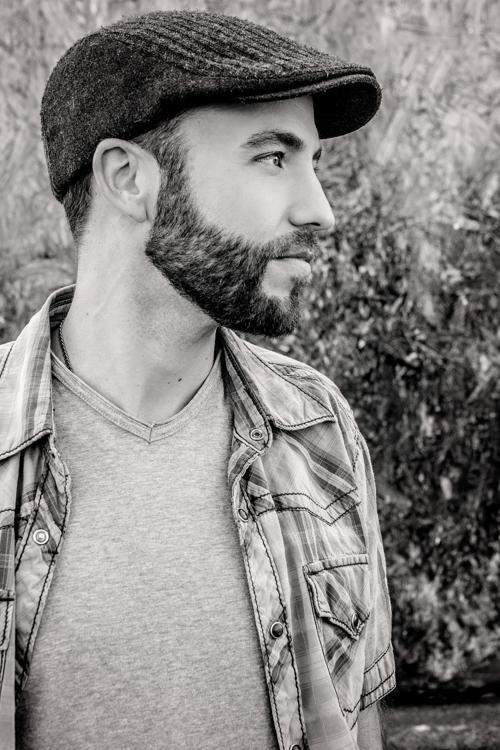 Many music-oriented movies and documentaries play at the Grandin Theatre, but decades have passed since the venue hosted a live music performance. That changes Saturday.
The theater is presenting Songwriters in the Round, featuring Josh Shilling, Corey Hunley, Crawford & Power and special guest Emme Cannon. Theater officials see it as the first span of a bridge they hope will connect a short but lively musical past to a sustainable future.
Patrons can see evidence of a 1984-85 run of shows that featured Ray Charles, B.B. King, John Lee Hooker, Chet Atkins, Buddy Rich and Herbie Mann. Franklin County resident Phillip Poff, who booked those acts and promoted the shows, donated photos and posters from those events to the 87-year-old theater, which put them on permanent display two years ago, when it premiered a documentary it commissioned called "The Year of Remarkable Music."
Hunley, a singer, songwriter, guitarist and sometime show promoter, organized and will perform at Songwriters in the Round IV, in the Grandin's 320-seat main theater. The musicians will perform on acoustic instruments, singing their own music.
It made sense to start that way, instead of attempting to resurrect the soul, hard blues and burning jazz of the mid-'80s or the punk rock of the early '90s, Grandin Foundation executive director Ian Fortier said.
"The acoustic singer/songwriter format is something that we think can be manageable at a high level," Fortier said. "We have to be honest with ourselves. That room is not currently set up for live music. It's giant castle stone walls with limited baffling and an audio system that's really … for film. The songwriter format is something that, put in the hands of somebody like Reid Henion and his crew [at Stage Sound Inc.], could be really well done."
In Hunley, they found the right guy to put it together, Fortier and Grandin Foundation board member Paul Higgins said.
The main room "could be a [general admission] stand at front of stage, bottle of beer in your hand venue, easily, with a complete community that surrounds it," Fortier said. "We wanted to get into what it would look like to have that concert, and I think Corey Hunley is a great, safe, professional, meticulous individual that wants to bring a high-level show to that room."
And more than just one, if possible, Hunley said. He has put on his Songwriters in the Round shows at Blue 5 Restaurant's upstairs White Room and at The Spot on Kirk. He sought a bigger venue in order to bring in a performer like Shilling, who has co-written songs that have appeared on two Grammy-winning bluegrass albums, as well as songs for his own band, Mountain Heart, that have topped the bluegrass charts.
With the potential for greater revenue from ticket sales in a larger room, and sponsorship from Higgins' UBS Financial Services, Hunley had something to offer Shilling.
"He said yes before the money got involved. Then the money came next, and he was still on board," Hunley said, laughing, "which was good. He's a kind guy, a good person. He can sing his face off, and he writes good songs. I think the folks will love it."
Crawford & Power, formed in Franklin County and based in Roanoke, fronted their band in September at Salem Civic Center in an opening slot for Cody Johnson. The duo sat in with Marshall Tucker Band in April, when that Southern rock band opened for Travis Tritt at Berglund Coliseum, and have been opening for multiple acts throughout the Southeast.
"They're all over the place now," Hunley said.
Cannon, who will sing at least three originals, is a Berklee College of Music student with a powerful voice.
The event was sold out about a week before showtime.
"I can say at this point that if it sells out, that would be a great success story, and I can say, hey, let's do this again, and I think they would all be on board for that," Hunley said in a late October interview.
Reviving a live music schedule at the Grandin is one level of a deeper look that Fortier and the foundation are taking into alternate revenue streams. The movie industry is in a state of flux with The Walt Disney Co. buying up once-competing studios and Netflix dominating dramatic content while changing how it is consumed. While Fortier still believes in the theater's viability as a first-run venue, he and the board want to consider such options as daytime business seminars, a speaker series, an author series, debates, stand-up comedy and live theater, he said.
Doing it right would require such items as lecterns; audio systems; theatrical, stage and house lighting; and theatrical rigging. The main theater already has advantageous sight lines, with a stage 4 feet above the floor and room for people to stand up front without obscuring the views of those behind then, he said.
"We have a stage, and we have the room," he said. "We have the bones, and we have the history, and we have the community. If I did four top-tier concerts, one a quarter, they would all sell out, and it would primarily be supported by Raleigh Court."
Fortier mentioned Yonder Mountain String Band and Trombone Shorty as acts that could work in the room.
"That room at 300 could hop for the right ticket price and the right routing and the right band, but you'd have to be careful about what night of the week it was, what your start time was, what your end time was," he said. " When you're talking about music at this level, what it would do to this community would be just tremendous. We'd be creating parking problems all over the place. ... If there's a problem parking on a Tuesday night in Grandin village and it's my fault, my board is happy."