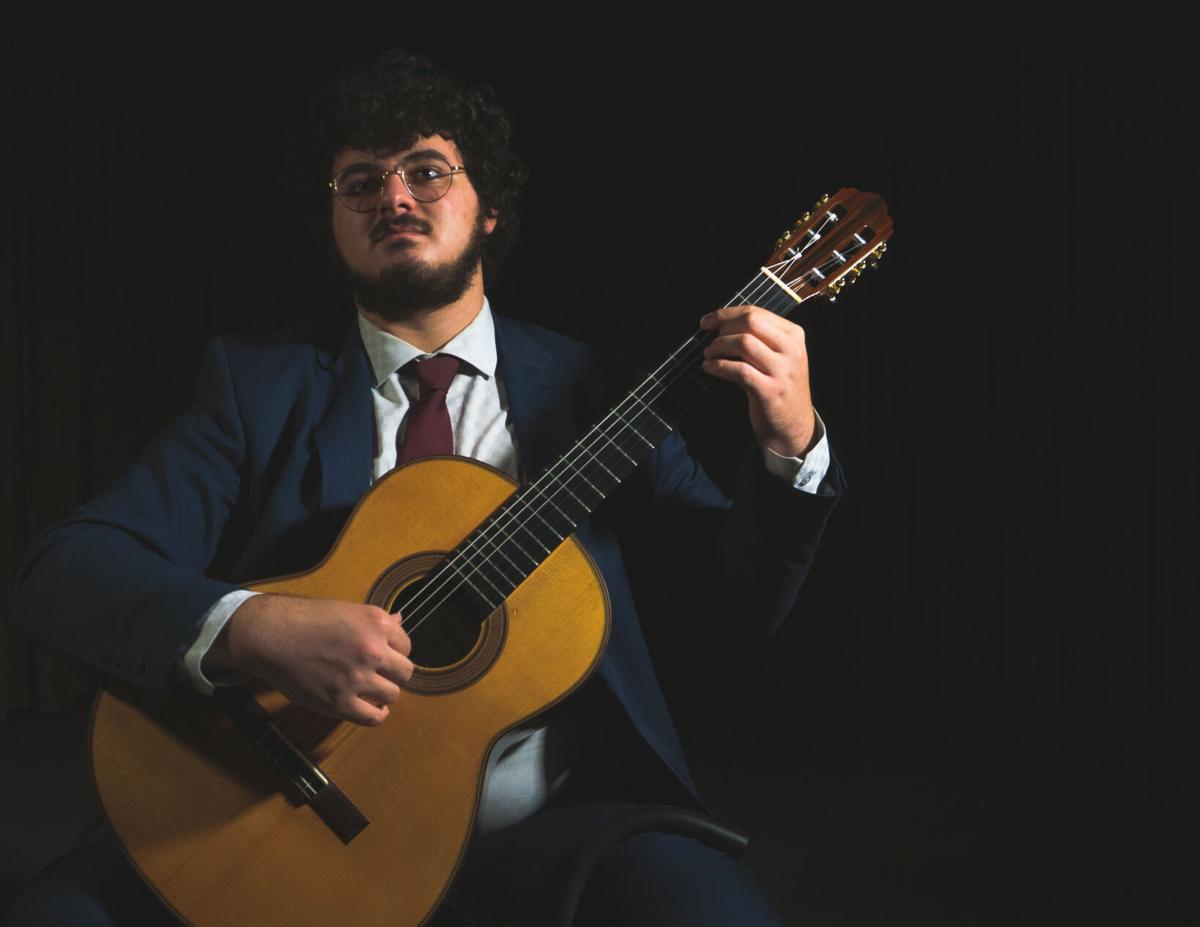 A Radford University classical guitar student has had a run of international success. In this COVID-19 era, of course, he did it without leaving Southwest Virginia.
Octávio Deluchi finished with 10 other performers atop the 2020 Ibla Grand Prize competition list. The New York-based IBLA Foundation organizes the event, which for about three decades has been a weeklong, summertime event in southern Italy for top-shelf musicians of all ages, locations and instruments. This year, the Ibla Grand Prize was relegated to the digital world, with winners announced Dec. 31.
The Outstanding Musician recognition, shared equally among the contestants, will eventually lead to a tour in Asia and the United States, at such venues as New York City's Carnegie Hall and Tokyo, Japan's Kioi Hall, Deluchi wrote in an email last week.
For Deluchi, a guitar teaching assistant who is working toward his master's in music, that honor capped a successful set of contests. Earlier in the year, he won first prize in the XXXI Souza Lima competition, in his native Brazil. He had to forgo a trip home in favor of an online submission. Deluchi also claimed two second-prize awards at the Philadelphia International Music Festival Virtual Concerto, which was open to performers on all instruments and also held online. In 2019, he took first place at the Charlottesville Guitar Competition, besting an international group of players.
In an email exchange, Deluchi, 23, described dealing with what turned out to be a year like no other — so far.
"Even with all the online activities, I still did not get [used to] everything that is happening," Deluchi wrote. "I started 2020 with many plans, travels, and trips on the calendar, being in different places, meeting people, sharing experiences, and with lots of live performances. This face-to-face ritual plays a major role in absorbing the facts. Staying at home, just through the internet, is still a new thing for me, so I get to be really happy with all the results and achievements, but I keep with the same schedule, work and plans as before. Personally, professionally speaking, I can say 2020 was a good year, fortunately. I was able to do everything that I planned to do in person. Not through the same way but accomplishing similar goals."
He recorded or live-streamed his performances from RU's David Hall or Covington Center, and some at his own place. Help came from his adviser, RU classical guitar guru and professor Robert Trent, and other key figures on campus including music department chairman Tim Channell and department technical director Carl Conner, he wrote.
Trent met Deluchi when the professor took an honors group to Brazil for performances, studies and cultural exchanges. Deluchi, then a freshman, would write Trent in hopes of further study at Radford.
"He's an incredibly dedicated, hard worker," Trent said in an interview last week, adding that the energetic guitarist also leads the group writing grants for Radford's own International Guitar Festival. "So proud of him."
The IBLA Foundation has some interesting background. The all caps "IBLA" comes from the UNESCO World Heritage area in southernmost Sicily, Ragusa-Ibla. Those are twin cities on hills, both featuring Baroque architecture that dates to a late 1600s rebuilding boom that followed a devastating earthquake.
Deluchi took pride in the win he picked up in his native land, which he called the most important and traditional in Brazil. He missed the travel opportunities but appreciated the digital platform, which will continue to be a part of the performance world, Deluchi wrote.
"On this pandemic, I felt staying at home made me lose a little of the surrounding community perception, since I do not have the same connections," he wrote. "However, it made me closer to many friends all over the world. I have projects for example with colleagues and peers in Brazil, Portugal, and different parts in the United States, without even considering collaborations from Europe and other countries."
Trent said that moving such competitions online has broadened participation in ways that make them more challenging than before.
"Because people didn't have the expense of flying to a location, everything is international, and so the competition standards went way up," Trent said. "So I think it's even more impressive for anybody to win a top prize in a competition now."
Deluchi, who received his bachelor's degree in guitar and music education from Brazil's Federal University of São João del-Rei, is scheduled to graduate from Radford in the spring. After a break, he will pursue doctoral studies this fall at another American university.
"I am really enjoying this time here," he wrote. "I love the city, the people, and have really good memories and friends here. It is a place that I recommend for anyone who wants to have a positive experience and [improve] themselves as musicians and human beings."
Trent, who is sending multiple recommendation letters to universities on Deluchi's behalf, said that his presence will improve the next school he attends. His presence at RU, like that of award winners Munkh-Orgil Turbold — a Mongolian who toured with Lauryn Hill and these days is musical director on Asia's version of "The Voice" — and University of Denver doctoral candidate Max Hiner, has been a boon on campus, Trent said.