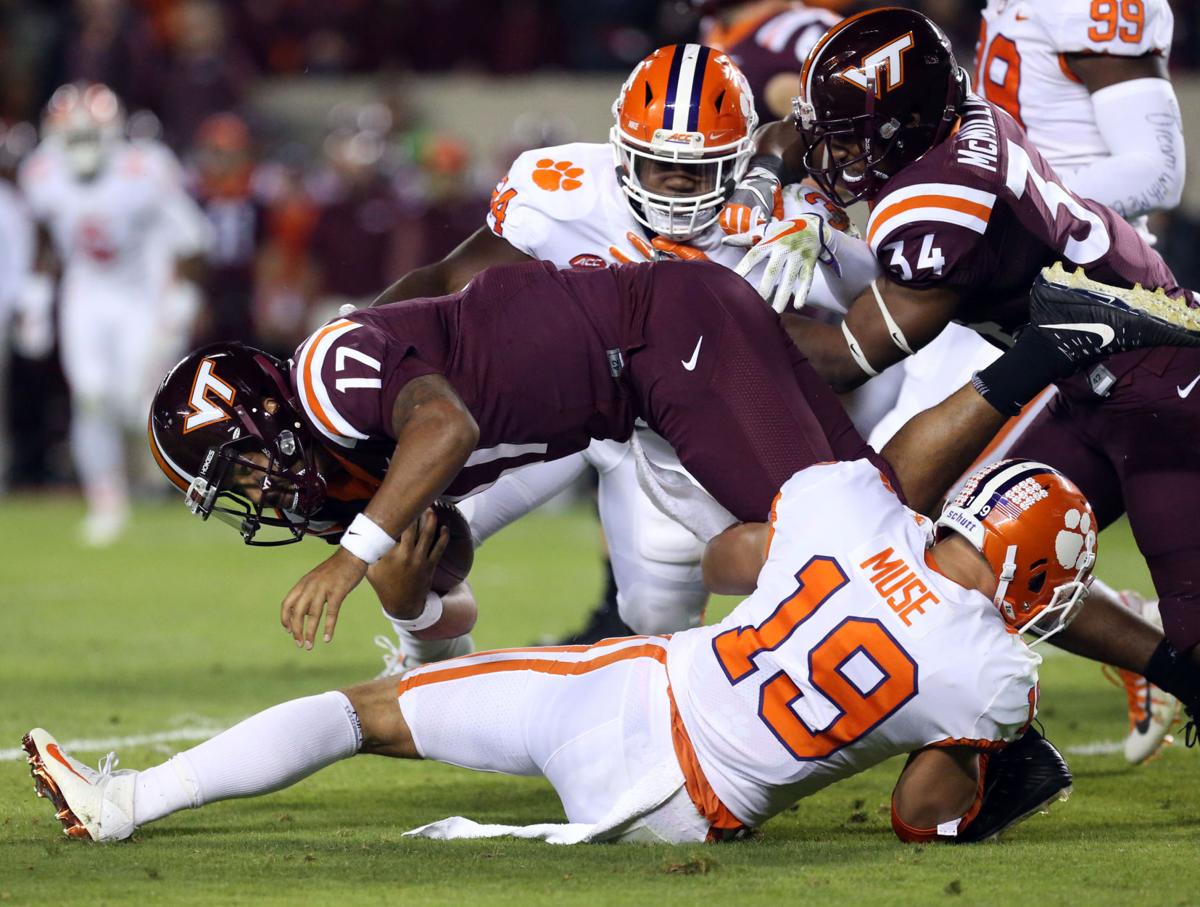 It was a late one last night, and not a particularly fun game for the home team. Here's everything we produced from No. 2 Clemson's 31-17 win against No. 12 Virginia Tech:
Now for the usual day-after thoughts ...
1. Clemson's very good, but the Hokies' self-inflicted wounds were just as damaging.
The Tigers are every bit as good as any team in the country. And -- spoiler! -- they get a bump up in my rankings from last week, when I had them No. 3. (How much of a bump? You'll have to read my poll explanation on the blog around noon. That's called a tease, folks!) Clemson is big, fast and talented across the board. It won the national title last season for a reason and, even though it lost a truly transcendent quarterback in Deshaun Watson, has the horses to do it again. You don't often see a team lose a player of that caliber at such an important position, not to mention the other losses the Tigers had up and down their roster, and keep rolling like they have. It's a testament to the job Dabo Swinney has done at Clemson over the years.
But Virginia Tech sure didn't help itself. After committing three turnovers the first four weeks, the Hokies turned it over three times Saturday night, including a pick-six that was the first direct points Tech had allowed off a turnover in the Fuente era. Virginia Tech had a rare coverage bust by what appeared to be usually rock-solid linebacker Tremaine Edmunds, who lost track of Clemson running back Tavien Feaster on a 60-yard touchdown in the first quarter. Joey Slye missed another field goal that could have made it a far less daunting 11-point deficit heading into halftime. Travon McMillian lost a fumble at a critical juncture of the game, with the Hokies down 14 and briefly with possession at midfield in the third quarter. Henri Murphy bobbled a screen pass and essentially handed it right to a Clemson defender for a touchdown in the fourth quarter. Some play-calls, like the screen pass to Sean Savoy on fourth-and-3 near midfield in the third quarter that was immediately swallowed up for a crushing 5-yard loss, seemed oddly-timed and predictable, at least based on the Tigers' response to them.
It's hard enough to stick with Clemson without doing all of the above things. But the Hokies compounded their problems by not quite being their sharpest or by making critical mistakes that they hadn't in the first couple games. This wasn't Bristol, as Fuente said after the game about the Hokies' readiness for a big stage. That game was won by a Tennessee team that, honestly, wasn't any better than Virginia Tech. Five fumbles will have that effect. Clemson is a much better team at this point of the season, and a 14-point margin of victory Saturday night doesn't really tell the story of how much in control the Tigers were of this game. But Virginia Tech didn't play its best, either. "I'm sorry," Fuente said afterward. "I wish we could have played better. We played a really good opponent today that highlighted some mistakes really quickly."
2. Josh Jackson's performance showed that Clemson can make even pretty composed quarterbacks look out of sorts.
The redshirt freshman's been cool and composed so far this year, showing a maturity well beyond his age, but some cracks showed in his performance against a defense that has made some pretty good quarterbacks look pedestrian this year. Jackson finished 29-for-44 for 251 yards, a touchdown and two picks, and while that's a career high in completions and was his third straight game with more than 250 yards passing, much of that came while facing a pretty large deficit. He didn't get a ton of help. Clemson's d-line got a good amount of pressure all night and, though it only sacked Jackson once, the Tigers hit him repeatedly throughout the night, something that has a cumulative effect. Murphy's drop was the culprit in the pick-six, so you can't really blame Jackson for that. The other pick might have been a bit of a lazy throw on a screen pass, but most defensive ends aren't making one-handed snags at the line like Clemson's Austin Bryant did. 
But a lot of quarterbacks haven't looked great against Clemson this year. Heisman Trophy winner Lamar Jackson finished with 317 passing yards and three touchdowns a few weeks ago, but he also only completed a season-low 50 percent of his passes, was picked off once and got most of his stats after the 47-21 game was already decided, getting two of his touchdowns in the fourth quarter when the Tigers were up by more than 20 points. Auburn's Jarrett Stidham, a pretty good quarterback in his own right, went 13-for-24 for 79 yards against Clemson, getting sacked 11 times. Needless to say, this is one of the premier defenses in the country. Jackson and the Hokies at least got a little going late, but again, that was when the game was already decided. Jackson didn't fold under the pressure of this game, and it's not like the moment was too big, but he also wasn't as sharp as he usually is. Credit the Tigers' swarming defense for throwing him off his game.
3. A running quarterback has another big day against Virginia Tech -- where have I read this before?
It's not as though Virginia Tech didn't see this coming. Kelly Bryant seemed to be a better passer than a lot of folks were giving him credit for coming into the game, especially early in the first quarter when a few big third-down throws set up the opening field goal and his calm pocket presence allowed him to get through his progression and find the wide open Feaster coming out of the backfield for the long touchdown. But everyone in the building knew the 6-foot-4, 220-pound junior was going to try to run the ball against Bud Foster's defense, and the Hokies still couldn't stop him. Bryant finished with 94 rushing yards, averaging a team-best 4.9 yards per carry for the Tigers, and while that didn't reach the magic 100-yard mark for a quarterback that's spelled doom for Foster's defenses over the years, it was more than enough to sink the Hokies.
This didn't seem to be the scheme that failed to account for the quarterback running. It's not like past big rushing efforts by opposing quarterbacks, who at times just seemed to drop back, pause for one second in the pocket and then take off with open field ahead of them as all the Hokies had their backs turned. Virginia Tech had Bryant dead-to-rights a couple times and somehow he escaped to gain positive yardage, most notably on a wild scramble near the goal line early in the third quarter when several Hokies had him in their clutches in the backfield, only to watch him slip free and end up actually gaining a yard. Instead of being backed up and forced to kick a field goal, which was no gimme for the Tigers, given their kicking situation, Clemson punched it into the end zone on a 1-yard touchdown run by Feaster that made it a 24-3 game. "I think we wanted to really whack tackle him instead of just tackling him, just because he's a quarterback," defensive tackle Tim Settle said. 
Bryant had six carries for 42 yards on that drive and 19 carries for 96 yards in the game. If you remove Bryant's rushing yardage from the game, Clemson only ran for 52 yards, which Foster would take every day of the week and twice on Sunday. Of course, you can't do that. Every one of those yards count, and as a result, what could have been a pretty strong defensive performance ended up going by the wayside.
4. A fake field goal is a bold call that, if successful, can get a team back in a game. I just don't think the situation warranted the one the Hokies tried Saturday.
Let's just start with this disclaimer: this is going to sound a lot like Monday (Sunday?) morning quarterbacking. Coaches are privy to much, much more information than anyone watching from afar and have a better finger on the pulse of what their team is capable of in the heat of battle, and Virginia Tech most definitely needed a spark down by 21 points. But the fake field goal Fuente called for late in the third quarter that bombed was an odd gambit. I'm not against fakes. Heck, Virginia Tech got back into last year's ACC title game against Clemson in large part because of the perfectly executed fake punt when the Hokies were down 14-0. But that at least caught Clemson off guard.
That wasn't the case Saturday night. Virginia Tech trailed 24-3 late in the third quarter and faced a fourth-and-12 situation at the Clemson 20. A field goal there still keeps the Hokies down by three scores with an 18-point deficit. Given that, if I'm the Tigers, my default is to expect a fake. And, based on their formation, they sure weren't intent on coming after the kick. Oscar Bradburn took the snap and, still crouched down as the holder, did an underhand flip to a crossing Dalton Keene, who was swallowed up by Clemson's defense 11 yards shy of the sticks. Fuente defended the decision afterward. "I feel like just trying to kick long field goals wasn't going to help us win the game, to be honest with you," he said. "I kind of wanted to go for it on the fake field goal. I felt better about faking it on fourth-and-10 than I did going for it. That's probably a press move by myself, but that's how I felt. And if it'd had been fourth and a little bit shorter, I would have left the offense on the field and gone for it."
It's easy to second-guess that, but even if that play has moderate success, is that going to gain 12 yards? Fuente thought the look was good and, had a block or two been made, perhaps it springs for the kind of momentum-turning play that the Hokies needed. It just didn't seem like the time to catch an opponent off guard. Let's be clear: going for it on fourth-and-12 with the offense didn't offer any more guarantees, not with how Clemson had been defending Virginia Tech to that point in the game (it was 24-3, after all). But at least if you run an offensive play you have the chance for a pass interference or some other kind of Tigers mistake that could have moved the chains. Instead, Tech just burned one of its special teams trick plays with nothing to show for it. 
5. Big picture, this loss isn't that damaging.
There are worse ways to suffer your first loss of the season than falling to the defending national champions. In fact, despite the lopsided outcome, I didn't treat the Hokies all too harshly on my AP Top 25 ballot this week. I moved them from 10th (perhaps a bit too high) to 16th (just right?), still ahead of Louisville (did the same thing against Clemson), Notre Dame (still hasn't beaten anyone all that great) and West Virginia (a team the Hokies beat head-to-head). Most people chalked this up as a loss before the season, so it's not like Virginia Tech's long-term outlook has changed much based on this outcome, unless you were one of the ones who got caught up daydreaming about a perfect season. The Coastal Division is still wide open, and with a very beatable Boston College on the schedule next week in advance of the bye week and all six of the Hokies' games against division foes coming in the second half of the season, there is plenty of time for Tech to work its way back up the rankings and possibly get another crack at Clemson in the ACC title game. Yeah, last night's loss was a disappointment, but Tech's probably not going to face a better team this year, and for where the two programs are right now -- the Tigers rolling in Swinney's ninth season in Clemson and the Hokies still building in Fuente's second, the year after losing some prime offensive talent early to the NFL -- it wasn't a wholly surprising outcome.
Fuente's teams have responded well to losses so far in his time at Tech. The Hokies followed up the Bristol loss to Tennessee last September by steamrolling Boston College, East Carolina and North Carolina. They came back from the disappointment at Syracuse by crushing Miami and getting the Heinz Field monkey off their back at Pitt. And they rebounded from the Georgia Tech letdown with a gutsy win at Notre Dame and the annual dismemberment of Virginia. At 2-3 and winless in ACC play, Boston College doesn't seem like much of a challenge this week, but it's still a road game against a pretty good defense, and teams can get caught sleeping when that bye week's out there on the horizon. If Tech can get to the open week with a 5-1 record and 1-1 mark in conference play, with head-to-head matchups with every Coastal Division team remaining on the schedule, that's still about as good as anyone realistically could have hoped for at this stage of the season.