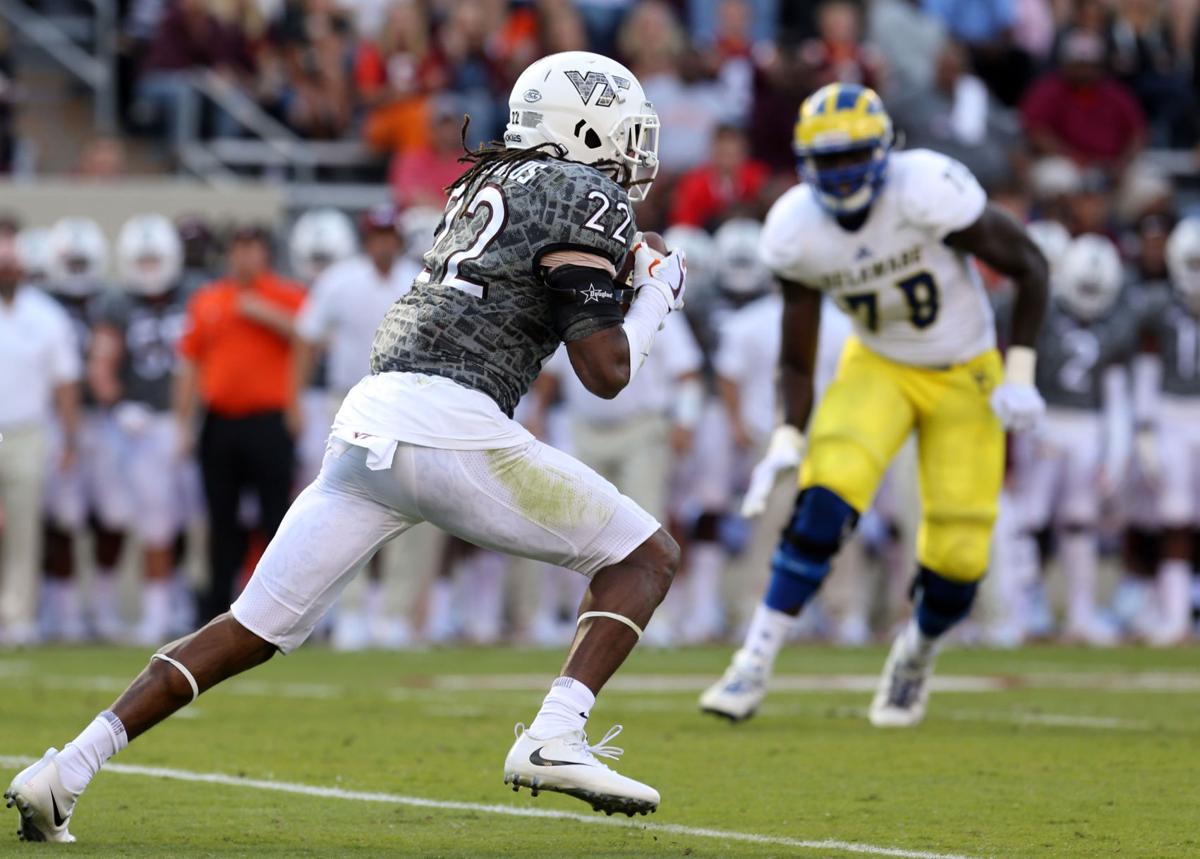 It's time for the usual day-after thoughts from the Hokies' game, but first, read and watch all this material we produced yesterday:
Now for some thoughts ...
1. It wasn't an overwhelming win, but didn't everyone kind of see this coming?
So that wasn't the most impressive showing, to say the least. The offense was sluggish. The defense got the shutout, sure, but not without Delaware shooting itself in the foot a couple times in the red zone. If not for Greg Stroman's early punt return for a touchdown to breathe some life into this team, who knows exactly how that first half plays out? It's safe to say this isn't a game that's going to be all over the season highlight video. But after the high of beating West Virginia in a down-to-the-wire game on Sunday night at a place that's haunted this program for years, wasn't it going to be tough for this game not to be a letdown in some way?
I know. Tech preaches 1-0. The Hokies take every opponent seriously. And, honestly, a shutout against anybody is not something to just pooh-pooh. But there's some human nature at work here. And in a short week after an emotionally draining win against a hated rival, it's tough to come out with the same kind of intensity and sharpness, especially against a team you're supposed to wallop. I've covered numerous games here with Tech taking on an FCS opponent and it never seems to be a hit-on-all-cylinders type of affair. And it's not like the Hokies were going to pull out all the stops offensively in this one and give away anything.
This isn't to make excuses for Tech's sometimes lackluster showing, but this is a young team. And young teams sometimes have a hard time handling success like the Hokies had in Week 1, when everyone was patting them on the back and they were one of the darlings in college football. ("Justin Fuente's done it again! Jackson's the real deal!") There are worse ways of coming back to earth than what was still nearly a four-touchdown outcome and a shutout win, so I guess if the Hokies were going to get a reality check, this is the way to do it. But let's just say while this kind of performance might get them by a team like Delaware -- or even perhaps East Carolina or Old Dominion coming up on the schedule -- it sure won't fly against one as good as Clemson.
2. This is what a young offense looks like, especially at quarterback.
Fuente channeled his inner-Al Groh and pointed out that everyone is quick to anoint the next big thing, especially at quarterback. But it's a process. And when you have a redshirt freshman quarterback who's often throwing to freshman receivers and has a couple of first-time starters on the offensive line, this is what the product is going to look like sometimes. Jackson wasn't bad by any stretch of the imagination. He still went 16-for-28 for 222 yards and two touchdowns, and his stat line would have looked a lot better if not for some drops. You could add 60 yards and a touchdown to those numbers if Sean Savoy could have hauled in a deep ball Jackson put on the money in the first quarter that slipped through the receiver's fingers.
That's still a decent effort on the part of Jackson, who, while he still didn't reach 60 percent passing, didn't put the ball in very much trouble again. The Hokies finally had their first turnover and it wasn't through any fault of Jackson's. It's just that the difference between a highly efficient showing and one that leaves a bit to be desired isn't that much. The quarterback admitted afterward that he could have been sharper with his throws, lamenting one that he didn't get to Travon McMillian on an open wheel route. He looked like he had time to stick in the pocket a couple times while facing little pressure and might have defaulted to taking off and running a touch early. But that's part of the growth curve for someone who was still only making his second career start. Jackson made some nice plays, including a pretty touchdown throw to Cam Phillips and a nice throw dropped between defenders to pick up a first down to C.J. Carroll to give the Hokies a shot at a field goal right before halftime, even if Carroll got popped on the play. Still, it wasn't going to be a work of art every week with this much inexperience on offense. Virginia Tech can at least take heart in the fact that even though it wasn't its sharpest, it still did enough to win comfortably.
3. The run game leaves a little to be desired after that showing.
The big quibble, and Aaron nailed this in his column, is that the running game didn't get going. The Hokies finished with 81 rushing yards, and while they didn't run the ball a lot (they had 28 total carries and only 20 by non-quarterbacks), it's not like they were overly effective when they did hand it off. Fuente said afterward this was because of Delaware's defensive scheme. It was designed at taking away the run. Aaron's response, like mine, was the same: shouldn't you still be able to physically overpower a team from the FCS?
Tech averaged 2.9 yards per carry a week after going for 5.2 against West Virginia, so this isn't some huge panic button to hit. The Hokies racked up 234 rushing yards against the Mountaineers, so they had a good amount of success in Week 1. But the running back portion of that production still leaves something to be desired. Fuente will bristle at any kind of question about the distribution of carries -- outside of injury queries, it's his least favorite thing to answer -- but this isn't about that. It's about what they're doing when they do get the ball. And right now, it's not exactly a well-oiled machine. Deshawn McClease is averaging 5.3 yards a carry, which is good. But Travon McMillian's at 3.5 and Steven Peoples is at 3.0. (Small sample size alert, but still.) None of the running backs, save for Jalen Holston, who got his eight carries for 32 yards in garbage time, averaged better than 3 yards per carry against Delaware. Again, this is a single performance against what was a defense designed specifically to snuff out the run. But the fact that the Hokies couldn't line up and impose their offensive will on a lower-division opponent has to be a little frustrating.
4. The defense, as you can see, is fine.
About two hours before the game, as West Virginia was heading into halftime with a 49-3 lead against East Carolina, I posted this on Twitter. Yeah, the Pirates aren't exactly Alabama out there, but my point was this: the Mountaineers have a pretty capable offense. And all of a sudden, only giving up 24 points despite surrendering 592 yards in the opener doesn't look so bad in hindsight.
You knew Bud Foster's defense would get right, and it did against Delaware, getting the shutout, holding the Blue Hens to 223 yards, registering four sacks and two turnovers and limiting them to 5-for-18 on third downs. Delaware twice got into the red zone and twice came away with no points, so the Hokies have to fortunate that they were able to keep the shutout intact, but all in all, this looked like the type of defense that everyone expected coming into the season. Tremaine Edmunds was all over the field, finishing with 14 tackles, with four tackles for a loss and 1.5 sacks. His brother, Terrell, was just as good, getting both a sack and a pick. (It's early, but they might eventually give the Fuller brothers a run for their money for most beloved Hokie family.) Reggie Floyd made some nice tackles out of the rover spot. Ricky Walker was a tough man to block on the interior. And you didn't see too many big plays given up down the field. Delaware's longest play, in fact, went for 24 yards. 
That's just what you want to see in a game like this against an opponent Tech should dominate. The only regret was that the Hokies didn't get their backups many snaps. A few defensive linemen got in the game and there was the usual cornerback rotation, but the game wasn't lopsided enough to get the reserves a ton of work until the fourth quarter. And even then, Foster couldn't quite get his backup linebackers in the game for a series. If failing to get all the backups you want into the game is your biggest problem with a performance, that's a pretty good day.
5. Tech's special teams might just be its best unit.
Stroman said afterward he was thinking one thing when he was in the open field on his way to a sure touchdown after he found a clearing on a first quarter punt return: "Beamer Ball, baby! That's what I was thinking." It's only two games, but this looks like some of those special teams units that were so strong during Beamer's heyday. There's not really a weak link on the special teams. Sure, kicker Joey Slye's had some misfires early on, but his track record suggests he'll be fine, and, though he had one blocked and missed from 51 Saturday, he did hit from 50 yards for the first time in his career. Oscar Bradburn averaged 45-plus on his punts for a second straight week. Stroman's still a threat to take it to the house every time he touches it. James Clark didn't have a chance to return a kick yesterday but had a 44-yarder in the opener. Slye had 12 touchbacks in 12 attempts, so it doesn't seem like any opponent will even get a shot at even returning a kickoff. And the two punts opponents have returned so far have gone for only 2 yards. 
That's pretty dang good. There was a reason Fuente brought with him from Memphis special teams coordinator James Shibest. He's regarded as one of the best in the business in that department and so far this year, the Hokies are showing why. Tech has been sharp in all facets of special teams. That made a huge difference in the West Virginia game, where field position more than made up for the disparity in offensive yardage between the teams. It's something that goes unnoticed, but Tech hasn't had to defend any short fields yet this year. Hokies opponents haven't started a possession past their own 34-yard line yet this year, and 24 of 29 possessions have started from at or inside the 25-yard line. You hear coaches talk a lot about hidden yardage in a game. That's it right there. I don't know if the term Shibest Ball is ever going to catch on -- get marketing on that, stat -- but it's obvious special teams will still continue to be a big component of any kind of success in Blacksburg going forward.
Bonus: If that's what Virginia Tech is going with instead of the Hokie Pokie, perhaps I've been misguided.
OK, I wasn't going to waste an actual point on this, but since the feedback, both for and against moving the Hokie Pokie, has been so fervent, I figured I'd address this. Once again, I'm all for moving the Hokie Pokie. It's still there, folks. It's just at halftime instead of between the third and fourth quarters, which I think should be a time for something a little more energetic. But good gosh, did the "Let's Go ... Hokies" chant flop yesterday. I know school president Dr. Tim Sands isn't exactly Will Ferrell leading the cheer, but I do have to wonder even if pulled off perfectly how good that's going to work. It's got to build into something else, right? It works in the pre-game because it leads into "Enter Sandman." And while that would seem like a good way to do the fourth quarter cheer too, I know Hokies fans are protective of their Metallica favorite, not wanting to run it into the ground (even though they kind of do that already). So, it seems like Virginia Tech needs to come up with another song or something to juice up this new tradition. I'll reserve complete judgment until they iron out the kinks a little bit with a few more tries, but for how they publicized the celebrity chanter when they made the switch before the season, that sure was a letdown.
OK, now let's get to the REAL issue of the day, which was the UNIFORMS ...