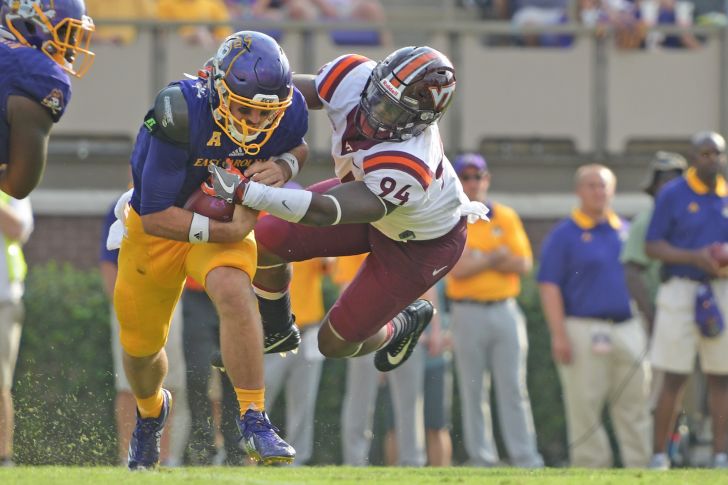 A little bit later of a publish time than usual today. That's because I had a small child in tow to post-practice interviews tonight. She only threw one tantrum, roughly equal to what the rest of us sportswriters have on a daily basis. My apologies to Travon McMillian for any disruption.
I wrote about freshman H-back Dalton Keene for Wednesday's paper, starting it off with a great anecdote from defensive coordinator Bud Foster from way back in the day on Claytor Lake. 
Also, on the subject of Keene:
Now for a few more notes and quotes from today's interviews ...
1. Foster's not counting on having cornerback Adonis Alexander on Saturday.
There's been nothing official from Justin Fuente on Alexander's status for the Old Dominion game, but Foster doesn't think the junior cornerback will play.
Asked if he expects to have Alexander for the game, Foster said: "I don't think so. No."
That's not a real surprise. It'd more shocking if Alexander weren't available for the Clemson game on Sept. 30.
Brandon Facyson and Greg Stroman will start at cornerback this week. Freshman Bryce Watts and redshirt freshman Tyree Rodgers served as the backups last week.
2. "Tunnel vision" is the theme of the week.
The Hokies mocked up a graphic of the Lane Stadium tunnel with an Old Dominion logo at the end of it to put on their video boards in the Jamerson Athletic Center, just to hammer home not looking ahead this week. Apparently, Tech is drawing inspiration from the Tom Smykowski idea tree.
The point is obvious: the Hokies are trying to stay focused on the Monarchs this week, even with a major showdown with No. 2 Clemson looming.
"Like coach said in the Sunday meeting, he said everybody's going to distract us with other things," defensive tackle Ricky Walker said. "But we've got to focus on this week, and that's ODU. We've just got to keep a tunnel vision and just block everything else out and just worry about the Monarchs.
"Because the Monarchs are a good team. They won 10 ballgames [last year]."
3. This game has a little extra juice for a lot of 757 guys.
Old Dominion's the Football Bowl Subdivision program in the 757 area, where the Hokies pull a lot of their recruits from. That makes this matchup a little more special for a lot of Hokies.
"I've had ODU circled on my list for a while, since I found out we were playing them, because being from around that area," said linebacker Andrew Motuapuaka, who's from Virginia Beach. "I just couldn't wait to play a team like that."
The recruiting overlap between the teams isn't huge, but they pull a lot of their players from the same schools. Of the 757 players who spoke to the media Tuesday night -- Motuapuaka and Walker -- both had old teammates on the Monarchs' roster. Motuapuaka played with tight end Nijee Cox at Salem High. Walker played with receiver Darrell Brown at Bethel.
Another connection there is that ODU is currently recruiting Walker's younger brother, Mondo, a safety at Bethel, although he hasn't gotten an offer yet.
Both Walker and Motuapuaka were recruited by Old Dominion too. Motuapuaka, in fact, was recruited to the Monarchs by current Hokies running backs coach Zohn Burden, who was then ODU's receivers coach and one of the team's primary 757 recruiters.
"Coach Zohn actually recruited me to two different schools: ODU and Richmond," Motuapuaka said, referencing Burden's one year at Richmond in between stints at ODU. "I was like, 'Does this dude have a twin or something?'"
4. Fuente was very blunt about telling Walker at last year's bowl game that this was going to be his defense.
Walker said Fuente came up to him during the last practice before the Belk Bowl last year with a simple message: in less than 48 hours, this is going to be your defense, your defensive line.
"So I took that personal," Walker said. "And so far I'm living up to the challenge."
Walker's been described as the "bell cow" of the defensive line by Foster, taking over the mantle from such past d-linemen as Luther Maddy and Woody Baron. Walker said he thinks spring practice is when he really earned the respect of his teammates as one of the team's leaders. It emboldened him in the summer.
"I said, 'Don't be surprised if I call you at 2 in the morning to go run hills,'" Walker said. "I said, 'Stay by your phone.' And them guys lived to that challenge. We had a pretty good summer. So far it's paying off."
Did Walker ever end up calling anyone to run hills?
"Two or three times," he said. "It wasn't 2 [a.m.]. It was like 11 or 12 [at night]. ... We've got to get extra work. Right now people are sleeping. We've got to take advantage of that time."
5. The Hokies have a chance to go undefeated in non-conference play for the first time since 2011. 
That's another motivational ploy by Fuente this week. Since 2007, the Hokies have only had a clean non-conference slate once, the aforementioned 2011 season when they swept through a marshmallowy soft schedule of Appalachian State, East Carolina, Arkansas State and Marshall. 
This year's schedule is a little tougher than that, having included a West Virginia team that was ranked to start the year. That'd make a 4-0 record even more special.
Tech hasn't had a perfect non-conference record that included a win against a top 25 team since 2002, when it went 6-0 during the regular season outside of Big East play and beat No. 14 LSU, No. 16 Marshall and No. 19 Texas A&M along the way.
"We're trying to put a stamp on that and accomplish an in-season goal," Walker said. "That's pretty big. And when I think about it, all these good teams we had in past years, it's hard to do. So I'm glad to be a part of that and I'm hoping to do that."