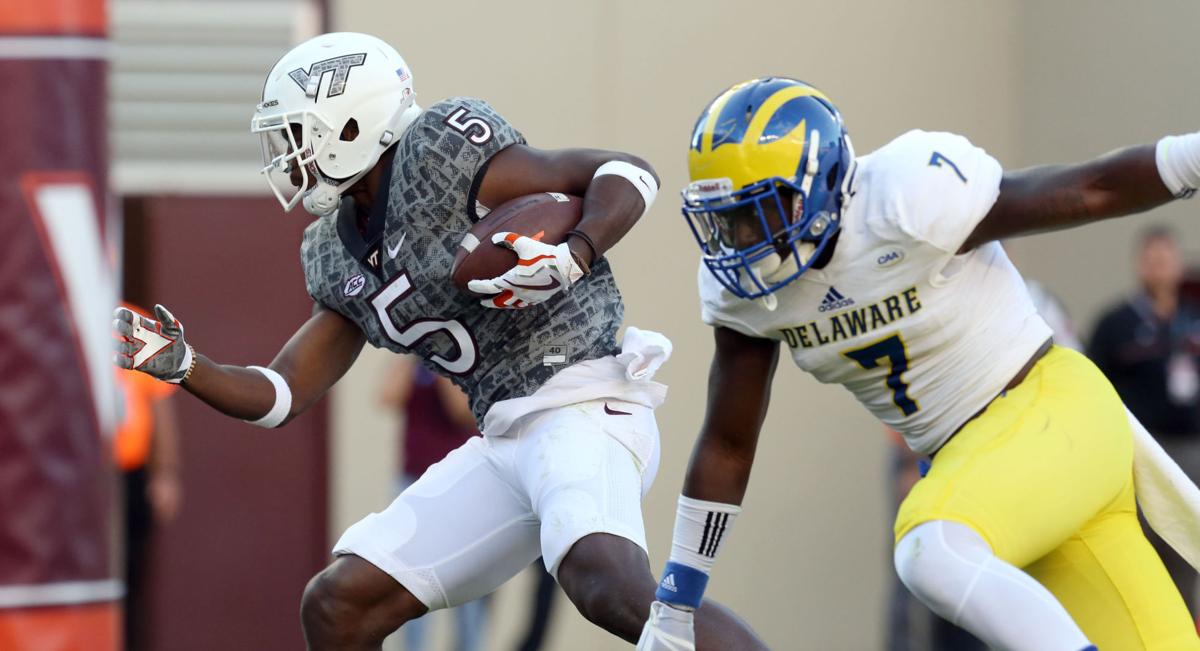 But here are a few more notes and quotes from today's interviews ...
1. Cam Phillips isn't going to beat around the bush if you ask him if he's one of the best receivers in the country.
"I feel like I'm the best receiver in the country," Phillips said.
Well, there you go. Statistically, he certainly has an argument right now. The senior leads the nation in receiving yards (523) and is fourth in receptions (34). His five touchdown catches are tied for fifth.
"Yeah, it is cool, actually," Phillips said. "Actually, one of my friends from high school actually sent me a picture of it. I sent it to Isaiah [Ford], and he made a joke, like he and I made an account for myself and voted for myself. I thought that was funny.
"Yeah, it is cool, man. It doesn't really mean much to me right now. I'm just worried about the game and winning."
2. All that said, Phillips thinks he still has room to improve this year.
"I think I'm still building," Phillips said. "I think there's a lot more I can do. I think I can still play a lot better. I don't think I've played as well as I can, or even as well as I should be, especially with as many opportunities that I get on a week-to-week basis during the game.
"So, I'm still trying to play my best football. I'm not worried about what other people are saying about me or how many yards I have. I just want to go out and play better than I did the previous week."
Phillips, who has 199 career catches for 2,586 yards, is well on pace to break Ford's school records. He needs 12 more receptions and 400 yards to move past Ford and set Virginia Tech's career records in those categories.
"Our relationship is still the same as it's ever been," Phillips said of his old teammate. "We're brothers, really. You know, he already knew it wouldn't be much to break the records. He's saying, 'It should be easy for you to get [them],' and I still talk to him weekly. Today, he just asked, 'What's the game plan? What are they looking like on film?' stuff like that, but no hostility. Nothing like that. Records are made to be broken anyway, so I'm glad I'm the one that may get to do it."  
3. Consider Bud Foster impressed by Clemson's rushing attack.
The Tigers come into the game averaging 272 yards per game, the 13th most nationally. Their 17 rushing touchdowns are tied for the second most in the country, trailing only Oregon.
That success comes from a lot of ballcarriers, including quarterback Kelly Bryant, who has 268 yards and seven touchdowns, and the ability of the offense to adjust to how the defense is approaching them.
"They'll see what you're giving them and then they're going to try to attack the other way," Foster said. "Whether it's with quarterback counters, quarterback powers, ... the speed option. They'll do a lot out of different looks."
Clemson's also seen the emergence of freshman tailback Travis Etienne, who has 292 yards and four touchdowns this year on only 23 carries, averaging 12.7 yards per touch.
"You're seeing his role improve each and every week," Foster said. "[He's] very explosive and a big-play threat every time he touches the football, which is scary."
4. Foster sees a lot of Deshaun Watson in Bryant.
They're of a similar athletic mold, although Foster had an extremely high opinion of Watson last year that would be tough for anyone to approach.
"What you see in similarities are dynamic athletes," Foster said. "I'm not going to put this guy in the same category with Deshaun right now, who I thought really was the best college football player in the country last year.
"I do believe this guy has a lot of the same qualities, though, as far as good arm strength, he makes good throws down the field, he seems to make good decisions with the ball in his hands. ... Now, does he have the same experience? No, and those type of things. But obviously he's gaining that and he's stepped up in some big games so far early in the season. I've been very very impressed with him and his athletic ability and his skill set to throw the football. With the ball in his hands, he's very very dangerous. We have to do a great job against him this week."
In addition rushing yardage, Bryant is completing 67.9 percent of his passes for 873 yards, with two touchdowns and three interceptions.
5. Though a fan of the show when he was younger, Phillips' mind is elsewhere Saturday mornings and won't be watching ESPN's College GameDay.
That's not a slight to the show. Phillips said he used to watch it all the time. He just knows it doesn't have anything to do with the game coming up.
"The predictions or the projections don't mean anything," Phillips said. "You still have to go out and play the game.
"I think we're underdogs in the game anyway, so I wouldn't want to go and watch them pick Clemson, so I'll just get some sleep or just look through the playbook again or just try to calm down and make sure my body is right for the game."
Bonus: Just because Frank and Hank Beamer are always worth posting when they pose for a picture.