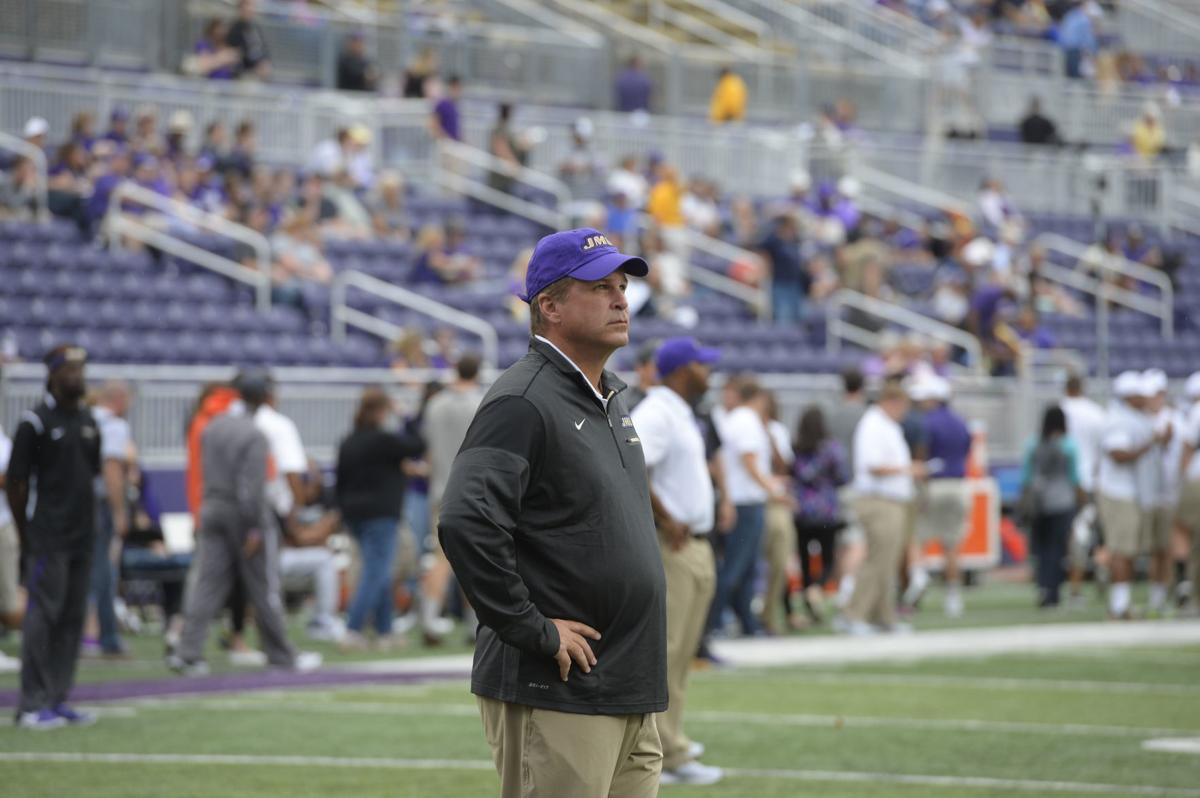 HARRISONBURG — On Friday mornings before home games during his two seasons coaching at James Madison, Bryan Stinespring got up early and went for a jog around the school's campus.
A 1986 JMU graduate and former walk-on offensive lineman, Stinespring paused occasionally to snap a picture to send to his friends or share on social media, blasts from his past.
"It was just living a dream, to be able to go back to your school and feel like you had an impact in a lot of ways, not just on the field but off the field," said Stinespring, an assistant for the Dukes' 2016 FCS national championship and 2017 national runner-up teams.
Now, Stinespring, the offensive line coach at Maryland, would like to return to that dream as the head coach at his alma mater. With Mike Houston's departure for East Carolina, JMU is in the market for its fourth coach in six years.
With Madison's facilities and other financial resources, the job is a gem at the FCS level, and considered by some to be better than some low-level FBS gigs. JMU and athletic director Jeff Bourne won't have any shortage of candidates.
Bourne has not announced a timetable for the hire but indicated having a coach in place for the Dec. 19 early signing date would be important.
The job could be an appealing move for an established head coach like Elon's Curt Cignetti or Kennesaw State's Brian Bohannon.
Another riser in the profession, like Maine coach Joe Harasymiak or Texas assistant Drew Mehringer, could take over the Dukes as the next step in their career path.
A source said JMU — which has a search committee and has hired an outside search firm — is considering all four of those candidates, as well as Stinespring, a 55-year-old Clifton Forge native who spent the first 26 years of his college coaching career working for Frank Beamer at Virginia Tech, including a 10-year run as the Hokies' offensive coordinator.
Stinespring helped guide Tech to 23 straight bowl appearances, coached three ACC offensive players of the year (quarterbacks Bryan Randall and Tyrod Taylor and running back David Wilson), and made a reputation as a top-notch recruiter, mining the vaunted Tidewater area for some of the Hokies' biggest stars.
"I felt like I spent the last 20 years prepping myself for the opportunity to one day be the head coach at James Madison University," Stinespring said.
Former players of his have been lobbying for Stinespring to be hired on social media. Some said they've sent letters to JMU. His familiarity both with much of the current roster and with the school itself are positives.
If there's a knock on Stinespring, it's that he doesn't have head coaching experience.
"There is credence to hiring a head coach, somebody who's been there, been in that chair, had to make the tough decisions," Bourne said.
Then, there's the matter of how JMU will view Stinespring's association with Maryland, where coach D.J. Durkin was suspended and later fired for promoting an abusive culture within his program — an issue that came to light after the death of a player during a workout.
Stinespring, who became understandably emotional when speaking about the death of Jordan McNair, said he considered leaving Maryland. But a conversation with Beamer, in which Beamer stressed how important the coaches would be to the Terrapins' players this season, convinced him to stay.
"He said, 'You're that guy,' " Stinespring recalled. "For him to say that really put it into great perspective. Sometimes, we get so caught up in wins and losses. How do you handle adversity and tragedy? It reminds you, we're really here for the young men and women who are a part of what we do."
Along with interim coach Matt Canada and the staff, Stinespring helped Maryland to a 5-7 season. Tuesday, it hired Alabama offensive coordinator Mike Locksley as its new head coach.
For JMU, the larger question that looms over this hire is whether or not it's comfortable serving as a steppingstone job for up-and-coming coaches, or if it would rather settle in with a coach who aims to have a lengthy tenure at the school.
JMU paid Houston exceptionally well for an FCS coach. He was earning just over $515,000 a year.
That wasn't enough to compete with the $1.3 million East Carolina will pay Houston in his first season.
Houston's $750,000 buyout also didn't deter ECU.
Mickey Matthews, who led the Dukes to their first national championship in 2004, coached for 15 years in Harrisonburg before being fired.
Since then? Everett Withers went 18-7 in two years, making two FCS playoff appearances, before leaving for Texas State.
He was fired there this year.
Houston went 37-6 in his three seasons at JMU, taking the Dukes to the national title game his first two years, including winning the championship in 2016. Last year, he signed a 10-year extension to his contract. This year, he went 9-4 and the Dukes lost to Colgate in the second round of the playoffs.
For his part, Bourne — in his 20th year as the school's athletic director — said he doesn't mind the pressure of having to hire a new coach every three or four years, as long as the program continues to be successful.
"If we have to go through this every few years, we're willing to go through it," Bourne said. "Because it's telling us we're doing the right things and this program is in the right place."
It's a model that has worked just fine for another in-state program — VCU basketball.
The Rams have seen a steady stream of coaches win and leave, from Jeff Capel to Anthony Grant to Shaka Smart to Will Wade. Yet the Rams have won at least 24 games in nine of the past 10 years. This season, Mike Rhoades has the team 7-2 and coming off a road win at Texas going into Sunday's game at No. 4 Virginia.
"It shows VCU is bigger than one person," said VCU athletic director Ed McLaughlin, who hired both Wade and Rhoades. "But it's really hard. And the pressure on us as administrators is super hard, too."
McLaughlin said that having all the resources of a winning program in place has helped ease the coaching transitions.
Like Bourne, McLaughlin is prepared to repeat the process as often as is needed to keep the Rams winning. But he believes that, in Rhoades, a former Rams assistant who started his career at Randolph-Macon, he has a coach who wants to be at VCU for the long run.
"He wants to make this his big job, instead of the next job," McLaughlin said. "This was always his dream job."
In Blacksburg, Stinespring was part of that model, one that valued stability and produced consistency. Beamer coached Tech, his alma mater, for 29 years.
Stinespring would consider the chance to spend that long at JMU "a dream."
Be the first to know
Get local news delivered to your inbox!