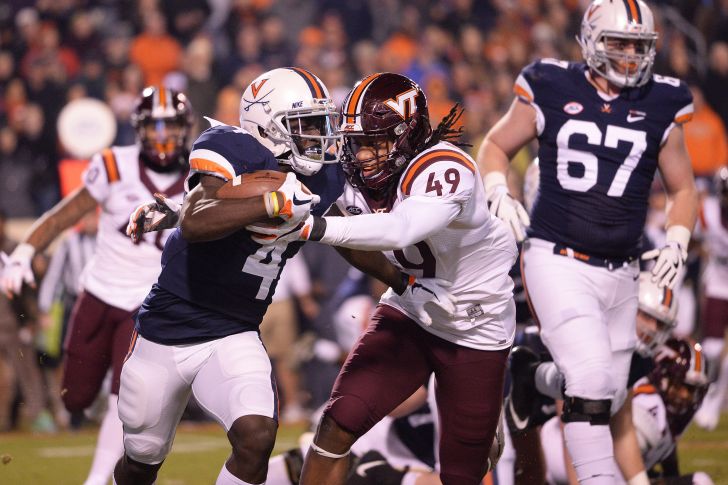 Who's a comp for NFL-bound Virginia Tech linebacker Tremaine Edmunds? NFL Network analyst Mike Mayock had a hard time coming up with one, which is a rarity.
Mayock was like most draft analysts when talking about Edmunds during a pre-NFL Combine teleconference on Monday, heaping praise on the former Hokies All-American, who most prognosticators have going in the first half of the first round come April.
"The beauty of this kid is he's 19 years old, he's 6-foot-5, 250. At 19 years old. He doesn't turn 20 until a couple days after the draft," Mayock said. "I put the first tape in on this kid, and today he's an off-the-ball linebacker. Meaning in a three-four, he's an inside linebacker and he'd be great there. He also has a scary skill set as an edge rusher, which he did a little bit at Virginia Tech, and I know for sure he's working on that now.
"So I see incredible upside. I see an off-the-ball linebacker, I think some of the 3-4 teams could look at him and say he could be a 34 outside linebacker, in addition to being a 34 inside linebacker. Right now what I say is a starting-off-the-ball linebacker and a potential sub at edge rusher. He's got a skill set. I don't use this word often, but he has a skill set that's unique."
Pressed on if Edmunds reminds him of anyone, Mayock reiterated the point.
"No. That's my point," he said. "That's the definition of unique. There is only one of them."
Edmunds, who has drawn some comparisons to Brian Urlacher, has been seeing his draft stock skyrocket since declaring in January, making him close to a first-round lock at this point. Of the eight analysts to do a mock draft on NFL.com, nobody has him going lower than 10th to the Raiders. Six of those project him to go to the 49ers with the ninth overall pick.
Mayock thinks it's a deep pool of off-the-ball linebackers in this year's class, with Edmunds, Georgia's Roquan Smith, and possibly Boise State's Leighton Vander Esch and Alabama's Rashaan Evans being first-round picks, though he noted typically only two off-the-ball linebackers go in the first round each year. 
Like a growing number of analysts, Mayock has also been impressed with what he's seen of Hokies defensive tackle Tim Settle, catching his first glimpse of the 330-pounder while watching video of Edmunds. 
"[I] was like: Who is this big dude in the middle? I mean, wow," Mayock said. "I love it when I notice a guy and I'm not even studying that particular player."
Upon further review, Mayock said there was a lot to like about the redshirt sophomore.
"At 335 plus or minus pounds, he's got short-area quickness that's rare. That's the first thing that jumps off," Mayock said. "Can he affect the pass game at 335? Maybe. Again, that's rare.
"I know he can stop the run. When he stays low and plays with leverage, he's hard to move, even with the double team. He's got short area quickness that he can threaten the pocket. And he plays hard. I can't remember which tape it was, but he chased down a screen pass about 30 yards from behind. You don't ever see 335-pound guys do that. So I really like everything I saw."
Speaking not specifically about Settle but young defensive linemen generally, Mayock said the biggest issue is consistent effort.
"Every snap you have to play with your hair on fire in the NFL," he said. "Every snap. Can't take downs off. Got to make every snap count. I think the rotation helps in the NFL, but I think it's something that young players have to get used to."
The NFL Combine starts today, with kickers, specialists, offensive linemen and running backs arriving in Indianapolis and beginning interviews. Workouts at Lucas Oil Field begin Friday with that group, followed by quarterbacks, receivers and tight ends on Saturday, defensive linemen and linebackers on Sunday and defensive backs on Monday.