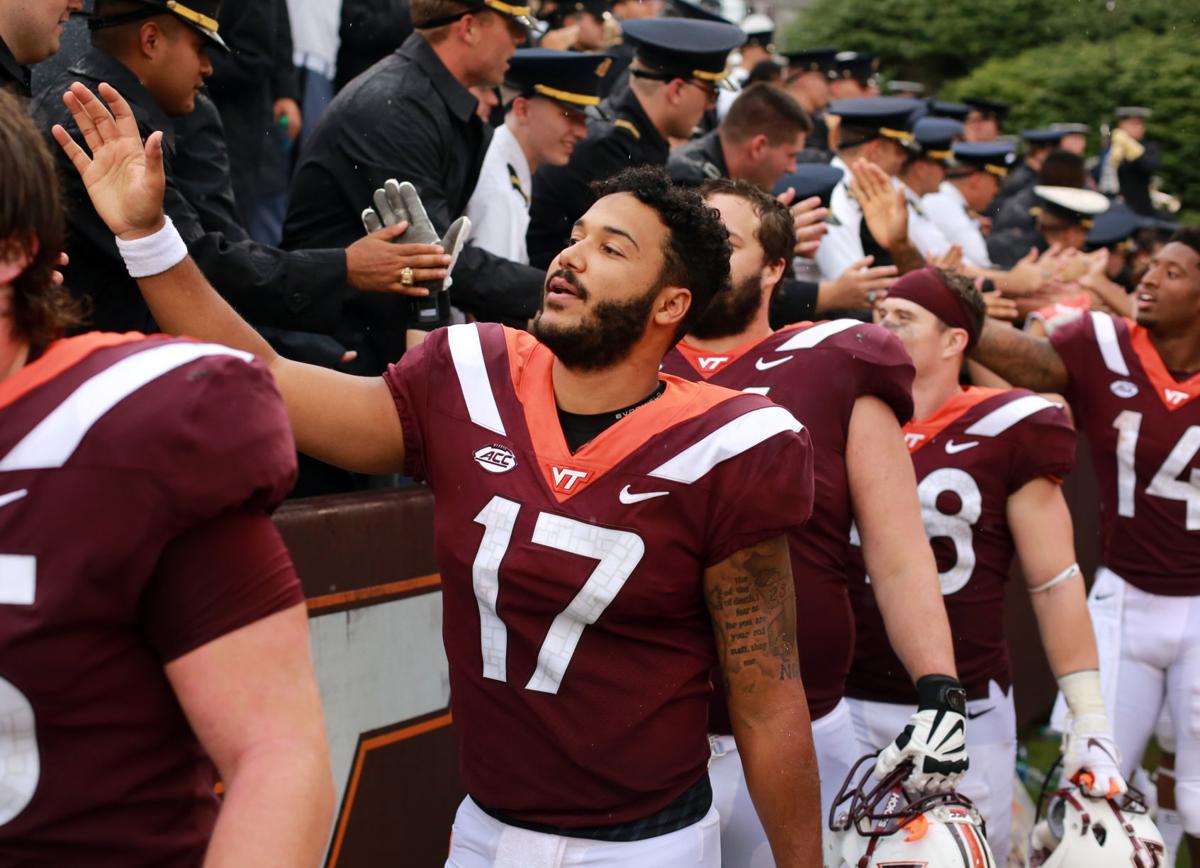 BLACKSBURG - Virginia Tech quarterback Josh Jackson is the latest name to enter the NCAA transfer portal.
The Hokies former starter officially made the announcement Wednesday after a day off of speculation about his status.
"First I would like to thank Hokie nation for all of your support throughout my time here at Virginia Tech," Jackson tweeted. "Thank you to Coach Fuente and his staff for giving me this opportunity. Along with Coach Hilgart and his staff for always pushing me to be the best I can be. But after much thought, consideration and discussion with my family, we think it'd be best for me to pursue my academic and football career elsewhere. It will be an honor to receive a degree from Virginia Tech and I will forever be a Hokie and cherish my time spent in Blacksburg."
"Our coaching staff remains firmly committed to developing a winning culture at Virginia Tech where our student-athletes can learn, grow and thrive in all aspects of their lives," Fuente said. "As head coach I certainly understand when young men desire to explore their options by entering themselves in the NCAA's transfer portal."
Jackson missed much of the 2018 season after suffering a season-ending leg injury in a 49-35 loss to Old Dominion on Sept. 22. He was able to get back on the field for bowl practices, but wasn't healthy enough to play.
Fuente expected Jackson to be 100 percent for spring practice where he would compete for the starting job against Ryan Willis, Hendon Hooker and Quincy Patterson. Willis was 4-6 as a starter this season throwing for 2,716 yards with 24 touchdowns and nine interceptions.
"We divvied up reps and gave everybody an opportunity and we still feel like Josh is the best one for us," Fuente said, in August. "And Josh has never batted an eye for us when we handled it like that. He hasn't changed the way he's gone about things. He's earned that opportunity and he'll be the guy."
"He's become more aggressive," Cornelsen said. "… As a freshman, he really took care of the ball well; just his composure, his ability to manage the game was really incredible, but there was plays out there to be made that he can make, so just being a step ahead of the game, getting the ball out quicker at times, anticipating windows, being a little more aggressive at times, is something we've really talked about that he's really improved and had a good camp."
Jackson, who set school records for a freshman with 2,991 passing yards and 20 touchdowns in 2017, looked poised to build on his solid debut season. The Michigan native started three games in 2018 and threw for 575 yards (36 of 58) with five touchdowns before the injury.
Mike Niziolek is the Virginia Tech football beat writer for The Roanoke Times. Follow him on Facebook and Twitter.