MONROE — Angela Scott still bakes homemade pies in her mother's kitchen.
She rolls out dough on the counter, then lays it across a pie pan, pinching up the edges into a pointed, wavy crust that resembles a crown. The tiny kitchen boils with activity, as if church just let out and the family has come over for Sunday dinner. Across the counter, Scott's husband, Larry, cracks eggs for a coconut pie filling. Her older sisters, the twins Darnette Hill and Darnelle Winston, pitch in.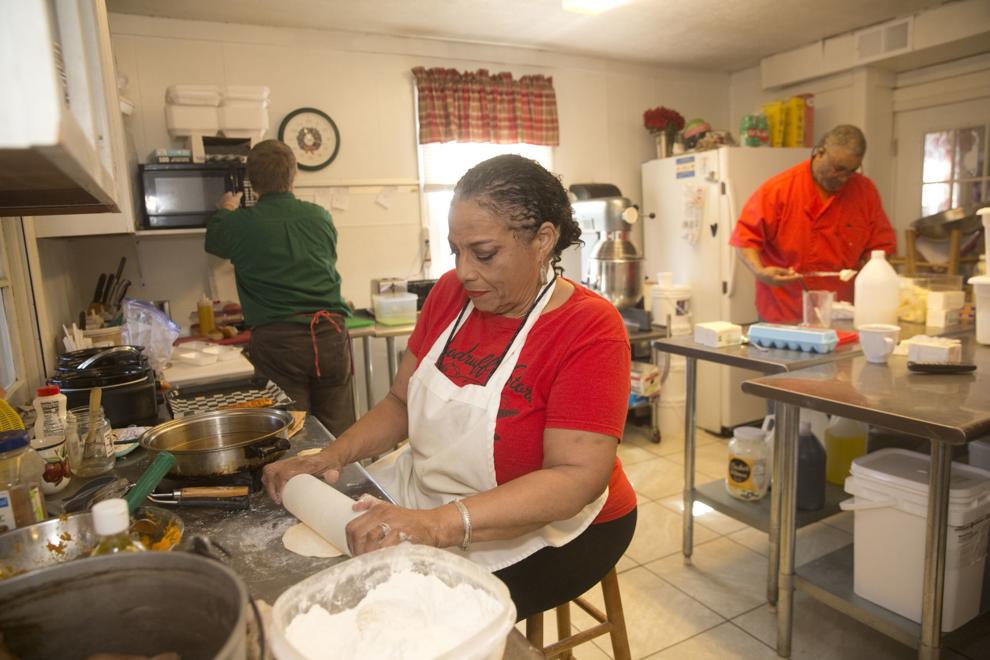 And, best of all, Mary Fannie Woodruff, the women's 102-year-old mother, sits at the head table and regales visitors with stories, family pictures and, if you're lucky, a verse or two of "How Great Thou Art."
But this isn't Sunday, and the sisters aren't cooking just for family. This was a typical Wednesday morning at Woodruff's Cafe and Pie Shop, where for the past 20 years, Angela has baked and sold thousands of pies in a little place that might not be in the middle of nowhere, but it's a little bit far from just about everywhere.
The pie shop is housed in a small, two-story cinderblock building her daddy built with his own hands in 1952. The white-painted building sits along Virginia 130 in Amherst County, about an hour and 15 minutes from Roanoke, between Natural Bridge and Lynchburg. The nearest community is Agricola (pronounced "ah-GRIC-oh-la"), population not many. The nearest town, Monroe, is eight miles down the road. Her parents ran a grocery store here for 30 years until 1982. Angela and her two sisters and two brothers grew up in the store's upstairs apartment.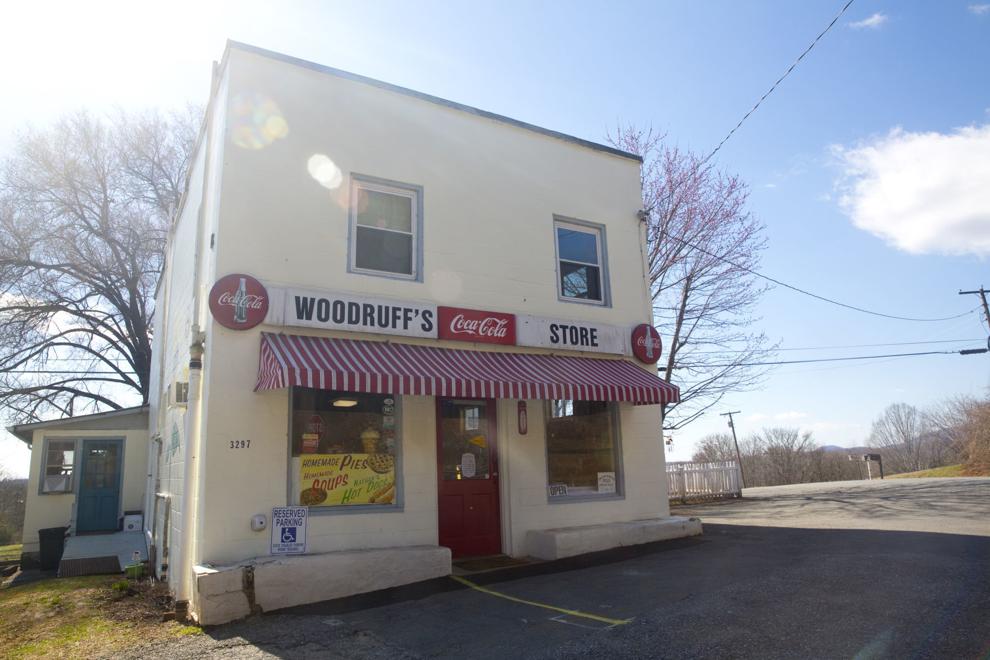 "This was Mama's kitchen," Angela said, wearing a flour-covered black apron and red chef's jacket. "Darnette and Darnelle were a year old when my parents opened the store. Their playpen was out there."
"Out there" is now the cafe's cozy dining space, a brightly lit room that seats only about 20 — and one of those seats is always occupied by Mary Fannie, a Bible and hymnal within arm's reach. On a recent weekday, she folded cardboard pie boxes into shape before the lunchtime rush. Some days, she helps peel Golden Delicious apples.
"I'm doing all right for an old woman," Mary Fannie told a customer in a loud, clear voice. "I can't grumble."
A recent weekday's lunch crowd of a dozen practically filled the place. Elaine Lawton of Madison Heights, a frequent customer, brought her friend, Brenda Young, for her first visit. Lawton prefers the pecan pie, but "everything is great," she said.
Near the front window, Peggy Hewitt of Forest topped off her lunch with a slice of apple crumb pie.
"It's even better than it looks, if that's possible," she said after the last bite.
Pat and Terry Rivers from Burlington, Vermont, had chosen to visit the pie shop over the National D-Day Memorial in Bedford, after their friend Karen McCharen suggested a couple of options for a day trip from Lynchburg.
"She asked us, 'Do you want to go to the D-Day museum or go get pie with a one hundred year-old lady named Mary who holds court?'" Pat Rivers said.
Their choice was as obvious as the crumbs on Pat, Terry and Karen's empty plates, which had held slices of blackberry buttermilk, lemon meringue and almond delight pies just minutes earlier.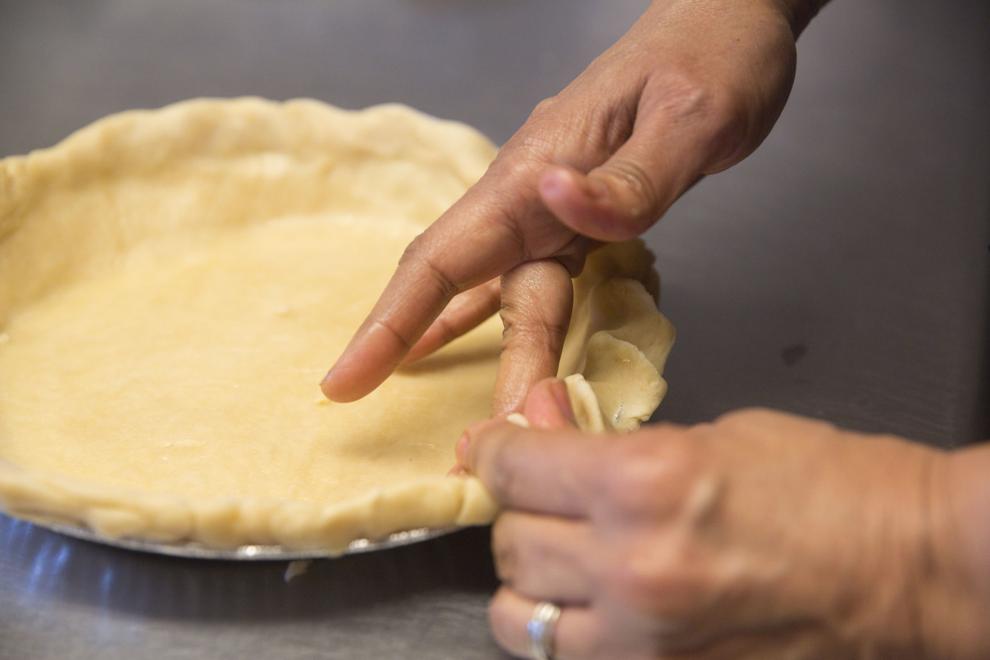 Pie day
Opening the pie shop meant going home for Angela, who spent nearly 20 years managing restaurants and tending bar in Lynchburg. She was the youngest of the five Woodruff children, all of whom worked in the store after school, doing chores such as pumping Shell gasoline and slicing meats and cheeses for customers. Every morning began with the brood rising to the store's alarm clock — the sound of Mary Fannie downstairs pounding on the ceiling with a broom handle.
Woodruff's Store housed a few other businesses in the years after it closed — a fish market and a storage building among them — and her parents still lived upstairs, but the place was mostly unused until Angela decided to open her own cafe in August 1998.
Her customers liked the sandwiches and other deli items she carried on the menu, but what they craved where the homemade pies, which had been on the menu almost as an afterthought.
Angela baked family recipes for sweet potato and apple pies but realized she needed more varieties. So she turned to a Southern Living cookbook she had received as a gift from her mother-in-law for her 29th birthday in 1988.
"I tweaked a lot of pie recipes out of that," she said. At first, she kept things simple, using pre-made, store-bought crusts. Eventually, she started making her own pie crusts.
These days, she bakes about 20 pies Wednesday through Friday, and as many as 50 on Saturday, selling them at $3.75 per slice or 17 bucks for a whole pie. The shop is closed the rest of the week, but Angela has to shop for ingredients on Monday and make crusts on Tuesday.
The pie shop's specialties include apple, blackberry, lemon chess, chocolate, coconut and chocolate peanut butter pies. In the summer, Angie bakes peach pies with fruit from local orchards. The pies are no-frills, straight-from-the-oven delicacies. She said that in the early days of the shop, she tried to sell pies to restaurants, which turned her down because the pies didn't look like the pictures from a cooking magazine. A little berry filling might have bubbled up on this one, or the crust edge wasn't perfect on that one.
"Restaurants didn't want them because of the presentation!" Angela said. "Are you kidding me? That's how you know it's homemade!"
Nowadays, she has more orders from restaurants than she can fill.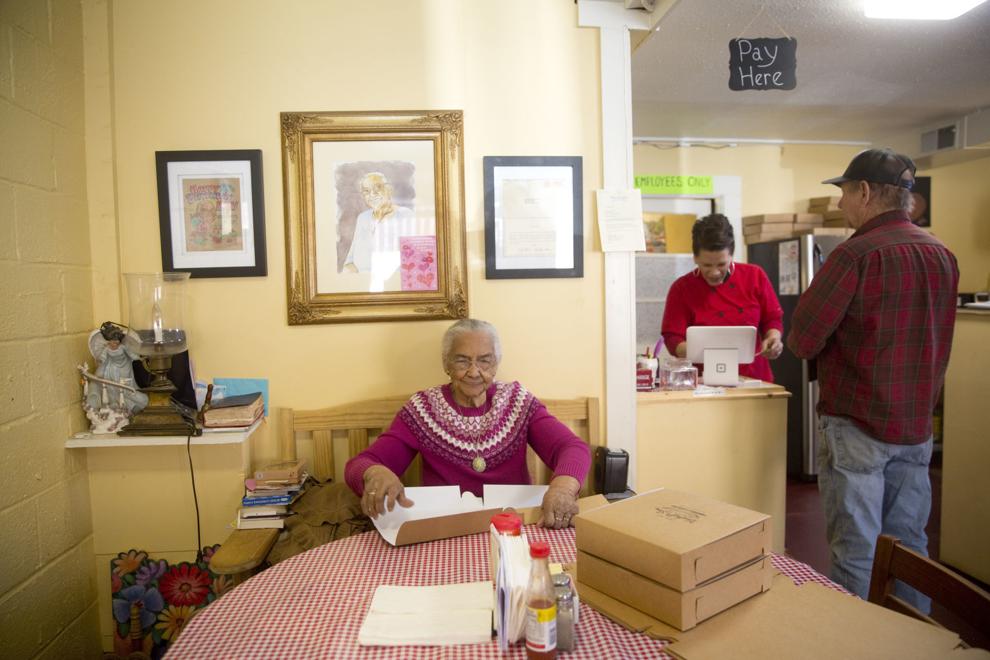 A slice of history
Woodruff's Cafe and Pie Shop sits on a spot that has been family land for more than 150 years, and was the site of the first Amherst County business owned by a black person. That was Wyatt Woodruff, Angela's great-grandfather.
Wyatt Woodruff was born into slavery in 1832. He earned his freedom during the Civil War and joined the United States Colored Infantry's 15th Regiment. He built earthen fortifications for the United States Army, according to a family history. After the war, he earned an army pension and ran a blacksmith's shop near the present-day intersection of Virginia 130 and Perch Road, a spot that came to be known as "Wyatt's Corner."
Nearly a century later, Wyatt's grandson, James Woodruff, Angie's father, built his cinderblock store on the family land.
"My father-in-law said, 'Why don't you put something on the road?'" Mary Fannie said, retelling the story, a smile permanently fixed on her face. She looks barely old enough to draw Social Security, far younger-looking than 102.
"I had a filling station, but I had to let it go," she said.
Steve McCann, who has worked at the shop a couple of years after many earlier visits as a dine-in customer, said: "I tell her we still have a filling station!"
Mary Fannie (whom regular customers always called "May Fannie," dropping the R in Mary) worked every step of the way, from picking apples as a young mother, to running the store with her husband and children. She played piano for Chestnut Grove Baptist Church, and still plays and sings for residents of nursing homes, many of whom are younger than her by 20 years.
The pie shop has done steady business since it first opened, but things really started cooking after Southern Living included Woodruff's in an article about local apple orchards in 2013.
The shop went from a one-stove-in-a-corner operation to now using three regular kitchen stoves. Darnette, who served in the Army and worked as a commercial artist, and Darnelle, who worked for Verizon, came out of retirement to help. Angela also gets help from a part-time employee who helps make dough on Tuesdays. She and Larry, a drummer who teaches at Lynchburg Music Center, live in the upstairs apartment, so the business is her home, too.
On a recent Wednesday, Darnette sat at a counter, stuffing sweet potato filling into biscuit dough and dropping the batter into a deep fryer of sizzling Crisco. Darnelle waited tables, and Larry carried a stack of pies out the door for a delivery. The work is exhausting, but sweet as pie.
"Just look at the people when they come here," Angela said. "They start smiling immediately. I think they feel like they're in grandma's kitchen. It's like being home and being loved. Pie is a universal language."