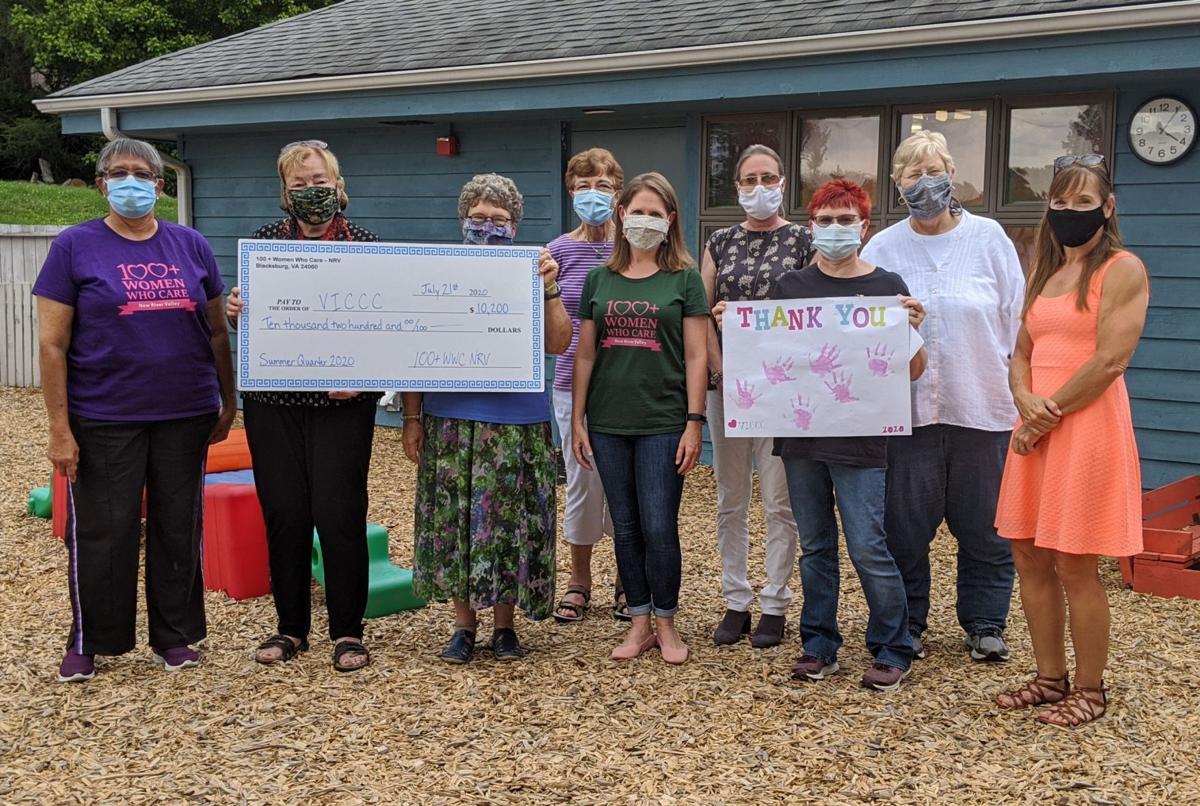 Since its inception in the spring of 2016, the 100+ Women Who Care NRV has gained momentum and continued to power through the pandemic, surpassing a milestone of more than $250,000 donated with its most recent gift of $11,100 to Valley Interfaith Child Care Center.
The 100+ WWC NRV had been gathering in-person for lively meetings until COVID-19 arrived, but the group now meets via Zoom to keep supporting local nonprofits in this time of unprecedented need.
According to Judy Shelor, director for VICCC, The Secular Society would provide them with a matching grant of $20,000 if they could raise that amount before September. Judy added, "Thanks in big part to the 100+ WWC, we were able to meet the matching grant!"
VICCC will be using the 100+ WWC donation to help replace a fence and playground equipment, add a drainage system to eliminate standing water and purchase new toys for the playground. With COVID necessitating social distancing and less time indoors, the playground will also be used as an outdoor classroom.
Valley Interfaith Child Care Center believes that a successful society values all its members. VICCC has offered affordable, high quality, center-based child care for the children of local low-income working families for over 15 years. Jeanne Roper, member of the 100+ WWC NRV and a VICCC board member, presented on behalf of the center, which received the majority vote and the total quarterly donation. For more information about VICCC, visit their website at https://valleyinterfaithchildcarecenter.org/.
In addition to VICCC, the local groups that have benefited from the 100+ WWC's efforts over the past four years include To Our House, Bobcat Backpacks, Woodchucks, NRV Agency on Aging, Carilion Clinic Hospice NRV, Christiansburg Institute, Pulaski Grow, Montgomery County Emergency Assistance Program, Montgomery County Educational Foundation, Blacksburg Refugee Partnership, Ride-a-Rescue, College Mentors for Kids, Community Health Center of the NRV, Sisters Foundation and Wonder Universe. Recipient organizations must not be controversial, religious or political in nature.
Many of these groups received a boost in funding when The Secular Society fulfilled its generous three-year commitment to the 100+ WWC NRV to match up to $5,000 per quarter to the elected organization. The 100+ WWC NRV is now seeking a new matching donor to help continue their ongoing mission to assist local nonprofits with immediately available financial support following each quarterly meeting. Interested donors may contact the 100+ WWC at the email below.
The 100+ WWC meets quarterly on the third Tuesday of January, April, July and October, via Zoom due to the pandemic. All interested women are invited to join the 100+ WWC to support local not-for-profits that make the New River Valley a better place to live. The group's membership area includes the counties of Montgomery, Giles, Pulaski, Floyd and the City of Radford.