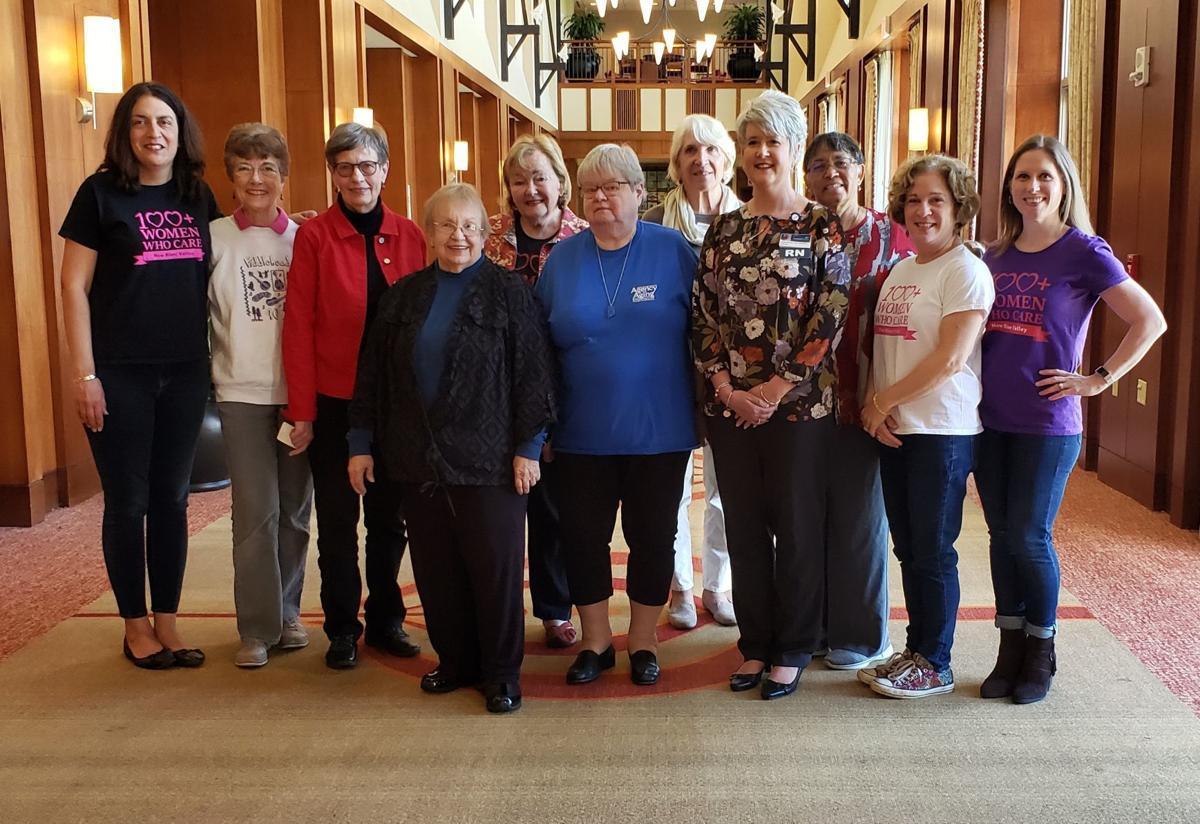 With deserving not-for-profits making such a profound impact on lives in the New River Valley, it was only a matter of time until the 100+ Women Who Care NRV membership voted in a rare tie to split the total donation between two organizations at their most recent quarterly meeting.
The New River Valley Agency on Aging and Carilion Clinic Hospice New River Valley each received half of the grand total of more than $17,500 raised by the group in just one hour of fundraising, including the generous $5,000 portion contributed by The Secular Society.
Tina King, executive director of the NRV Agency on Aging, said of the impact of this donation, "We are so happy to be able to extend needed services to additional individuals."
Deena Flinchum, agency volunteer and 100+ WWC member, added, "The respite program in particular is so critical to keeping seniors and the disabled in their homes by allowing a much-needed break for the people who do the 'heavy lifting' on a daily basis."
Based in Pulaski, the NRV Agency on Aging provides a comprehensive array of services to afford aging adults and caregivers with the support needed to help maximize independence, enhance well-being and maintain dignity. For more information, visit www.nrvaoa.org.
Larkin Dudley, 100+ WWC member, spoke from the heart as she presented for Carilion Clinic Hospice NRV. She and her husband, Charles "Jack" Dudley, were featured in a Roanoke Times article earlier this year on the immeasurable benefits of hospice for both patients and their caregivers. Jack passed away just a few weeks before Larkin's presentation to the 100+ WWC.
Renee Altizer, manager of Carilion Clinic Hospice, expressed her thankfulness for the impact the donation will make in furthering the mission of the important work of hospice. And, in Larkin's words, "Oh, the good that is done when women work together!"
Carilion Clinic Hospice supports every person in the final steps of life and recognizes each person's unique needs to tailor services accordingly. For more information, visit www.carilionclinic.org/hospice.
At each 100+ WWC quarterly meeting, three pre-qualified local not-for-profits are drawn from a hat. Each organization must have a 100+ Women Who Care NRV member sponsor willing to present on its behalf. The group's membership area includes the counties of Montgomery, Giles, Pulaski, Floyd and the City of Radford.
The 100+ WWC meets quarterly on the third Tuesday of January, April, July and October. Committed members donate $100 every quarter, and each meeting lasts no more than one hour. For more information or to join this vibrant group of women, visit www.100womenwhocarenrv.com.