This take on the pot pie – a comfort-food favorite – comes together quickly enough to become a weeknight family favorite. Topped with crispy puff pastry, each single-serve ramekin is filled with a satisfying mix of shredded chicken, herbs, carrots, peas and one special ingredient: prosciutto.
The addition of prosciutto, an air-cured ham, adds a salty, porky depth of flavor to this familiar dish. Charcuterie is currently having a moment – check out Instagram and there are cured meat platters filling food-forward feeds. But charcuterie – essentially cured-meat products – should be considered when you're cooking as well. A little goes a long way, and here, I chop thinly-sliced Volpi prosciutto and stir it into the filling at the last minute. The delicate flavor of the pork marries with the sauce and enhances the other ingredients, making the peas and carrots sweeter and the chicken more savory.
This recipe is easily adapted to make one large pie rather than a handful of single servings – simply pour the filling into an 8-by-8-inch baking dish or pie plate, covering with puff pastry. However, making individual servings has its advantages.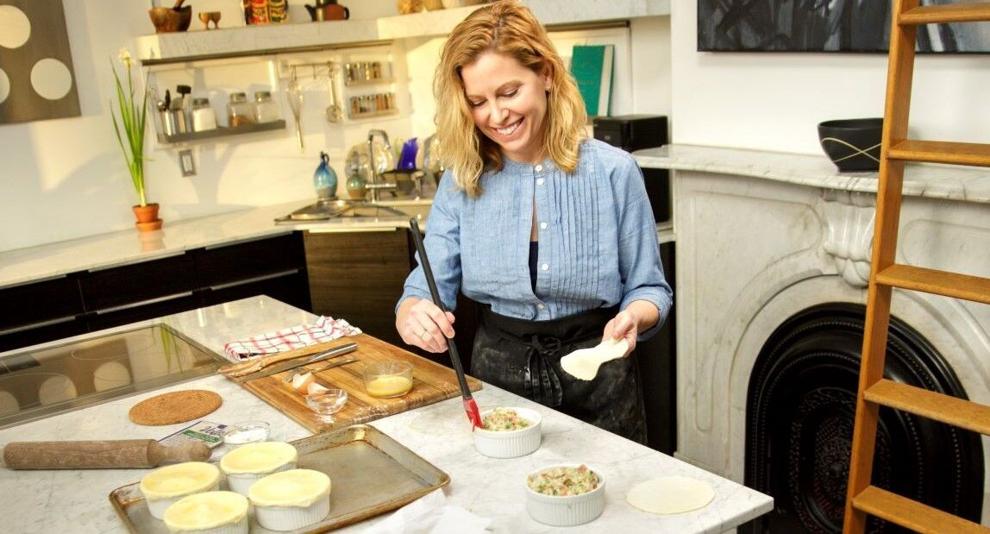 First, you can adapt each pot pie for picky eaters. Just make the sauce and then stir in the ingredients for each pie separately, marking whose is whose by pricking the pastry with each person's initials. Second, the individual pies keep well in the fridge and reheat beautifully in the oven. So, you can make more than you need and have a tasty and quick lunch or dinner stashed away for at least a couple of days after baking. Like chili, the flavors will meld and deepen, so take my advice and intentionally make extra.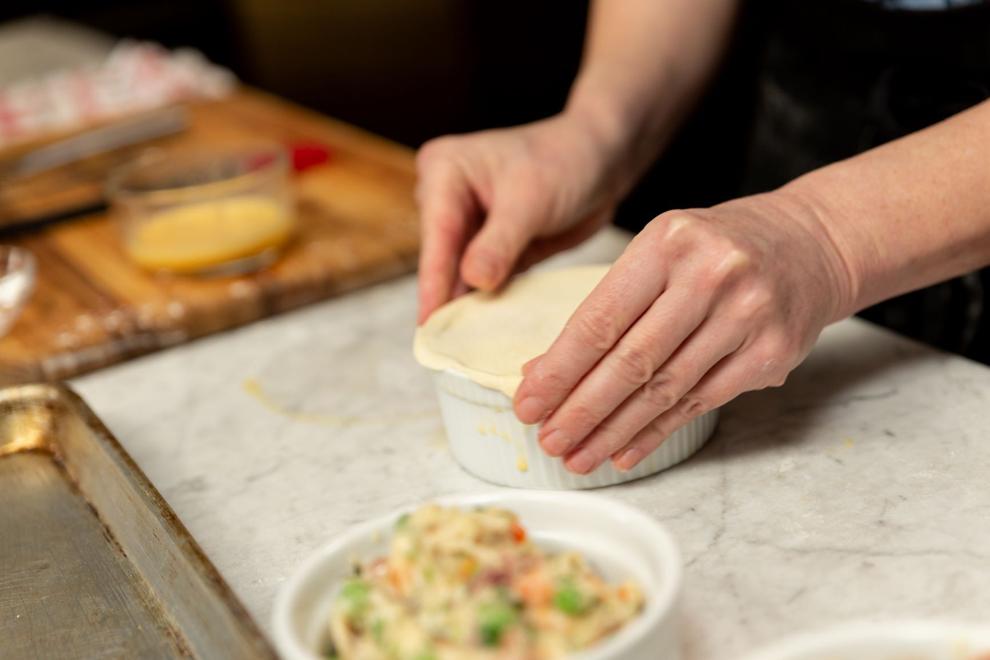 Chicken Pot Pie with Peas and Prosciutto
Recipe by Catherine Neville
1 sheet puff pastry, thawed
flour
1 stick butter
1 large shallot, diced
2 medium carrots, diced
½ cup flour
1 cup chicken broth
½ cup dry white wine
¾ cup whole milk
salt and pepper to taste
2 cups cooked, shredded chicken
¼ cup chopped parsley
2 tsp thyme
½ cup frozen peas
4 oz Volpi prosciutto, chopped
1 egg
| Preparation | Preheat oven to 400 degrees. Remove puff pastry from package and dust work surface with flour. Roll out puff pastry and cut into rounds that will overhang your ramekins by about ½ inch. Set aside.
In a large skillet, melt butter. Sauté shallot and carrots until tender. Add in the flour. Stir and cook until the flour smells a bit toasty. Whisk in the chicken broth, wine and milk, stirring until the flour is fully incorporated, adding more liquid if necessary, to achieve a saucy, gravy-like consistency. Add in the chicken, parsley, thyme, peas and prosciutto and then season to taste with salt and pepper.
Fill ramekins with chicken mixture to about ¼ inch from the top of the vessel. Make an egg wash by stirring 1 egg with a bit of water. Brush edge of each ramekin with egg wash and then place puff pastry round on each. Using a sharp knife, cut holes in each crust and then crimp around the edges. Finally, brush egg wash over the pastry. Place the ramekins on a baking sheet and bake for about 25 minutes, until the pastry is golden brown and the filling is bubbly. Allow to cool for 10 minutes or so before you dig in!