These decadently rich au gratin potatoes reflect the symmetry between the acclaimed chef Carlos Gaytán's Mexican heritage and his French culinary technique which he brings to the table at Chicago's Tzuco.
The first Mexican chef to be awarded a Michelin star, Gaytán creates inspired haute cuisine infused with ingredients from his homeland, which are plated with vibrant colors and tantalizing textures. This recipe was adapted to prepare in a shallow baking pan for a weeknight-friendly side dish. 
---
Au Gratin Potatoes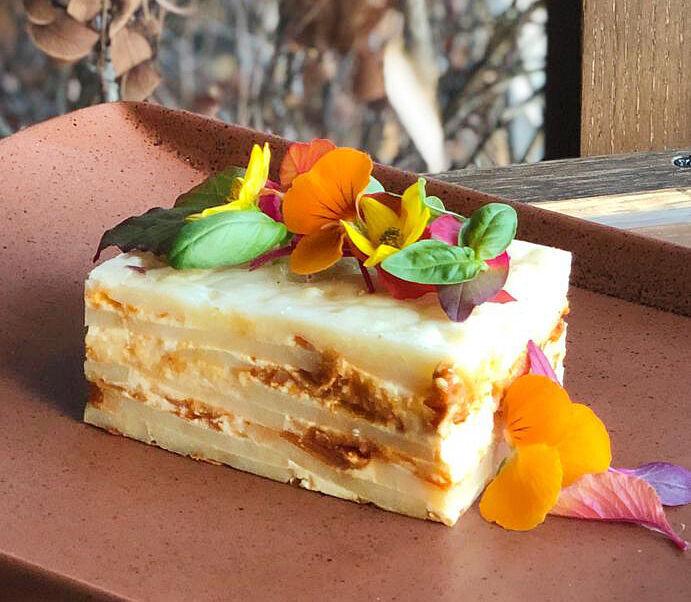 1 Tbsp olive oil
3 cups chopped yellow onions
¼ tsp paprika
6 large eggs
3 cups heavy or whipping cream
freshly ground black pepper, to taste
salt, to taste 
5 medium all-purpose potatoes
2 cups (8 oz) shredded Oaxaca or Chihuahua cheese
edible flowers and/or fresh basil leaves and sprigs, optional
Preheat oven to 350°F. In 10-inch skillet, heat oil over medium-high heat. Add onions and cook 5 to 7 minutes or until soft, stirring occasionally. Stir in paprika.
Meanwhile, in large bowl, with whisk, beat eggs, cream, pepper and salt until well combined. Peel and thinly slice potatoes; add potatoes to egg mixture and stir until well coated.
Set aside ½ cup cheese. In 2½-quart metal, glass or ceramic baking pan, layer half of potatoes, then half of remaining cheese and half of onions; repeat layering. Sprinkle reserved ½ cup cheese evenly on top. Cover pan tightly with aluminum foil. Bake 45 minutes or until potatoes are tender when knife is inserted in center.