With the Bitterroot Mountains crowning the landscape just south of Missoula, Montana, Bart Morris, owner of Oxbow Cattle Company stands in shin-high grass. As he explains his regenerative ranching practices, 100 pair of brown eyes watch him. While he talks of rebuilding soil's organic matter and restoring degraded biodiversity, he is two strides away from several long-lashed cows.
The curious animals move in unison with Morris. Bitt, one of Morris' Brittany spaniels, growls at the brown creature sniffing after her as Morris pauses to shoo them back. He prides himself in raising his cows with utmost care. "We don't want them to fear us. We want them to respect us," he says.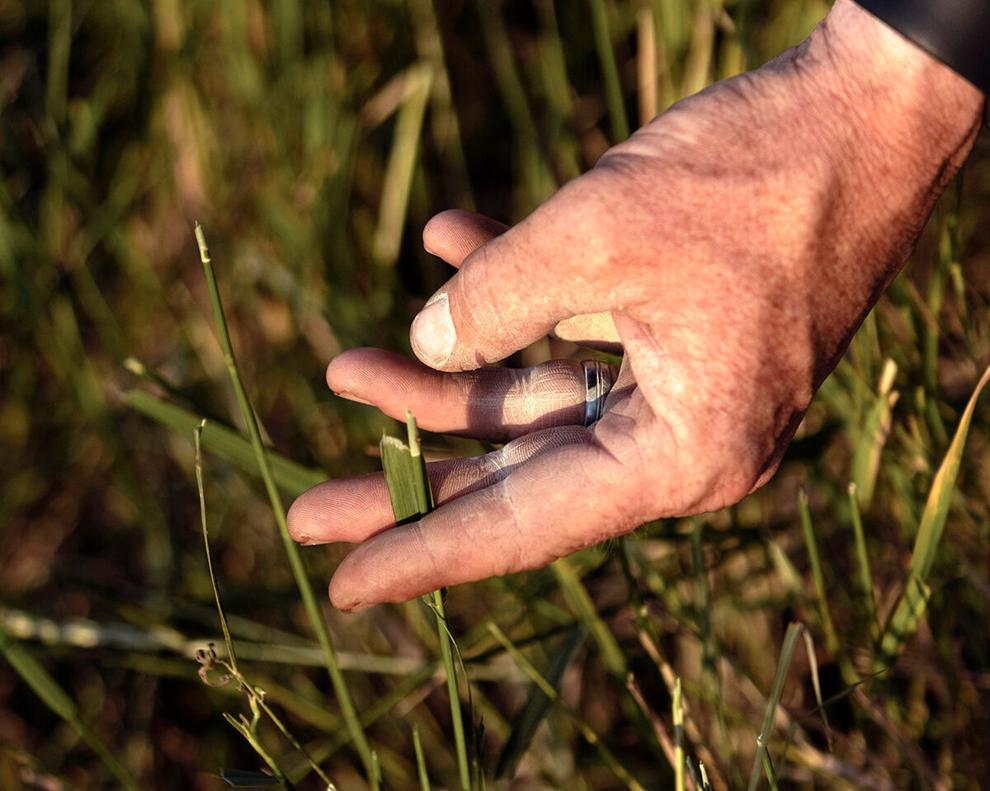 He points out the blades of grass with their tops missing, just chewed off by his cows. He explains how these ruminants get their nutrients from plant-based food. After the tips are nipped off, Morris sees the blade of grass now having a larger "solar panel," the leaves now better able to receive energy from the sun for photosynthesis. Management intensive grazing, the practice which Morris follows, allows the grassland to recover more quickly versus if the cattle ate to the root of the grass.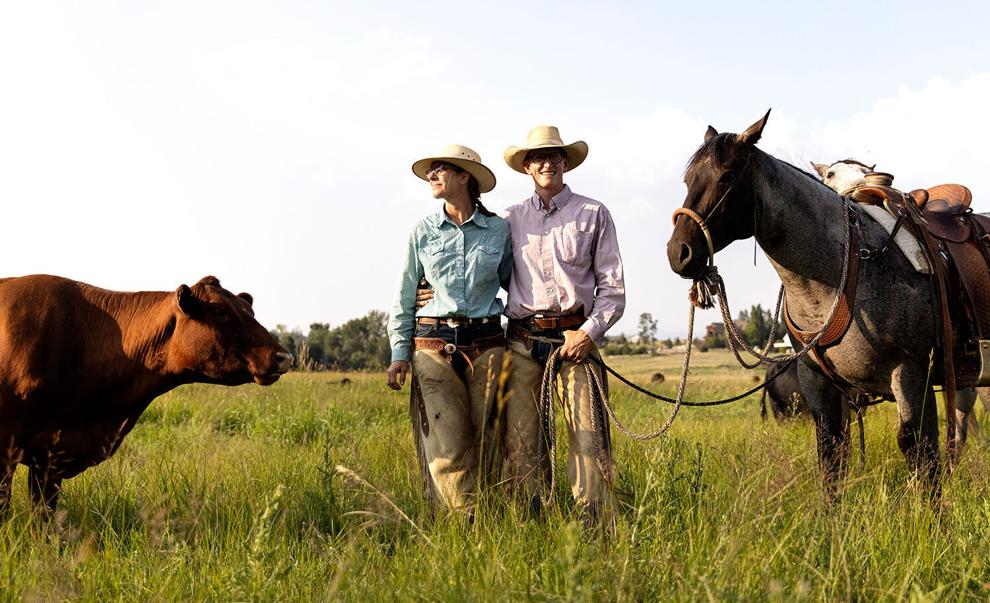 Grazing on neighboring land
Morris and his wife, Wendy, own 245 acres named the Oxbow Cattle Company. In 2017, the property was established into a conservation easement. Here, abandoned channels shaped like a "U" called oxbows from the Bitterroot River run through the acreage. The subirrigated land patches provide lush grass for finishing the cows before they go to slaughter. 
Morris leases 4500 acres on the Sapphire Ranch adjacent to Oxbow Cattle Company to feed his herd of about 350 cows, not counting the calves. Every day he and Caroline Caldwell, Oxbow Cattle Company's only permanent employee, stretch out poly wire for the cattle's 10 acres or less of grazing area. The amount of space the cows are allotted depends on the time of year, forage and water availability and the herd size. Day after day, the cows move to new acreage with fresh grass for grazing during the midday. After the cows have eaten and are content, Morris says, "We try to move them on a full stomach."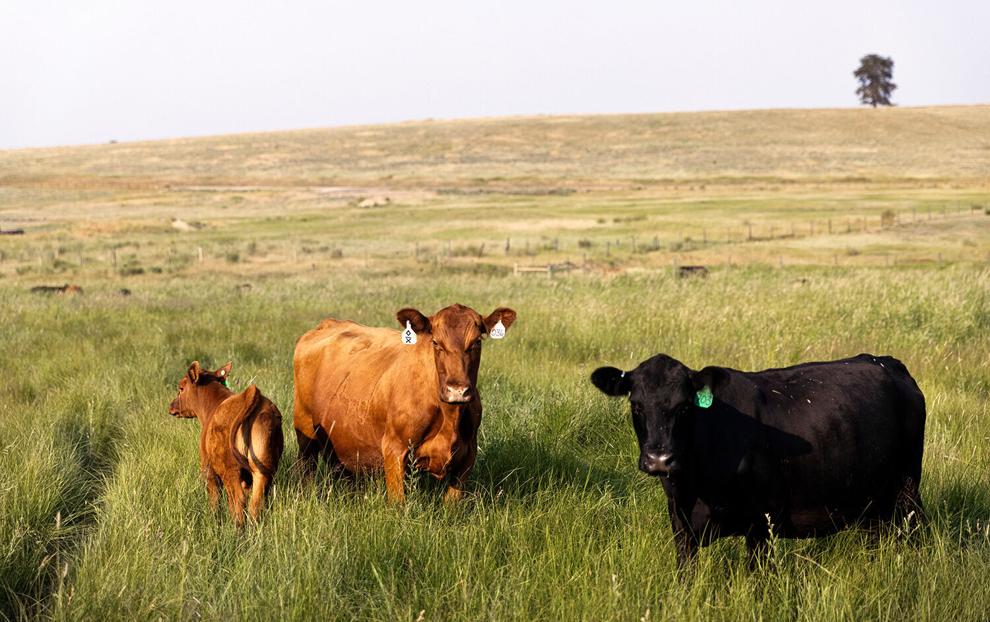 Grass-fed and happy
His cows feast on grass their entire lives, never eating grain, and in winter, consume hay. Salt harvested from ancient seabeds and apple cider vinegar are added to their water. Morris explains that the vinegar "promotes gut health to fight parasites and disease" and contributes to a shiny coat. Morris depends on the natural grazing cycle of his cows so antibiotics and chemical worming "pour-on" insecticides are never administered.  
Natural practices continue with major drives using quarter horses with the herding help of Addi, a "cowboy corgi" or Welsh corgi-Red Heeler cattle dog mix, to move the cattle from one area to the next. "We are big into stockmanship and horsemanship. We never move with an ATV. We move cows with our bodies," Morris says. His goal is to preserve the land, "not hit the same place and to mix up the length of stay in that place," allowing the land to grow back from the cattle's impact. This follows the holistic land management practices of regenerative agriculture that continues to build soil health.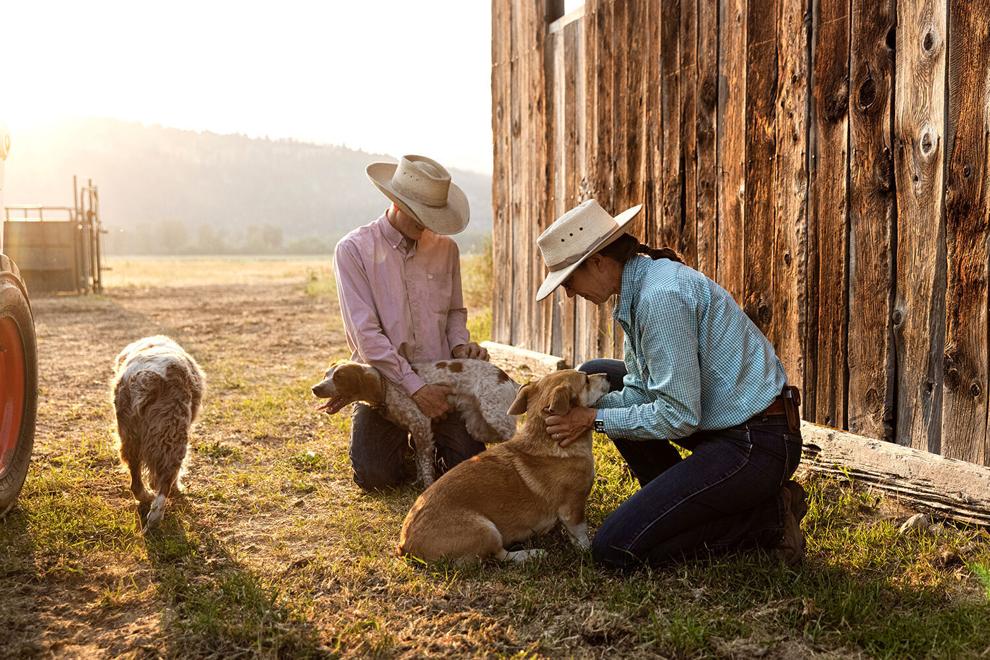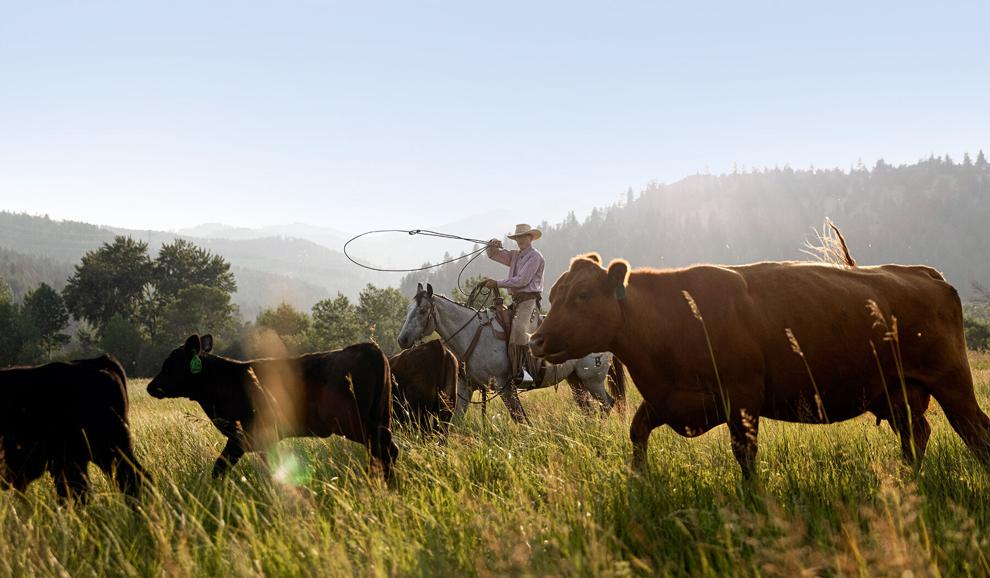 From pasture-to-pasture preserves land
As Morris navigates the pasture, stepping on cow dung is inevitable. "Our goal is to have cow poop everywhere," Morris declares. He takes a small branch to look for the dung beetles that quickly begin breaking down the manure. Cow dung is rich in minerals with nitrogen, phosphorus and potassium, and can support the growth of beneficial microorganisms when mixed with soil.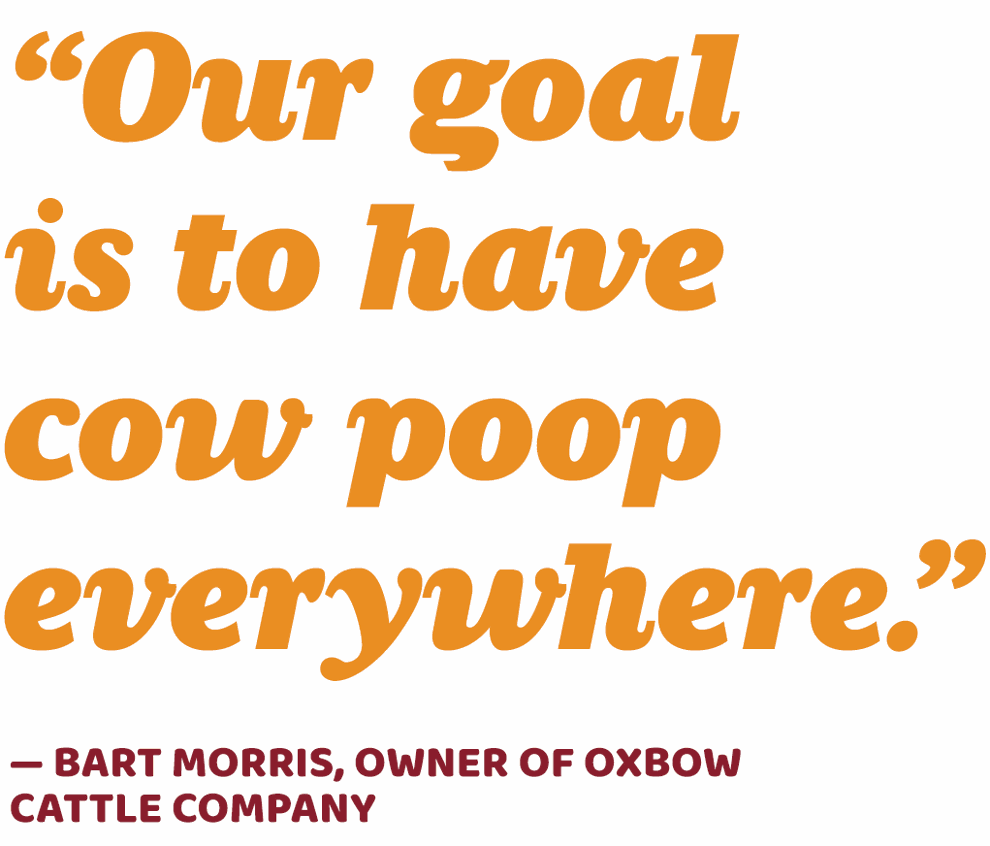 For the consumer, this translates to meat lower in fat, high in beta-carotene and higher in vitamins E and C and omega-3 fatty acids. Morris raises Angus cows and Angus cows crossed with other breeds that are specifically bred to efficiently convert grass into beef. He says, "These cows have genetics that have better carcass traits. They have good genetics for marbling. The animals we want will have good beef." This means tenderness and better flavor.
"I walk through and look at individual cows and see if they are fat and ready for slaughter," he says. He looks at the hind quarter and rump of the cow, and the brisket to be "the size of a football," and records on his phone the cow's tag numbers to indicate they are finished. He looks for rolls in the tail heads and fat between the cow's hook and pin. Over the years, Morris admits, when it comes to selecting a finished cow, "I have just developed an eye and a feel for it."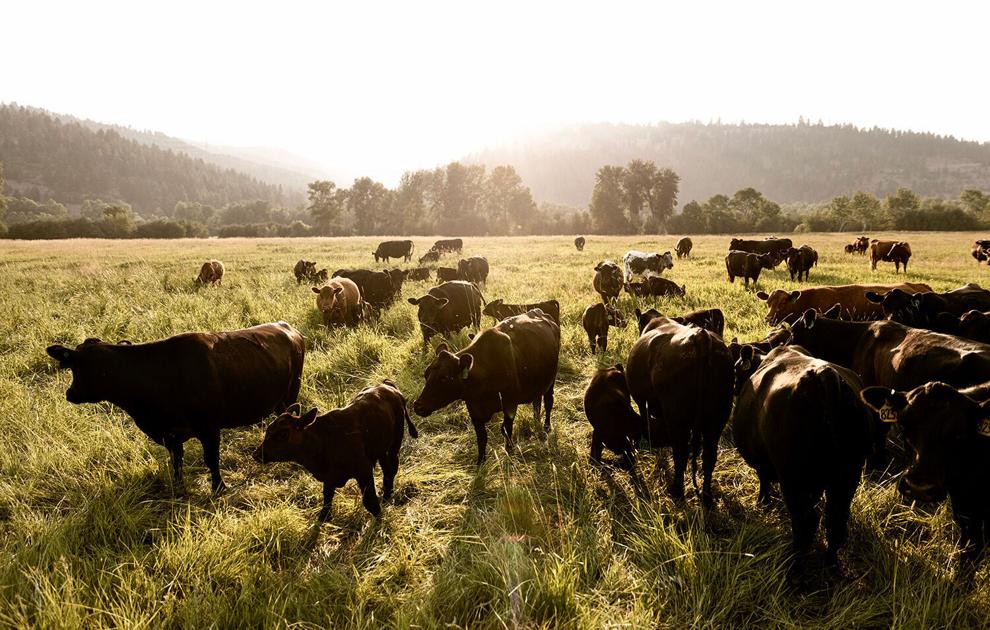 When the cows move to the next pasture, Morris separates the cow to be butchered. It spends its last night grazing in a lush oxbow on the property where he operates Oxbow Cattle Company. In the morning, the cow makes the trip to Superior Meats for processing.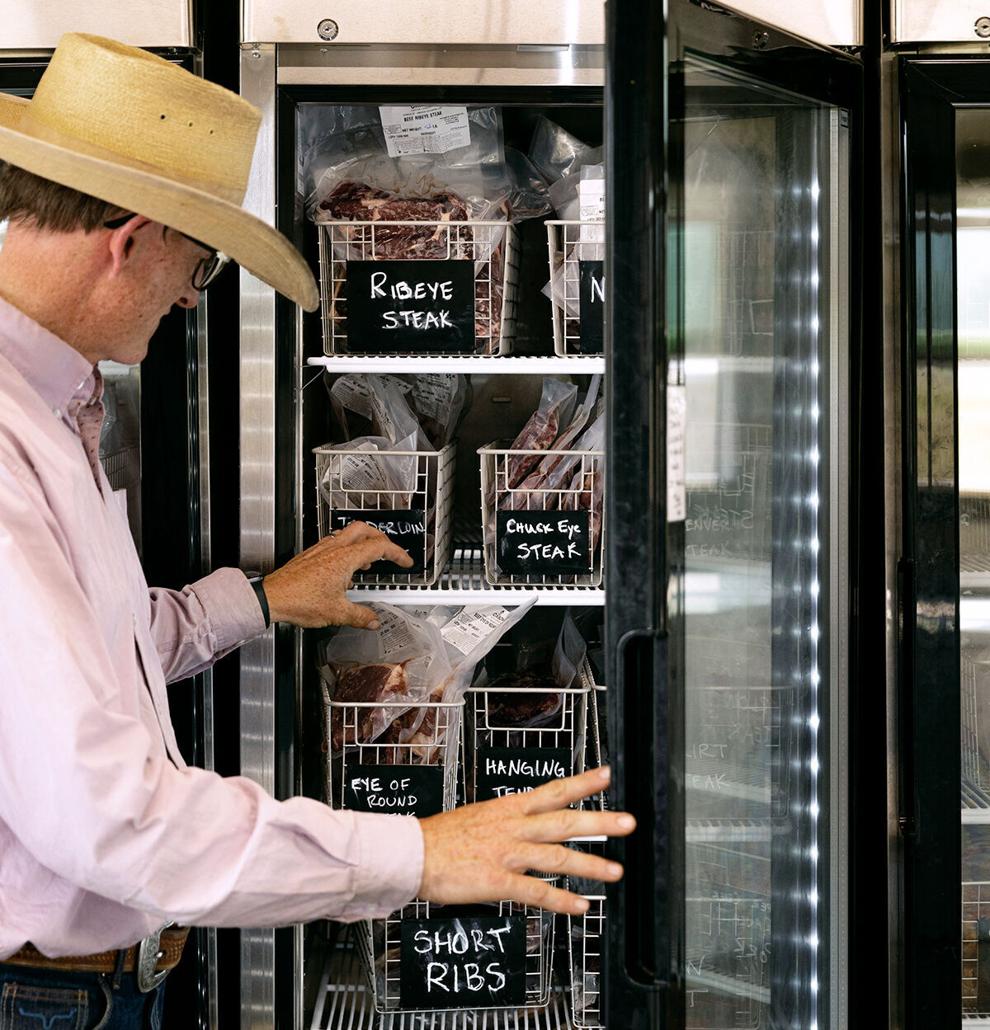 Inside a cinder block building, once housing the pump house, is Oxbow Cattle Company's store called farm 2 market, or f2m, which is open 24/7 and operates on the honor system. 
A buyer can come in and select different cuts of beef frozen in three glass-doored freezers. Labeled with chalk writing on small boards, there is a selection from rib-eye, New York strip and skirt steaks to ground sirloin. Oxtail, tongue, heart, kidney and marrow bones are also available. Payment can be made electronically or left in a locked box in the form of cash or a check.
The store also features pork from Cooper Creek Ranch and eggs from Wild Rye Egg Company. To be in the store, Morris requires the producers adhere to regenerative practices. A regenerative approach focuses on restoring soils that have been degraded by industrial agricultural activity. The methodology brings forth healthier ecosystems by rebuilding soil's organic matter through holistic farming and grazing techniques allowing Mother Nature to do her work.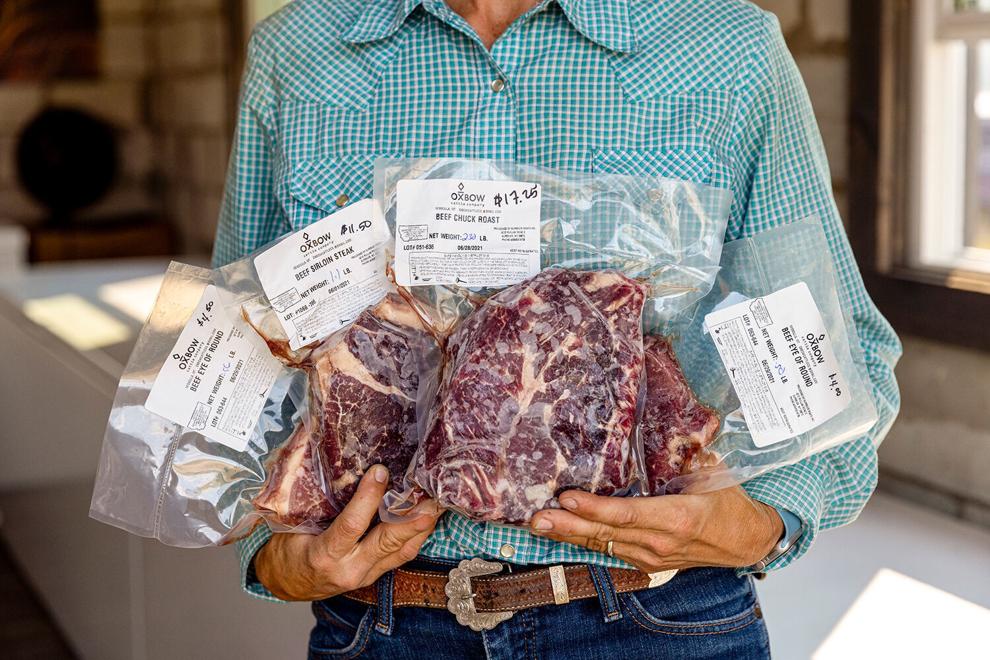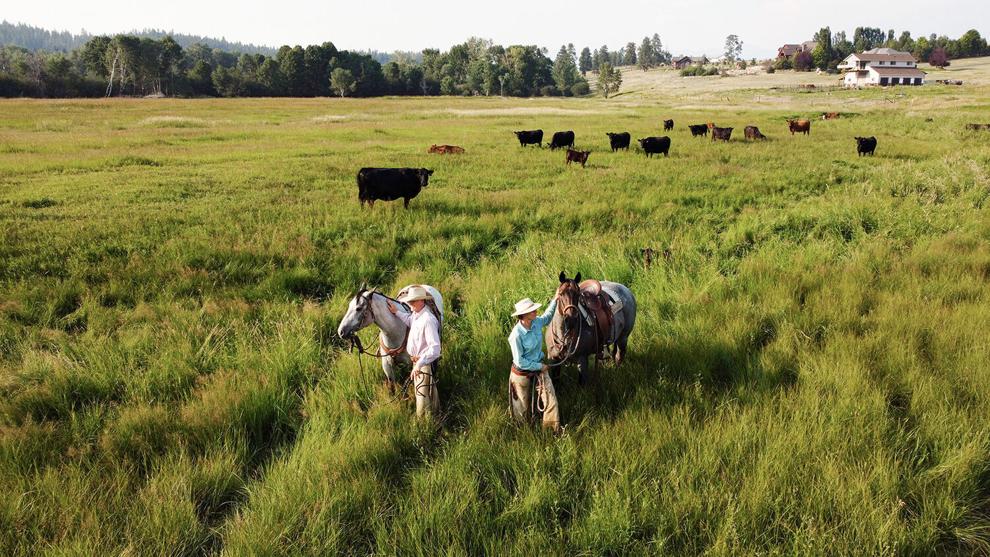 The regenerative impact
After working in wildlife management for 16 years, Morris believes he is making more of an impact on the habitat and ecology as an individual rancher. He sells his beef directly to the same consumers who appreciate his methods, though he admits it can be challenging to wear the many hats required to oversee his store, contact chefs and run his cows. "We are trying to bridge that gap for agriculture and the people who consume the product."
For Morris, he has forged a relationship with chefs such as Travis Walnum, owner of Wally & Buck, a burger joint in downtown Missoula.
Walnum sought out Oxbow Cattle Company when opening a brick-and-mortar restaurant in 2019 that he owns with his wife, Kelsey. Morris says, "It mattered to them how the cows were raised and where they came from."
While Morris continues to ranch with integrity, he advises the consumer who wants continued regenerative practices, "You vote with where you put your money."