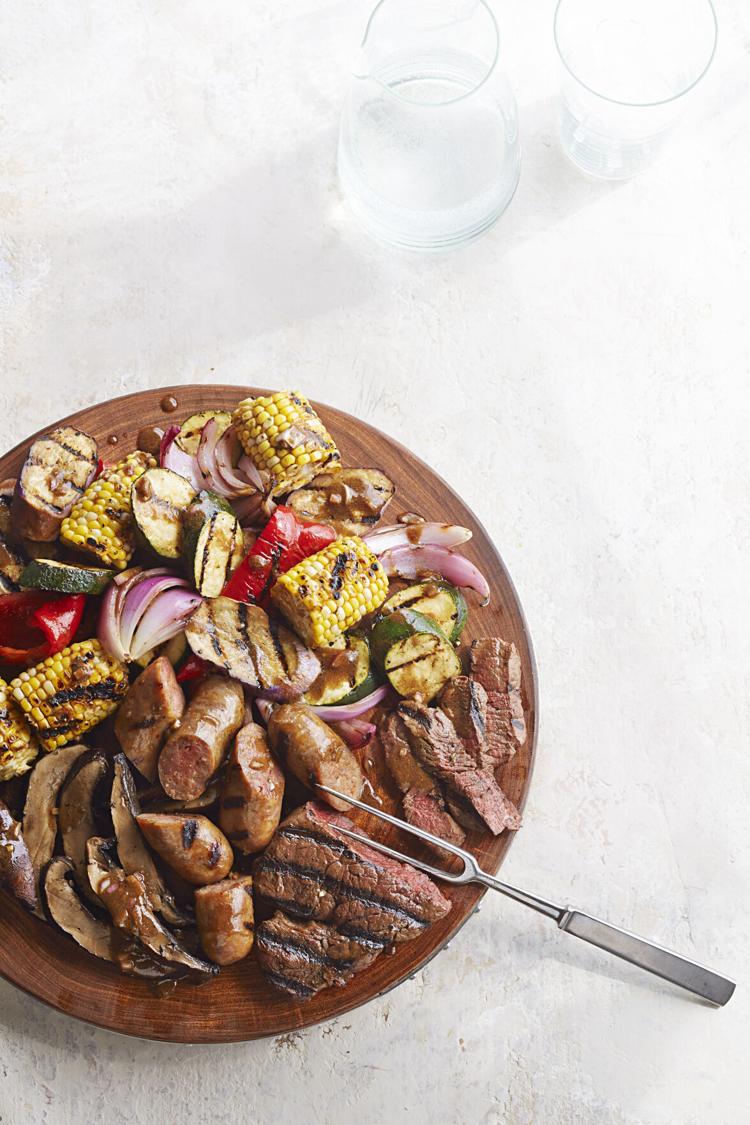 This healthy dinner recipe is perfect for using up whatever fresh vegetables you have on hand. Just pay attention to cook time. Denser vegetables, such as peppers and onions, take a bit longer than softer ones like zucchini and squash. Smaller ones, like cherry tomatoes, may need to be cooked in a grill basket.
Mixed Grill with Balsamic-Mustard Vegetables
Total Time: 1 hour, 50 minutes (including 1 hour marinating time)
1/3 cup extra-virgin olive oil
1/4 cup balsamic vinegar
3 tablespoons minced shallot
2 tablespoons Dijon mustard
1/2 teaspoon ground pepper
1/4 teaspoon salt
8 ounces beef tenderloin or petite filet
2 ears corn, husked and cut crosswise into 2-inch pieces
2 portobello mushroom caps
2 medium bell peppers, cut lengthwise into 6 pieces
2 medium zucchini, cut on the diagonal into 1/2-inch slices
1 Japanese eggplant, cut on the diagonal into 1/2-inch slices
1 medium red onion, cut into 3/4-inch-thick slices
8 ounces Italian pork sausage
1. Whisk oil, vinegar, shallot, mustard, pepper and salt in a large bowl. Reserve 1/4 cup of the marinade in a small bowl. Brush beef with 1 tablespoon of the remaining marinade. Add corn, mushroom caps, peppers, zucchini, eggplant and onion to the large bowl and toss to combine. Let stand at room temperature, stirring the vegetables once or twice, for 1 hour. Or refrigerate for up to 4 hours.
2. Preheat grill to medium-high.
3. Grill the beef and sausage, turning once halfway through, until the beef is cooked to your liking, 12 to 14 minutes for medium, and the sausage registers an internal temperature of 165 F, 8 to 10 minutes. Transfer to a clean cutting board.
4. Grill the vegetables until tender and lightly charred, turning once or twice, 8 to 10 minutes total.
5. Slice the beef, sausage and mushroom caps. Arrange on a platter with the vegetables. Drizzle with the reserved marinade or serve it on the side.
Marinate beef and vegetables in the refrigerator for up to four hours.
Recipe nutrition per serving: 488 Calories, Total Fat: 32 g, Saturated Fat: 7 g, Cholesterol: 50 mg, Carbohydrates: 29 g, Fiber: 6 g, Total Sugars: 15 g, Added Sugars: 0 g, Protein: 22 g, Sodium: 695 mg, Potassium: 1131 mg, Folate: 109 mcg, Calcium: 53 mg
(EatingWell is a magazine and website devoted to healthy eating as a way of life. Online at www.eatingwell.com.)
Satisfy your cravings
With our weekly newsletter packed with the latest in everything food.