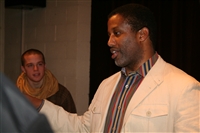 North Cross School's fifth annual Symposium began this morning with a presentation by writer, musician/poet, and former MTV's The Real World: San Francisco cast member, Mohammed Bilal.
This all-day event is designed to expose upper school and eighth grade students to a variety of speakers and group workshops, directed by local professionals who demonstrate a diverse group of life experiences and careers.
Since his days on MTV's The Real World, Bilal has traveled to businesses and schools giving presentations on issues related to diversity. Bilal has an MA in Diversity Studies, which he uses to educate people about diversity, AIDS and HIV prevention, drug and alcohol abuse, and responsibility.
Bilal performed his "12 Steps to Appreciating Diversity" at this year's Symposium. The interactive presentation was infused with hip-hop and spoken word. He spoke to students about his experiences growing up in DC and Delaware and challenged them to discover who they are by learning more about their genealogy. He also encouraged students look to the commonalities they share with others rather than first considering the differences that often begin with skin color.
The auditorium, full of students and faculty, laughed often during Bilal's presentation and especially enjoyed learning about the importance of music in his life. Even before the audience finished their standing ovation, more than a dozen students had lined up to greet Bilal and shake his hand.
In appreciation of his visit to campus, students presented him with a 2009 Symposium t-shirt and have donated $177 to the Elizabeth Glaser Pediatric AIDS Foundation in his name.
After Bilal's presentation, students attended workshops and seminars led by more than 30 members of the community on a variety of topics, including:
· Forensic Anthropology and Archaeology (Dr. Cliff Boyd, Forensic Anthropologist, Radford University)
· The Real West Wing: Working in the White House (Ed Lynch, Professor of Political Science, Hollins University)
· Eating Locally in a Global World (Chris Parkhurst, Roanoke Natural Foods Coop)
· Olympic Wrestling (Mark McGowan, USA Wrestling Certified Coach)
· Laparoscopic Surgery (Dr. David Stoeckle, Chief of Surgery, Montgomery Regional Hospital)
· Decision: Donation (Penny Baynton, Liver Transplant Recipient and John Cecil, Heart Transplant Recipient)