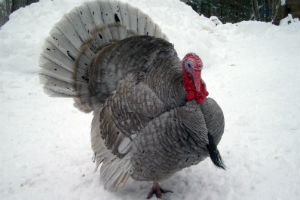 When I was a kid, my job on Thanksgiving was to complain about starving while I waited for dinner, to watch television all day and to stay the heck out of the kitchen.
Looking back, I realize that those were all tasks that I had assigned myself to do. I never helped baste the turkey, stir the gravy or even use a can opener to whip up a nice, squiggly, cylindrical dish of cranberry sauce, which bore the lines from the inside of the can as if it had been branded by a cattle iron.
My poor mother, meanwhile, cooked a meal for a dozen people, using two ovens, without an ounce of help from any of the four able-bodied males reclining in adjacent rooms, watching football and frequently asking when dinner would be ready.
I didn't have Thanksgiving roles as a kid. I had Thanksgiving rolls. A lot of them. The brown and serve kind with the split tops. I probably could have easily popped a pan of those into the oven, but I never did.
My family probably wasn't that different from others when it came to Thanksgiving dinner. Your mom cooked it, right? These days, though, it's unthinkable that my daughter won't be involved in helping her mother and I with the meal. And, no, I am not saying that because she is a girl who is expected to help around the kitchen. In fact, in an ironic twist totally unforeseen by the previously mentioned lazy, non-cooking, wholly unhelpful teenage boy in the 1980s, her old man will do a good deal of Thanksgiving cooking. (Karma made a turkey out of me, for sure.)
All kids can do their share on Thanksgiving, which can actually be fun and educational for children and adults alike.
Sure, my kid is handier around the kitchen than I was, but it's not like she has to whip up a seven-course masterpiece. (Pumpkin pie and a side will work, sweetie. Oh, and don't forget the rolls. Thanks.)
When she was little and couldn't help cook, she made artistic place settings with nothing more than crayons and construction paper. She helped set the table. Maybe I helped set a table when I was a kid, but I kind of doubt it.
My youngest brother, though, did lead the prayer one year when he was about 8 years old. He said something like, "Dear God, the turkey is big, but we can eat it anyway. Amen." And we did! God bless us, everyone! (BURP!)
Children can help in the kitchen in lots of ways — and I don't mean by just staying out of it.
Little kids can, like I wrote earlier, make place settings, design a crafty centerpiece and set the table. They can fill water glasses. Older children can help with the meal itself, even if it's just making instant stuffing or stirring pots. Kids like to stir pots, right? Oh, and rolls. They can make brown and serve rolls, easy-peasy. Hey easy-peasy peas sounds like something kids could make.
Children should become part of the process. Let them pick a side dish and help shop for the ingredients. They can even try to make the dish, perhaps with some assistance from a parental master chef.
Older kids who like to cook can be put in charge of making something, from finding the recipe to gathering ingredients to cooking the dish.
Getting your children involved can cook up new holiday traditions for your family. Nothing brings a family together like trying not to bump into each other in front of a hot stove while attempting to time all the dishes to be ready at the except same moment.
When a child has a job to do on Thanksgiving, they'll take ownership of their duties. Not only will you come to expect them to help out, they will want to help. They will embrace their roles. Speaking of which, here's my favorite family recipe that maybe your family will love, too. It's designed for people who don't know how to cook. Enjoy!
Ralph's Brown and Serve Rolls
(Serves 8 unless Ralph eats most of them)
Buy package of brown and serve rolls. Possibly in a bread section of a store, if there is such a thing.
On desired day of roll-browning-and-serving, take rolls out of wrapper.
Dig wrapper out of trashcan to see what temperature you should set your oven.
Place rolls on baking sheet (it's flat and metal, in case you didn't know) and shove into oven (it's the thing that has the big door on the front. No, that's the refrigerator. The oven is over here. Right, that's it. Now, duck when you open the door, so heat from oven does not blast you in the face, which is something that happens to me a lot because I forget to duck).
Dig wrapper out of trashcan again to see how long those suckers bake.
When rolls are brown, serve.
Oven mitts! Use oven mitts! Sorry! Here's some aloe.
Throw wrapper away, or save it if you have a dog because they make excellent poop bags. Hope that didn't spoil your appetite! Oh well, if it did, then more rolls for me.
Happy Thanksgiving, everybody!