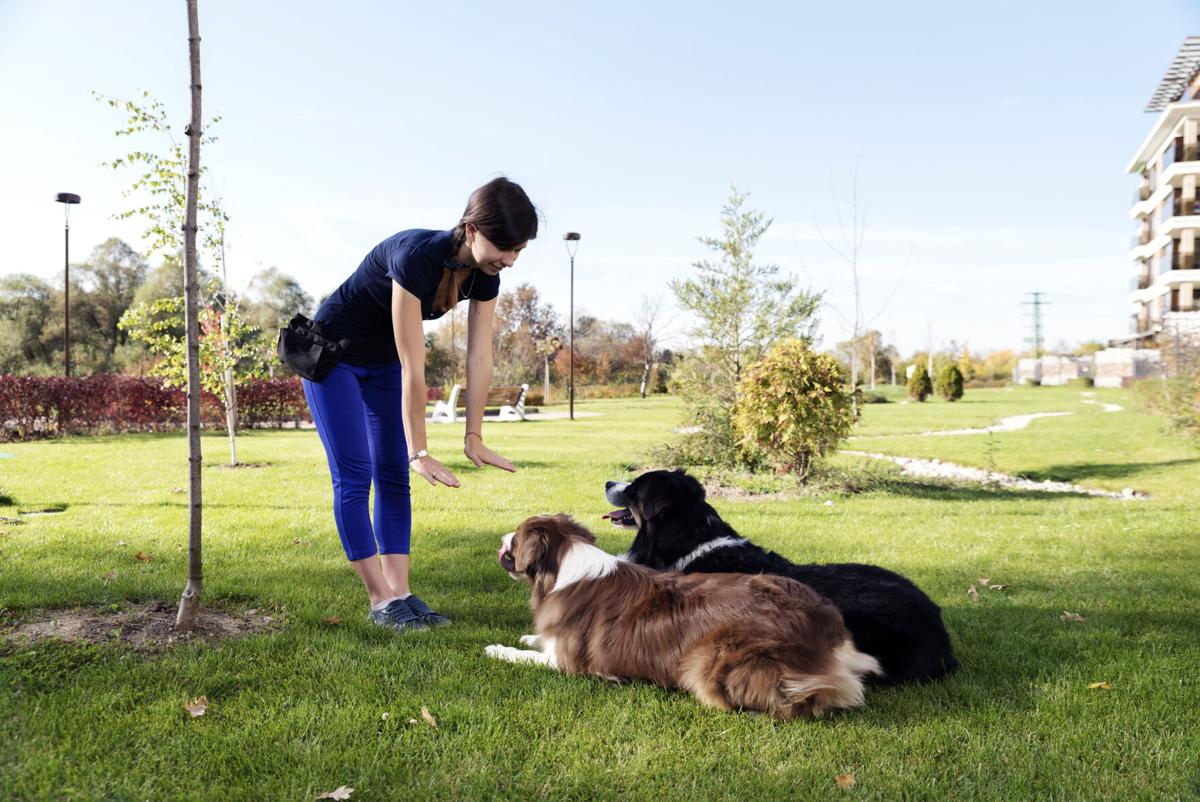 Dog training, when done correctly, often involves the use of treats as positive reinforcers to strengthen behavior we are trying to teach. We prompt a dog to sit and when she does so, we praise and provide a treat to reinforce her behavior.
When we have people come to the house and want to prevent jumping, we then teach our dog to sit for greetings and provide praise and treat when she does so. Usually fairly quickly, we no longer need to use a treat for regular sitting around the house (easy stuff) but may still have treats to teach sitting with guests or in public, for example, when distractions and temptations to jump are high.
A positive reinforcer is any stimulus that is provided after a response occurs which increases the strength, frequency, or reliability of that response in the future. Food treats are popular tools in dog training and behavior therapy because they are typically effective in both prompting and reinforcing a dog's attention to the owner and they can be doled out repeatedly to ensure lots of practice on the same responses early on. But treats are not the only positive reinforcer available to pet owners/guardians.
Certainly the sight and/or toss of a tennis ball will capture the attention and reinforce the behavior of many dogs, including those who may turn their nose up at treats in training situations. Around the house, other reinforcers for many dogs include the opening of the door to the yard, the sound of the can opener at meal time, the sight of the leash or the call to "go for a ride!"
One of the most available and ubiquitous reinforcers in the life of a companion animal, however, is our attention.
We speak to our dogs affectionately and they fall all over us, tails wagging.
We praise a dog for good behavior reliably and that behavior often increases in strength over time when praise is the primary consequence from us.
In fact, as long as our dogs are bonded with us (that is, they are comfortable with us and unafraid) and as long as the attention is not predicting something unpleasant (for example, approaching with nail clippers in hand for nail clipping), then most dogs will engage in behavior that produces our attention and avoid behavior that cuts off our attention.
In this way, attention is by far the most powerful tool we have in our relationship with our dogs.
What makes attention reinforcing for dogs? First, their evolutionary history. Dogs evolved over thousands of years alongside humans and human attention and food handouts have ensured the survival and success of the species.
Second, their learning history has taught individual dogs that much of the attention they receive from humans is associated with petting, food, water, and shelter, helping them to meet their basic needs. This combination of both inherent and learned associations with attention from humans has shaped who dogs are today.
What does this mean for our regular interactions with our dogs? It often means that whatever the dog is doing when we give her lots of positive attention, we are likely to reinforce this behavior, making it more likely to occur again in the future.
For example, when our dog runs to us when we get home from work and we kneel down and shower her with hugs and pets, she is more likely to run to us after work in the same way the next day and the next.
When she jumps on us, and we hug her, we are making it more likely that she will jump on us in the future. What it also means is that even when we don't intend to reinforce a certain response, such as jumping, we may unintentionally do so anyway.
So when our dog jumps on us and we push her back or scold her, we must consider whether that form of attention might still be sufficiently positively reinforcing that it could serve to strengthen or maintain that jumping.
We've all heard that even negative attention is still attention, in parental advice and pet-rearing advice, and this can be true in cases where the dog is so motivated by interactions with us that even our attempts to be disciplinary or off-putting keep the behavior happening because we are still providing lots of attention as we try to curb or change behavior.
I've written before about the use of timeouts from attention as an essential element in many behavior plans for dogs and we will return to this procedure next month, as we continue our discussion of how attention to our dogs interacts with their behavior for the better … and the worse!
— Megan Maxwell is a certified applied animal behaviorist. The information presented here may not be applicable for every pet and is not intended to serve in place of an individualized behavior or training plan.