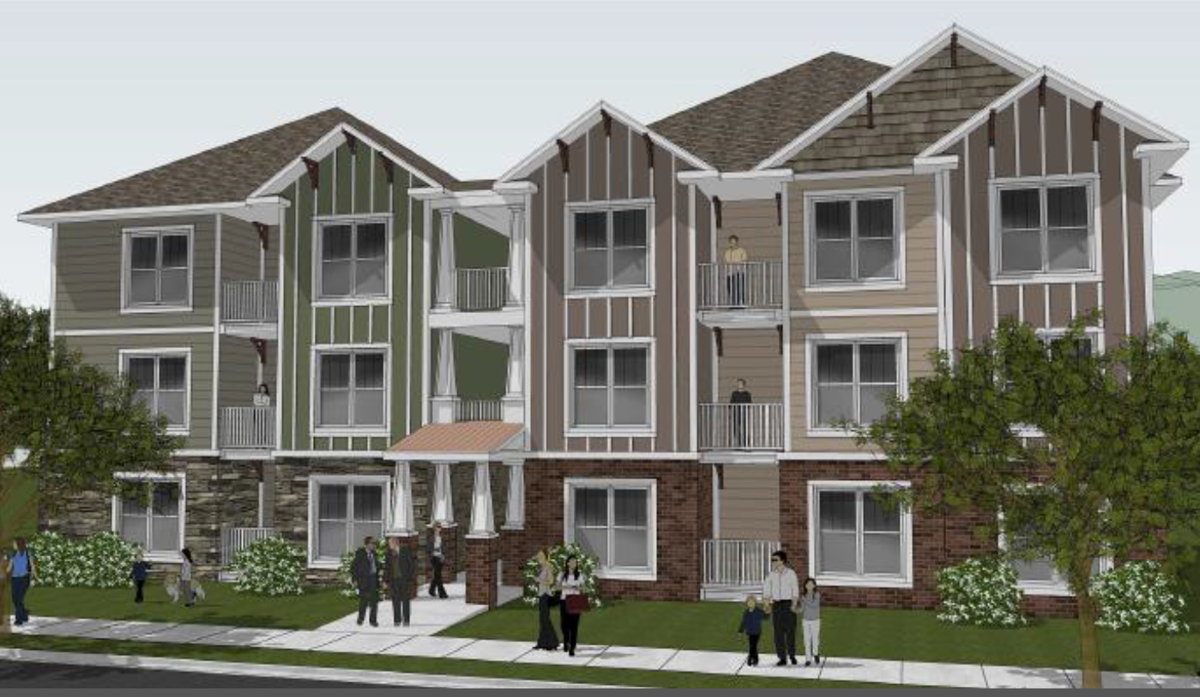 Roanoke City Council on Monday night roundly rejected a hotly contested rezoning of vacant land on Brandon Avenue where a developer hoped to build an apartment complex.
The 6-0 vote against a proposal by developer Robert Fralin came after an endurance session of a public hearing where 25 people spoke. Councilman David Trinkle was absent from the meeting.
The vote cut 180 degrees against the 5-0 vote in support of the rezoning by the city's planning commission last week.
Fralin had proposed building 54 apartments in a four-building complex in the 7.5 acres near the intersection of Brandon and Brambleton avenues. Through the application process, he revised aspects of the project multiple times.
He changed the traffic pattern around the development, including plans to build a left turn lane on Brandon. He altered the architecture of the buildings to a Craftsman style, and he promised to place the back part of the property in a conservation easement to permanently protect a wooded buffer between the apartments and adjacent homes on upscale Oakwood Drive.
Neighbors on Oakwood joined with residents of Wasena and Raleigh Court to mount fierce opposition to the development.
They raised concerns about traffic at an already convoluted and congested intersection at Main Street, noise, loss of property values, and the presence of a high-density apartment development in the middle of a sea of single-family homes.
About 15 speakers opposed the rezoning Monday night.
Ten speakers favored Fralin's proposal. They included an investor in his projects and several of Fralin's employees.
Fralin's supporters called the overgrown plot of land an eyesore, while opponents called the apartments an eyesore in turn.
In the end, it was mostly a single traffic concern that Fralin couldn't fix that ended his bid.
Multiple council members, including Michelle Dykstra, Bill Bestpitch, Ray Ferris and Vice Mayor Anita Price all were concerned about the fact that people leaving the complex would only be able to turn right — or east.
That's because of a raised median strip the separates eastbound traffic on Brandon from traffic turning left onto Main Street.
Council members said they were concerned about the methods — not all of them legal — drivers would use to turn around if they wanted to head back west on Brandon.
Ferris also pointed out to Fralin that while he made numerous and costly changes to his plans in response to neighbors and city staff, he declined to reduce the number of units in response to concerns from the planning commission.
John Garland, a developer who ran for council last year running on a platform of supporting neighborhoods, found almost no virtues in the project. He raised concerns about its density, traffic and stormwater management.
"There are many places for apartment development in the city," Garland said. "In my opinion, this is not one of them."
Mayor Sherman Lea only stressed that the council wants citizens to know they will be heard.
Fralin had positioned his proposal as a necessary response to the city's current and future success in economic development and drawing young professionals to the city.
The council, however, was clearly comfortable that a vote against Fralin's proposal was not a referendum on their confidence in the city's future.
Fralin has said he has an option to buy the land from BNC Bank, which acquired it in a merger with ValleyBank, regardless of whether he won the rezoning.
He could buy the land and develop more than 30 single-family homes on it without a rezoning, something he alluded to at the planning commission last week and again Monday night.
"This is not a threat," he said Monday at the start of his presentation to council. "I do not know if I will do that or not."