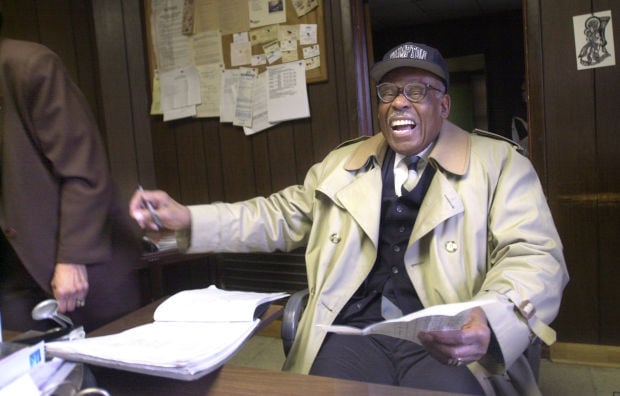 A. Byron Smith decided as a young man growing up in Danville that he was going to spend his life hating white people. He'd seen too much meanness directed at black people like him to do otherwise.
And if you liked white people, it didn't matter what color you were. He has going to hate you, too.
He soon realized, as he later said, that "hatred kills the hater." So he gave it up.
Smith carried on in life demonstrating that determination to reconcile with and understand the other side, even as he fought the good fight for civil rights in Roanoke. And this while becoming a pioneering black entrepreneur, owning a fuel oil company, a bail bonding company and a small real estate empire.
Smith was 95 when he died Monday morning of complications from dementia, and was remembered by admirers as a model of dignity, class, hard work and style.
"He just had the old-guard courtesy that got lost through the years," said his old friend Claudia Whitworth, publisher of The Roanoke Tribune. "His stature and the way he carried himself was just so immaculate. You had to admire him because his charisma demanded that."
"There was no one like him," said Whitworth's son, Stan Hale, associate editor at The Tribune. "That old-school flair, the stories, because he's lived through it all."
Smith grew up in Danville at the feet of his grandfather, a former slave who went to college and became a minister. His grandmother ran her own hair salon in the home, where Smith helped out towel-drying ladies' hair. When he was 8, he sold newspapers for the Danville Register & Bee.
Before his 18th birthday, he landed a job in a black-owned insurance agency, where he was exposed to men who wore slick suits that contrasted sharply with the overalls he saw most black men wear to work in Southside Virginia textile mills. He became a sharp dresser himself, a habit he never gave up.
"The whole spirit was not to think of yourself as a slave," Smith said in a 2001 Roanoke Times story, "but think of yourself as an individual and then begin to do something on your own for yourself."
Smith left for World War II, serving as an Army platoon leader and surviving combat in France, Italy and Germany.
Later, in Roanoke, he founded A. Byron Smith Oil Co. and a real estate company in 1954. He opened his bonding business in 1959. He also became a deacon at High Street Baptist Church, a role he kept for more than half a century.
During the civil rights era, Smith joined Roanoke's so-called "Bi-Racial Committee," a group of city leaders, black and white, who worked to desegregate Roanoke businesses in a nonviolent manner in 1960.
The method worked, and Roanoke averted the marches, protests and sit-ins so common in other Southern cities.
Smith later came to wonder if the committee had done the right thing. "It didn't make stronger black leadership" and didn't build black Roanokers' self-esteem, he said in 2001.
And not everything happened so smoothly for blacks in Roanoke after all.
It was Smith who led a fight to get the city to close the reeking, fire-prone landfill in northwest Roanoke where Washington Park now sits.
After pleading with the city officials and offering multiple appeals he thought might make sense to whites, he threatened to resort to the one thing they always hoped to avoid — an organized sit-in.
On the eve of the planned protest, the city relented and closed the landfill.
Smith managed all this while working 12 to 14 hours a day.
He was known to deliver oil to customers at all hours of the night to keep them from being cold, said his daughter, Shamira Glenn, who returned home to Roanoke in 2007 to run the family business.
Smith would leave the house at 4 a.m. to bond people out of jail, too. But if you needed help on Sunday morning, Glenn said, "You were going to have to wait, because he was going to church."
But for his own children, there'd be no hurry at all.
"All of us knew, we better not get in jail, we'd have to sit there forever," Glenn said.
Always active, Smith was a YMCA regular, for years waiting at the door at 5:30 a.m. to get his workout in.
He was also a Y board member in the late 1980s when the old Central Y in downtown and the old Hunton Y favored by Roanoke's black community merged. Smith was a key player in making the merger work, said Cal Johnson, then executive director for the Y.
"He was one those guys who had the leadership ability to bring different parts of the community together," Johnson said.
The man who had once decided to hate all whites came to make it a hallmark of his life to understand others. In his 80s, he was still at it, learning about Judaism from a young man named Adam Cohen he'd met at the Y, and about Islam from a young Muslim he'd convinced to become a bondsman.
"He always saw the good side of people. He always saw the inner person," said Cohen, who called Smith an inspiration. Their friendship lasted for more than a decade, and Monday, Cohen still had on his computer screen saver a quote from Smith: "Every day is a good day. Some days are better."
"If there's anybody who deserved to be bitter about things like race, he did," Cohen said.
Smith recognized his blessings, but didn't claim he deserved them.
Ask Smith how he was doing, and his answer was always the same: "A lot better than I deserve."
"That was his thing to the end," his daughter said, " 'I'm doing better than I deserve.' "