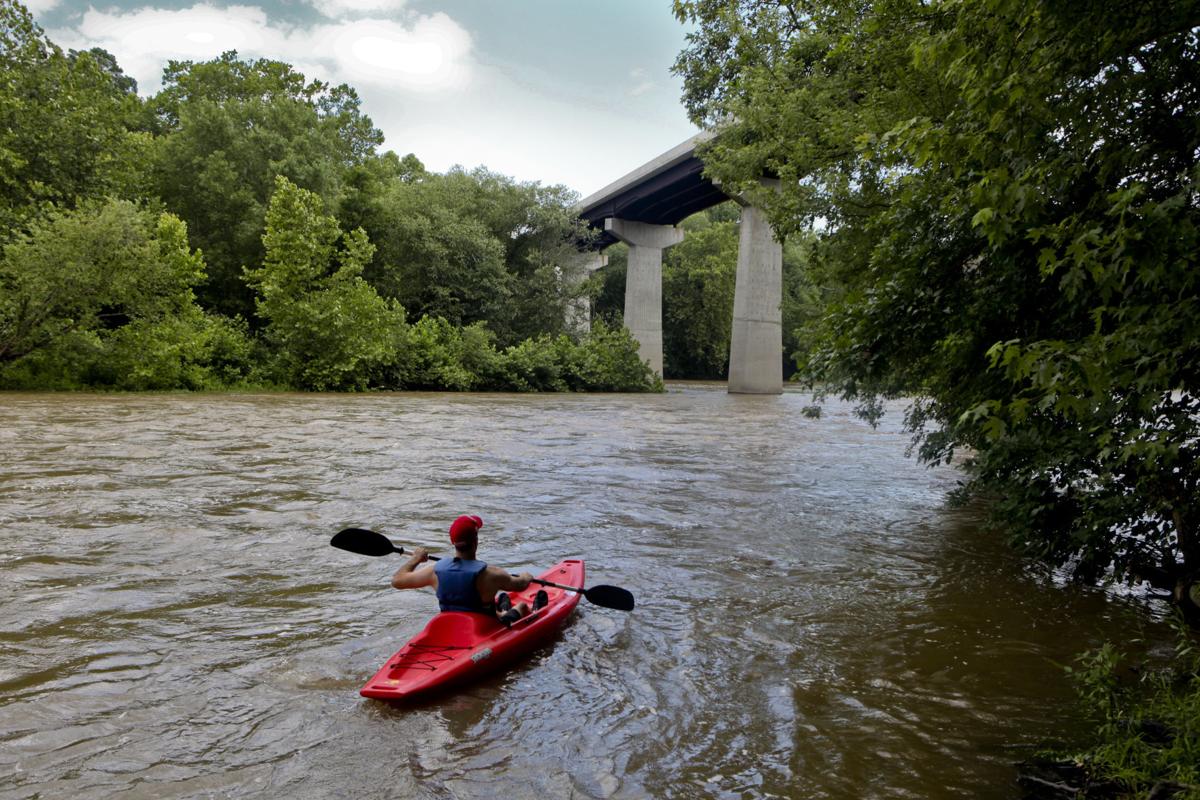 Take note, boaters and floaters: You may need your papers in order next year.
A law passed in March requires commonwealth bona fides beginning Jan. 1, 2021, for boating access sites that the Department of Wildlife Resources owns or manages.
For river outfitting businesses, that could bring a logistical quagmire when people show up to canoe, kayak or tube down the river. Buchanan-based Twin River Outfitters sees up to 200 people on nice, in-season days at the James River, business co-owner John Mays said. He expects that he and his staff would have to help most of them sign up online for a $4, one-day, access pass.
Outfitters aren't responsible for it by law, but reality dictates otherwise, Mays said.
"It puts us right in the middle of that transaction, even if we don't want to be," he said last week. "I drive a bus up to the Springwood Boat [Launch], and I can't do that if I don't know [whether] they all have their own day passes. It really creates a very harsh administrative burden. It's about a 10-, 15-minute online transaction on a website that's not very user-friendly to do."
The Department of Wildlife Resources, formerly known as the Department of Game and Inland Fisheries, owns one access point and maintains five others in Botetourt County including the Town of Buchanan Park, right next to Mays' outfitting company.
Mays said there are about 50 outfitters in Virginia, and 350 landings that the law will impact.
"It will put us in the middle of having to explain a million times, sometimes helping them when they can't do it," he said. "I just don't have the staff for it. I don't have extra computer terminals. … It's not tourism friendly. It's not going to be well-received."
If you're younger than 17 and won't be paddling, you have no worries. But most using the accesses will need to have one of the following: a Virginia hunting, trapping or fishing permit; a Restore the Wild membership; a Department of Wildlife Resources-issued boat registration; or a one-day access permit.
The Department of Wildlife Resources did not bring the bill to the Virginia General Assembly. Del. Hyland "Buddy" Fowler, R-Ashland, did. It passed without much attention, said Del. Terry Austin, R-Botetourt.
The issue wasn't boating, but parking, said Austin, who voted for it. It was designed to address canoers, kayakers and floaters without permits who fill boat ramp parking lots, thus leaving boaters with permits no place to park their vehicles after they put in, he said.
The bill "sort of fell through the cracks, and people supported it under the premise that we were trying to fix the parking lot issues, and in the bill was the language associated with canoes and kayaks," he said. "Sometimes, as we all know, bills have unintended consequences, and I think this is one. … Often we have to go back and fix bills after they're adopted, when we learn more about the internal workings of them and the impacts of those associated."
Mays said he only found out about it this month, when one of his employees saw a new state sign about it, posted at the Springwood landing. Since then, Mays has received a package, on request, from the Department of Wildlife Resources. It included business cards with information on how customers can deal with it.
He reached out to the Botetourt County Board of Supervisors, which last week passed a resolution against it, and to Austin, who said he has been in touch with Ryan Brown, executive director of the Department of Wildlife Resources. Austin said that he and Brown agreed to work on the issue.
"And we certainly don't want to deter individuals who want to … canoe and kayak and enjoy our waterways and contribute to our economy by shopping at our stores or eating at our restaurants, or things of that nature," the delegate said.
"I think the department is working with all of the canoe and livery outfitters around the state to see if they can be issued a blanket permit, where if we don't get something implemented in the spring, that they then wouldn't have to sell a license to 250 people [who] walk through their door on a Saturday morning."
As officials work on possible fixes, they may encounter more voices. Friends of the Rivers of Virginia, a Roanoke-based river conservation group, has issued statements that complain, among other things, that the Department of Wildlife Resources doesn't need the money, and that federal law prohibits such fees on "vessels operating on navigable waters in the United States."
"My analogy is, [what] if we said to everybody who rides bicycles, you need to pay a fee or a tax for riding your bike on the road?" said Bill Tanger, who chairs the Friends of the Rivers of Virginia board. "There are certain things in life that ought to be nominally free, in the sense that you don't have to pay as you go. Riding a bike and floating on a boat or canoe in the river, those are two of them."