FINCASTLE — A Botetourt County man received suspended jail time Thursday on misdemeanor charges that he filmed young adults in a bathroom at his home.
David Blair DeHaven, 51, a former PTA president and Liberty University Online adjunct faculty member, was convicted at trial in July.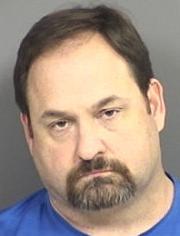 Trial testimony showed that DeHaven had a hidden camera in a basement bathroom that several people used during a party that one of his sons hosted. The camera, disguised in a USB charger, captured six people using the bathroom: three who were younger than 18 and three who were at least 18.
Among those filmed was his son, Ian DeHaven, then a senior at James River High School. The young man, now a college student, took the stand Thursday to read a statement in which he testified that his family has experienced "infamy and avoidance" since the March 22, 2019, incident.
After hearing witnesses at DeHaven's sentencing hearing, Judge Joel Branscom dismissed the charge related to the younger DeHaven but let stand two other counts of illegal filming, as well as four counts of contributing to the delinquency of a minor, also misdemeanors. In July, Branscom had dismissed three felony charges of unlawfully filming minors, after reviewing the video footage. That footage captured no nudity, he ruled at trial, but each of the other three people in the videos was at least 18 years old and was partially nude or undressed.
According to testimony in the July trial, DeHaven saw the high school students drinking and did not stop them or the party. DeHaven, who denied seeing alcohol that night, claimed at trial that he used the camera to ensure that maids were cleaning the bathroom properly.
The judge ruled in July that DeHaven had intended to capture videos, because he installed the camera to film the maid, a non-consenting adult.
"There is not a scintilla of evidence that there was any perversion or sexual gratification" involved, Branscom said Thursday, while adding that by law, "people have the right to privacy in the bathroom."
A party in which underage people were drinking alcohol "was the more dangerous portion of this, besides the violation of privacy," the judge said.
Branscom sentenced DeHaven to 30 days suspended on each count, with 12 months unsupervised probation on the misdemeanor convictions.
According to testimony at the July trial, a teenager at the party found the device and took it home to her parents, who found videos stored on a micro SD card. Her family told DeHaven about the videos the following day but decided not to alert authorities because they were unsure if the camera had been left in the bathroom accidentally, and they were worried about DeHaven's reputation.
Two other women captured on the film were informed and went to the sheriff's office in mid-May, after which authorities received the camera and videos.
DeHaven, who also ran his own coaching and strategy consulting firm, will never work in education again, and his chances at other fields that pay as well are stifled, too, defense attorney Ronnie Clay told the judge. The defendant received two job offers that were rescinded after background checks, Clay said.
Both of DeHaven's sons, a former work colleague, a former girlfriend and his fiance testified on his behalf, calling DeHaven a kind, generous and thoughtful person who was deeply involved in the community. DeHaven, who during much of the hearing held his head downward, his right leg fidgeting, did not testify.
Since his arrest, he has been kicked out of his church and threatened by community members, all due to a piece of equipment that "was left where it shouldn't have been left," Clay said in his closing argument.
Ian DeHaven, often speaking through sobs, said that he and his younger sister were ostracized at school. But he believes in his father, and said he wouldn't wish on anyone a single day of what the elder DeHaven has gone through since his arrest.
Botetourt County Commonwealth's Attorney John Alexander argued for 12 months on each conviction, adding that he would leave it to the judge's discretion whether to apply active jail time. Alexander told Branscom that "the effects on Mr. DeHaven are based on his decision" to leave a camera in that bathroom.