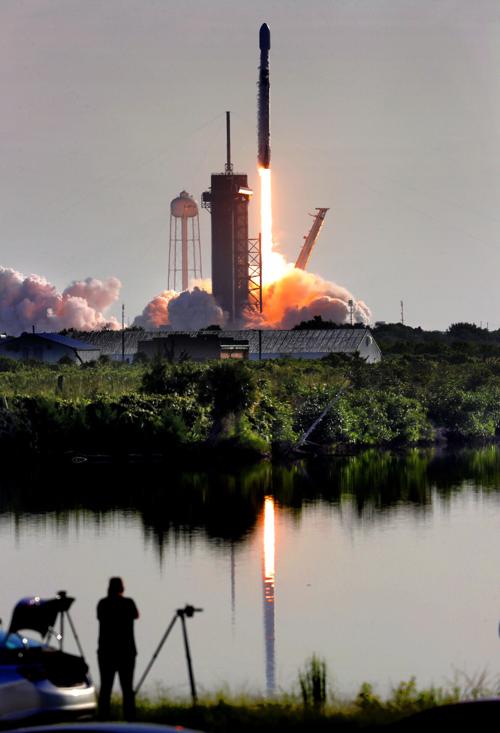 Billy Markham has been calling Verizon every couple years to ask about getting an internet cable to his house nestled in a hollow in Wise County.
The answer was always the same: for $23,000, it's too expensive and not worth it for the internet service provider to lay the cable.
So the Markham family resorted to using hot spots on their phones. The internet quality isn't good, and it means the monthly phone bill is more than $300.
Markham's son, who is in fifth grade, would suddenly lose connection while doing his homework on his laptop, so he'd lose all of his work and have to start over. Instead of enjoying his Sundays, he'd spent them in a library parking lot crying because that was where he could get WiFi to do his homework. Markham, who works in IT for Ballad Health, would get a message sent to his pager in the middle of the night and have to drive into town to find WiFi to assist with the issue.
"You fall so far behind when you don't have technology," Markham said. "It's a big deal when you're not caught up with the rest of the world."
The school division offered the Markham household the opportunity to test out Starlink. Elon Musk's SpaceX has been launching satellites into space and recently began offering internet service to remote or rural areas from its Starlink constellation. Markham is one of the service's first customers in Virginia after the school division developed a program to cover the cost for households with children that don't have access to broadband.
"This has changed our whole world," Markham said.
For those living in rural areas where it's the most challenging to deploy broadband, satellite internet has emerged as a promising solution. Some gubernatorial candidates have hailed it as the answer to the commonwealth's broadband problems. Sen. Todd Pillion, R-Washington, said it can "provide a viable and more cost-efficient alternative to expanding internet to rural and unserved areas." But Musk's bold effort is something even he has acknowledged has a high likelihood of failure.
Virginia has boosted its efforts in the past few years to close the digital divide and effectively get all households and businesses access to broadband, mainly through cable wires or fixed wireless that uses broadcast towers to transmit internet signals via radio waves. With satellite internet being a new and unproven technology, the state is reluctant to spend taxpayer money on it.
"The governor's team has looked at it," said Evan Feinman, Gov. Ralph Northam's chief broadband advisor. "We just can't justify it in terms of expenditure."
SpaceX has already launched more than 1,000 satellites for its pilot program called "Better Than Nothing." The company has approval to launch about 12,000 satellites.
The company says that with more satellites, the reliability and speed of service will improve. Musk has promised to double speeds by the end of the year, making it faster than many cable competitors. A few months ago, the Federal Communications Commission awarded the company $900 million to support its quest.
Service is being offered to a select group of individual customers, and Virginians in various rural areas have been requesting orders.
Users make a single payment of $499 for equipment, including a user terminal, mounting tripod and WiFi router. The monthly subscription cost for the beta program is $99. Musk said the cost is "actually our most difficult technical challenge."
Wise County and the school division are covering all of the costs of Starlink for 45 households for 12 months. Markham said that even though Starlink is a bit pricey, after the program is over, he'd likely keep the service.
"We'll continue to pay it because we don't have any other option, so it's better than nothing," Markham said. "We'll be glad we have it."
There may be a lot of hype around Starlink, but lawmakers and government officials are uneasy about putting government money toward subsidizing satellites.
"I think it would be be ill-advised to put a lot of state resources into Starlink right now," Feinman said.
There is limited information about Starlink available to the public. There are still a lot of unknowns, like what the longterm costs to users would be, speeds and the extent that it's available. Southwest Virginia users acknowledge it's not perfect; periodically they lose connection for up to 15 minutes.
Broadband industry groups submitted a report to the FCC against Starlink's bid for funding and claimed Starlink would hit a capacity wall within seven years. Financial analysts at Cowen Inc. came out with a report that Starlink won't have enough capacity to serve more than 485,000 subscribers at full capacity.
Feinman said it's too risky for the state to put government money into Starlink, especially when Musk could pull the plug on it.
"While I'm perfectly comfortable taking some risk in pursuit of this goal, there's a lot of risk involved in jumping into what is still an early-stage company with scarce dollars and the risk the danger that your investment with taxpayer dollars could go to zero," Feinman said.
Satellite internet — at least for now — is a good option for people in rural areas who don't have any other internet access. Cable and fiber-optic connections remain the gold standard for broadband, providing the fastest speeds and reliability. But providers have cited cost as the reason they struggle to expand service in rural areas like Southwest Virginia with mountainous terrain and homes that are more spread out.
"I do think there is a use case for Starlink-style service, whether it's Starlink or one of its competitors that are farther behind," Feinmain said. "There are sets of structures in certain locations in Virginia that are very remote and would be very expensive to get online through terrestrial means."
The Short household reached its breaking point about two months into the pandemic. Brandon Short said his wife called him while he was at work. The hot spot was down, and their two children couldn't do remote learning so were instead running around the house. She couldn't take it anymore.
"It was a tough day at the Short house," he said.
Desperate for help to get reliable internet, Short emailed all of his representatives from the Wise County Board of Supervisors to Rep. Morgan Griffith, R-Salem, and U.S. Sen. Mark Warner, D-Va. He reached out to the CEO of Comcast. Short lives about 600 feet away from relatives who have broadband through Comcast, but providers say cost prevents them from running cable to his house.
Then he got Starlink. He said his kids can do their schoolwork and the family can stream entertainment on TV. Because it's been difficult during the pandemic for children to socialize with one another, reliable internet has helped his children chat with friends while playing video games.
"That has helped them out emotionally and mentally," Short said.
It could be a while until houses in hard-to-reach and rural areas get broadband. In the meantime, Southwest Virginia is working on expanding Starlink access.
Sen. Jeremy McPike, D-Prince William, pushed for the Virginia Coalfield Economic Development Authority to receive $500,000 in state funding for this purpose. Jonathan Belcher, executive director of the authority, said the goal is to cover all of the costs for 12 months for several hundred households that don't have broadband access. Officials are seeking an additional $3 million in funding through other sources to get Starlink to 2,500 households.
Starlink users in Southwest Virginia are hoping Musk's mission is a success. They don't have faith in the telecommunication providers to get the job done.
"You pay bills online, schedule doctor appointments online, do telehealth to see a doctor online, go to school online," Markham said. "In this day and age, you need internet to survive."