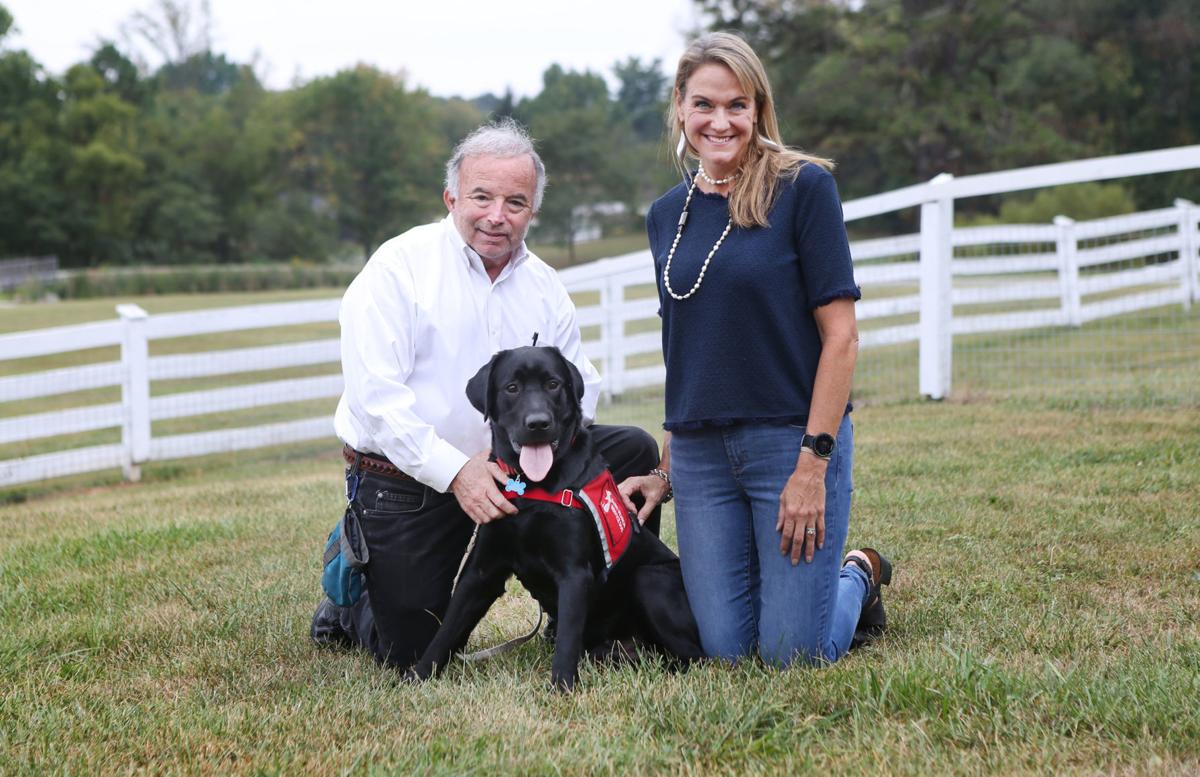 The last time I wrote about Saint Francis Service Dogs, the local nonprofit was seeking volunteers. In September 2019 at the Grandin Theatre, it staged a free showing of "Pick of the Litter," a heralded documentary that follows training for five seeing-eye service dogs.
As a result, "we had more than 30 people fill in our volunteer forms," Youell told me Tuesday. That "was huge" and far beyond the group's expectations.
Nine stepped forward as future "puppy raisers," the most time-consuming kind of volunteering one can perform for Saint Francis. Another 19 signed up to be "puppy sitters," folks who agree to give "puppy raisers" a break for vacations or trips out of town.
And nine others volunteered as dog walkers. Those are folks who visit the St. Francis Service Dogs headquarters in Hollins and exercise puppies undergoing advanced training.
The happy result was that the organization had more than enough volunteers for a batch of four puppies that arrived at Saint Francis late in 2019 and at the beginning of 2020. And then the coronavirus happened.
As you might imagine, the COVID-19 pandemic forced many changes to an organization that once relied heavily on person-to-person and human-to-animal contact. In early 2020, "Before any more [puppies] could come in, we went into shutdown," Youell said.
American Airlines temporarily suspended a program that transported puppies from breeders around the country to service-dog training organizations such as St. Francis. Breeders halted breeding (almost all the service dogs are retrievers), which vastly limited the animals' availability and increased the prices, too.
Training/placement groups like Saint Francis were forced to retool in-person classes and move them largely online.
But if anything, the pandemic only heightened demand for service dogs. Each of the animals undergoes nearly two years of training before being placed with clients at no charge. Typically, the clients live within a three-hour drive of Roanoke.
Clients include people who use wheelchairs or have trouble maintaining balance or bending over; folks who suffer from cerebral palsy and muscular dystrophy; stroke victims; and children with autism.
For those folks, service dogs offer a measure of independence — opening doors, retrieving items such as phones or purses or even a TV remote control. They can also attract the attention of others when a client suffers a medical emergency.
Back in 2019, St. Francis had 20 clients on its waiting list for dogs and a queue of 90 others waiting to get on that list. It placed 10 dogs with clients in 2020. Right now it has 18 clients on the waiting list and 190 people that are trying to get on that list.
Most of the puppy-raising training that used to happen in classes has been moved to socially distanced online videos, a library of which are available online. St. Francis has restarted its puppy-sitting and dog-walking programs.
Currently, Saint Francis has 33 dogs undergoing training. One of them's pregnant and is carrying seven pups that will eventually enter the program, too. (Roughly half the dogs don't work out as service animals and are placed in homes as pets.)
Though heavily dependent on volunteers, Saint Francis Service Dogs has a budget that totals just under $1 million annually, Youell said. And right now they're in the middle of a fundraiser called "Barks and Rec 2021."
They're seeking pet-lovers from this region who are willing to use social media to help raise money for operations.
The program launched Feb. 1. It's modeled after fundraisers such as walkathons — although obviously it's not a mass event because of the pandemic.
Instead, participants are being asked to devise their own individual challenge, and seek supporting donations for that from family, friends and coworkers.
The fundraising goal is $50,000, and about 65% of that already has been reached via participants and pledges they've attracted.
For example, the week of April 19-25, Youell will hike seven mountains in the Roanoke Valley known as the "seven peaks" and seek donations related to her progress. An old friend from Philadelphia will join her on those hikes and is raising money, too, she said.
The type of activity isn't particularly important, nor must it involve feats of physical endurance, Youell told me. It's very much a "do your own thing" endeavor.
"It can be whimsical, it can be serious," she said. "You could say you're going to rock on your front porch for an hour," and raise money that way.
Participants pay a $25 registration fee, through the organization's website, saintfrancisdogs.org, then design their own challenge, then put out the word about it through Facebook, Twitter, Instagram or other forms of social media. They are encourage to share photos from their adventures on social media using the #barksnrec2021 hashtag.
"We'll emerge from this [pandemic] better than before," Youell told me. "But we're all looking to emerge."