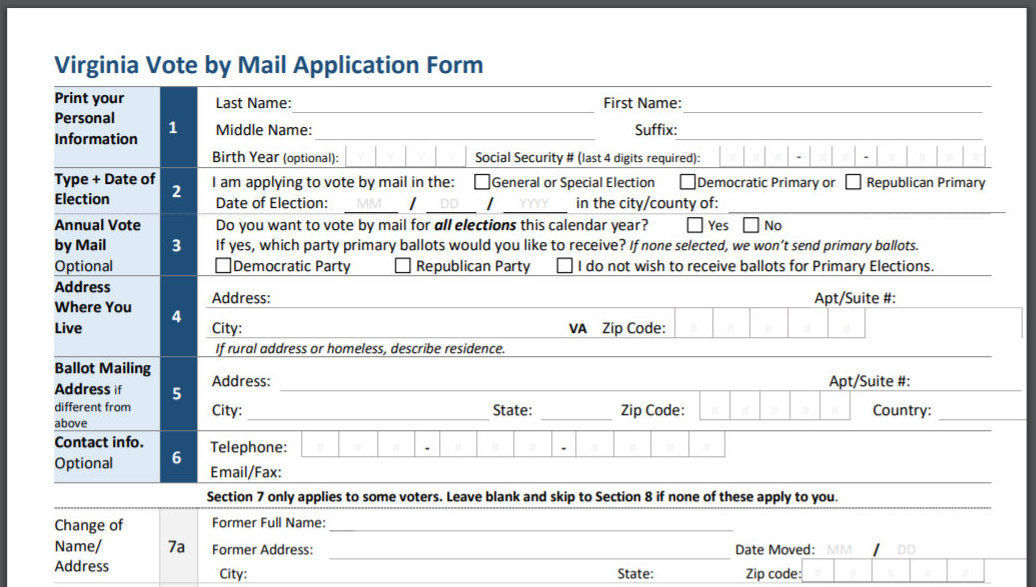 Are you chomping at the bit to vote in November's elections? If so, you're going to want to read on for some election-law news. Several recent changes by the Virginia General Assembly have made voting more convenient and easier than ever. But there are potential pitfalls you need to avoid.
Uncertainty over the COVID-19 pandemic's effects on the Nov. 3 election have resulted in a deluge of absentee voter applications this year. Roanoke Registrar Andrew Cochran told me Monday that his office already has fielded nearly 2,500 absentee applications.
"I would say [that number] is highly unusual at this stage of the game," Cochran said. As of Monday, the city of Roanoke had roughly 62,000 registered voters.
Unlike some other states that automatically mail ballots to all registered voters, the only way to vote by mail in Virginia is to vote absentee. And registered voters must apply to do that.
A change in state law that took effect July 1, however, eliminated a previous requirement that voters list a "valid reason" — such as health, travel or business — on absentee ballot applications.
That means any already-registered voter can vote by mail this upcoming November. But to do that, they first must fill out an absentee ballot application. There are a few ways to accomplish that.
One is to call your locality's voter registrar's office and ask them to mail you an absentee ballot application. You must fill those out and mail them back. Then, sometime in September, the registrar will send you an absentee ballot.
Perhaps the easiest way is to apply online for an absentee ballot. You can do that by going to vote.virginia.gov (with no period at the end). But you must do a bit of navigating from that page.
First, at the top of that page, click on "Casting a Ballot," which takes you to another page. On the second page, choose "Absentee and Early Voting" from the menu on the left. It takes you to a third page. There, scroll down six paragraphs and click on "Apply online to vote by mail."
That takes you to a fourth page, where you must click on "Apply to Vote by Mail" to begin the online application process.
Another way is to print out the online application form at vote.virginia.gov, fill it out, and mail or email it in to your local registrar.
Roanoke County Registrar Anna Cloeter said some applicants are emailing her scans of completed applications, and she's processing those. Others are taking photos of completed absentee ballot applications on their cellphones and emailing them to her. Cloeter said she's processing those, too.
Potential vote-by-mail pitfalls
Voting by mail in Virginia isn't necessarily foolproof. According to a National Public Radio report that came out Monday, hundreds of thousands of mail-in ballots go uncounted in the United States each year. That's because voters make mistakes in filling them out, or ballots arrive too late to be counted.
Until July 1, Virginia was one of the states in which mailed ballots had to arrive at a registrar's office no later than Election Day to be counted. In the past I've written about the problem of late-arriving absentee ballots. Some have shown up 10 days late even though they were postmarked five weeks early.
A change in the law this year allows mailed ballots to be counted if a registrar receives them by noon on the third day after the election, provided the ballot envelope is postmarked on or before Election Day.
The NPR analysis found that in Virginia's 2020 presidential primaries in March, 5.63% of mailed absentee ballots were rejected for arriving late. That's more than 1 in 20. Yikes.
There are other reasons why a Virginia absentee ballot could be rejected, even if it arrives on time.
Voters mailing in their ballots must also closely follow the instructions that come with them. For example, inside those, you'll find two envelopes. One is the "B" envelope and the second is the return envelope, bearing a registrar's mailing address.
Ballots must be completed, then placed in the "B" envelope. Then a voter has to write their full name and address on the "B" envelope and sign it. If your first name is "Daniel" and you instead write "Dan" on the envelope, it will be rejected.
The same could happen because of a missing generational suffix, such as "Jr.," if a son and father live at the same address, or if there's a missing house number or ZIP code.
A witness' signature is also required. (The witness signature was waived for the recent June primaries, but it's unclear if that will be the case in November.)
Then voters place the "B" envelope inside the return envelope and mail it back. Ballots that arrive at a registrar that are not inside a properly filled-out "B" envelope will be rejected.
Early voting is easier than ever
For that reason, early in-person voting might be a better solution than voting absentee by mail in November's election. Many voters don't know it, but you can cast a ballot in person at your locality's voter registrar's office up to 45 days before an election.
In the past, you had to fill out an application to vote early and list a valid reason why. A new state law that took effect July 1 eliminated those requirements. Now, registered voters need only show up with proper identification to vote.
This year in Virginia, early voting begins Friday, Sept. 18. And it will take place every weekday at each registrar's office. Those will also be open the last two Saturdays before the election. It's one way to avoid long lines and/or social distancing concerns on Election Day.
Photo ID no longer required
Whether you vote early or on Election Day, you will no longer need a photo ID to vote in person. That's yet another change that went into effect July 1.
Virginia began requiring voter photo ID in 2014. This year, the Virginia General Assembly repealed that requirement.
You can still use state- or federal-issued photo IDs to identify yourself to election officials, but those are no longer necessary.
You can also substantiate your identification with a bank statement or a utility bill that bears your name and address, so long as it's not more than a year old.
If you have no such document, you'll be able to sign an "ID confirmation statement" in order to vote.
Be the first to know
Get local news delivered to your inbox!