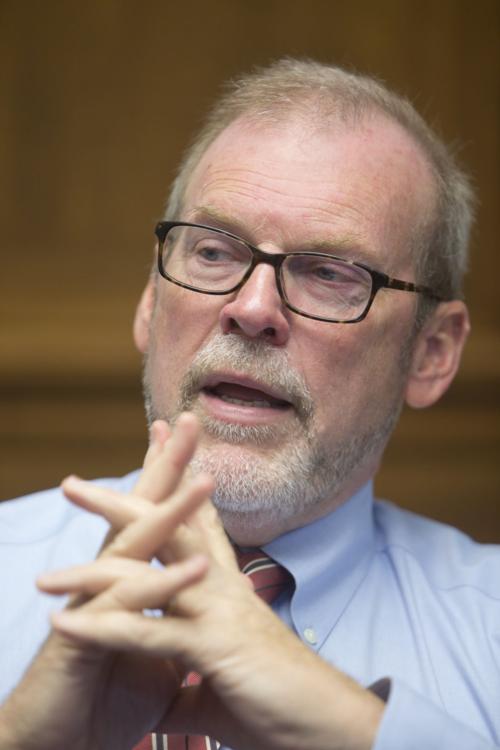 George Moran of Christiansburg was one of a number of readers who called me early in June because he hadn't received his $1,200 federal stimulus check.
The 75-year-old widower probably didn't have a pressing need for cash. He still works full time at a supermarket, after an early retirement (at age 56) from a career in the insurance industry.
Right now, Moran told me, he collects Social Security, plus a pension that his current union told him he had to begin taking at age 70, plus his full-time pay from the grocery store. (Moran told me he's been working for 60 years. God bless him.)
Still, he deserved that money, because every other adult nondependent was getting it, too. And Moran's stimulus check had not arrived.
He tried to call the IRS on its toll-free line, but like most callers to that he wound up in voicemail limbo. Moran never got an opportunity to speak to a human being.
"I was just wondering if you know of anybody who has called the [IRS toll-free number] and got to talk to a live person," Moran said in the voicemail message he left me. "Thank you for all you do to help people. You're a godsend."
I called Moran back pretty quickly. By then I had learned that congressional offices were willing to advocate for constituents who had not received stimulus payments. I suggested he call the district office in Christiansburg of Rep. Morgan Griffith, R-Salem.
Moran did so and that phone was answered by a real person. She quickly mailed him an authorization form to fill out, listing his Social Security number, contact and other information. It gave Griffith's office permission to advocate with federal agencies on his behalf. (The Privacy Act of 1974 requires members of Congress or their staff have written authorization before they can obtain information about an individual's case.)
The form arrived June 11 and Moran immediately filled it out and sent it back.
On June 15, he received another letter from Griffith. If anything, one could characterize it as polite and solicitous.
"Thank you for contacting my congressional office and allowing us the opportunity to assist you," the congressman wrote in the letter. "I have contacted the appropriate officials on your behalf."
A few weeks went by and nothing happened. Moran didn't have a lot of time to sit and wonder about his missing stimulus check because, remember, he's still working full-time at age 75.
Then on July 10 Moran received another letter from the congressman. In that, Griffith wrote: "The IRS has informed me that your inquiry is being forwarded the wage and investment team for research."
A couple more weeks passed. And then on Thursday, Moran stopped by his bank to get some money.
"I went to the ATM machine," he told me. After the withdrawal, "I looked at the receipt, which said I had $1,200 more than I expected." Bingo!
He called his bank, and "they confirmed it was a $1,200 electronic transfer" from the IRS, Moran said.
That money, the bank employee also told him, had been deposited July 29.
Next, Moran called Griffith's office "to thank them for the help." Then he called yours truly, and thanked me, too.
"Griffith has been the finest person, other than you," Moran said. Aw, shucks.
Citing "confidentiality rules," Griffith's office declined to tell me how many constituents his staff had helped collect stimulus payments. That's odd — why would the mere number of people in a group be "confidential?"
"Most have been from individuals who either do not file federal income taxes, because they depend on Social Security assistance or make less than needed to file, or filed later this year. The IRS did not have their banking information on hand, delaying the payments," Griffith said in a statement his office emailed me.
Those people are not alone. I'm still getting calls from some readers who haven't received their stimulus payments, which Congress authorized in March. One of them is Margaret Gray, who called me last month.
The best thing those folks can do to help ferret out glitches that have delayed stimulus payments is to contact the office of their congressional representatives. Based on Moran's experience, that really can help.
To get such assistance, you first need to know the congressional district in which you live. There are three within The Roanoke Times circulation territory.
Residents of the 5th Congressional District should call the Danville office of Rep. Denver Riggleman, R-Nelson, at 434-791-2596, or Riggleman's Charlottesville office at 434-973-9631.
Residents of the 6th Congressional District should call the Roanoke office of Rep. Ben Cline, R-Fincastle, at 540-857-2672. His Lynchburg district office number is 434-845-8306. His Staunton office is 540-885-3861.
Residents of the 9th Congressional District can reach Griffith's Christiansburg office at 540-381-5671 or his Abingdon office at 276-525-1405.
The assistance you'll get at any one of those won't be immediate. Thanks to the Privacy Act of 1974, you'll first have to go through the rigmarole of filling out one of those authorization forms. And you will have to be patient, like George Moran was.
But based on his experience, it can pay off.
Be the first to know
Get local news delivered to your inbox!