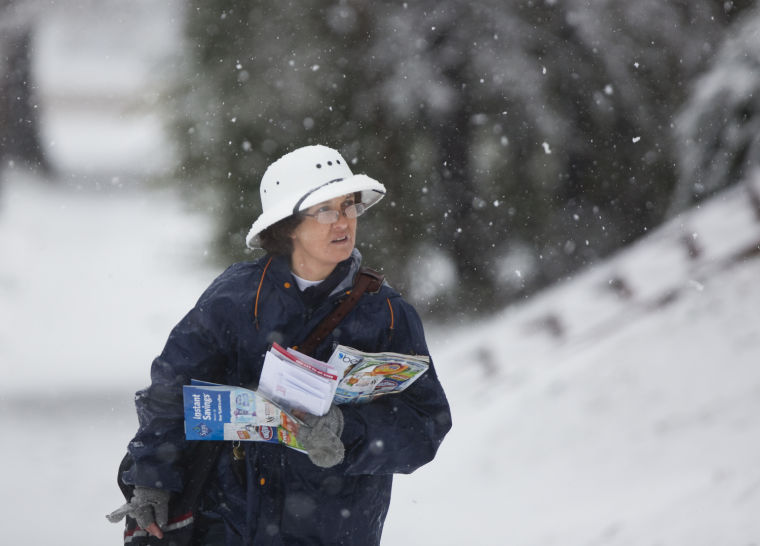 In this space you've read a lot lately about wayward and slowpoke mail. And if you're a fan of mail-tracking nightmares, make sure you read to the end, because we have yet another doozy.
In the meantime, let's focus on an unheralded aspect of the U.S. Postal Service. Several readers have recently contacted yours truly to express hopes that customers missing their mail aren't blaming that on letter carriers who make daily home deliveries.
We'll start with Bob Daniels in Snowville, which is due south of Radford, along the Little River.
"With all the talk of [post office] delays and service missteps, I thought I would let you (and your readers) know it's probably not our local mail carriers to blame," Daniels wrote in a recent email. "They don't get enough praise for their attention to service."
Daniels proceeded to offer a good example, courtesy of his and his wife's letter carrier. It had to do with a recent package she ordered online.
"The seller chose USPS as the carrier. The package was in a cardboard box too big to fit in our rural-sized mailbox, our driveway (1/3 mile uphill) was iced in, and the weather forecast called for freezing rain," Daniels noted.
"So our carrier, Jeff Hinton, double wrapped it in a plastic bag and left it under the mailbox. These guys and gals always seem to go the extra mile. I've been into a number of post offices in our area and without exception they have been the kind of people any organization would be proud to have as their public face.
"With all the talk of how the mail is not getting through (and I have some stories of late deliveries), we need to keep in mind that the front line workers of the post office are not to blame, it really seems to be the external pressures to keep rates low and management making bad decisions that interrupt service."
He's not the only reader to stick up for their local mailman (or woman). Another is Dayle Wilke — she and her husband, Danny, live in eastern Roanoke County.
"You are absolutely correct about the state of postal delivery these days and [that] does need to be addressed. It is an absolute shame our postal system has become victim to the conservative idiocy of the past four years," Wilke wrote.
However, "I can't help but wonder how all of the negative publicity is affecting postal carriers. Our carrier is wonderful. He delivers, with a smile, that which he is given to deliver. He has many times gone above and beyond that which he is expected to do. That could probably be said of most carriers.
"How are they personally affected by the bad stuff published about the service they work for? I feel sure you understand what I am talking about," she wrote. "Can you find a way to offer them the applause and recognition they deserve? I feel sure they need it."
Three cheers for letter carriers! Mine is also remarkable in a positive way.
Sue and John Muffo of Blacksburg are no strangers to wayward mail. In the past holiday season, the couple received a handful of Christmas cards that were a month late.
"Yesterday [Jan. 25] was the clincher, however. Our granddaughter in Chicago received a Halloween card sent to her from Blacksburg, with a check, over three months ago. Her mother is keeping the card for her for next year."
The Muffos added: "A son in Richmond is a mail carrier. The new head of the [U.S. Postal Service, Postmaster General Louis DeJoy] eliminated overtime before Christmas and took sorting machines offline in the name of efficiency. We should not be surprised by such results."
I also heard from a recently retired letter carrier in Roanoke, Bill Roop.
"I just retired from USPS recently after completing 20 plus years as a city letter carrier in Roanoke," he wrote in an email.
"These type of problems have occurred prior to this past year and of course COVID-19 issues have in fact complicated delivery of regular mail and packages, but I am confident that COVID-19 is not the only issue effecting efficient mail delivery.
"These issues are nationwide not just in the Roanoke, Virginia, areas.
"Allowing vote by mail, one has to believe this past presidential election had numerous irregularities which surely affected the national election. Being a former employee, knowing some of the 'behind the scenes' decisions made by upper USPS management in efforts to cut costs no matter what, this is no surprise at all to me!
"Service is not a #1 priority for the USPS nationally or in Roanoke, Va. areas," Roop added. "These issues will only get worse in the future."
I'm not going to name a current Postal Service employee who wrote on the same subject, because I'd prefer not to put a management target on him. But here's what he wrote:
"I'm a letter carrier that has been working through this pandemic and Christmas holiday. Many mail handlers have been out for COVID; that meant no one to work the mail in the plants. Amazon and FedEx delivered many packages to us to be delivered.
"Believe me everyone here at the post office have been working their [you know what] off!!"
And now for the tracking nightmare, which comes to us courtesy of a Feb. 18 article by Margot Oxendine in The Recorder. That fine community newspaper serves Bath and Highland counties.
The article didn't identify the sender, who on Dec. 1 mailed two gift packages to the same address in Alpharetta, Georgia, from the Hot Springs Post Office. Both were tracked.
One package arrived in Alpharetta a few days later. By Feb. 16, the second package still had not arrived. The sender used the its tracking number to follow the package's journey over the next eight weeks.
The first stop was in Richmond on Dec. 2. On Dec. 3 it showed up in Hyattsville, Maryland, which is just outside Washington, D.C. That same day it bounced to a postal distribution center in the nation's capital, and then to another distribution center in Washington on Dec. 4, and then to a third on Dec. 5.
Next, it surfaced Dec. 22 at a "regional facility" in Atlanta. And then on Christmas Eve — at 9:50 p.m. — it showed up at Atlanta's Peachtree distribution center. Alpharetta is about 36 miles north of Atlanta.
On Christmas Day, it surfaced in Stockbridge, Georgia, which is about 20 miles south of Atlanta, according to The Recorder article. From there, it wound up in the Jacksonville, Florida, distribution center — where it stayed until Jan. 9.
That day it was back in Stockbridge. And its next stop was in Hyattsville, again. On Jan. 16, it was back at the Atlanta Peachtree distribution center, and it bounced around the Atlanta area until Jan. 20.
Weirdly, the next stop was Springfield, Massachusetts, on Jan. 21. On Jan. 22 it surfaced at a distribution center in Connecticut, and then it went back to Hyattsville. By Jan. 23 it was in Washington, D.C. It left Washington Jan. 25, and on Jan. 29 showed up again in Atlanta.
That was the last the sender ever heard of her package. The woman told Oxendine that next Christmas, she'll instead drive to Daleville and send her Christmas gifts from a United Parcel Service shipping store.
And what about this year?
"The sender could mail an insincere 'thank you' to U.S. Postmaster General Louis DeJoy," Oxendine wrote. "But who knows when, or even if, it might arrive?"