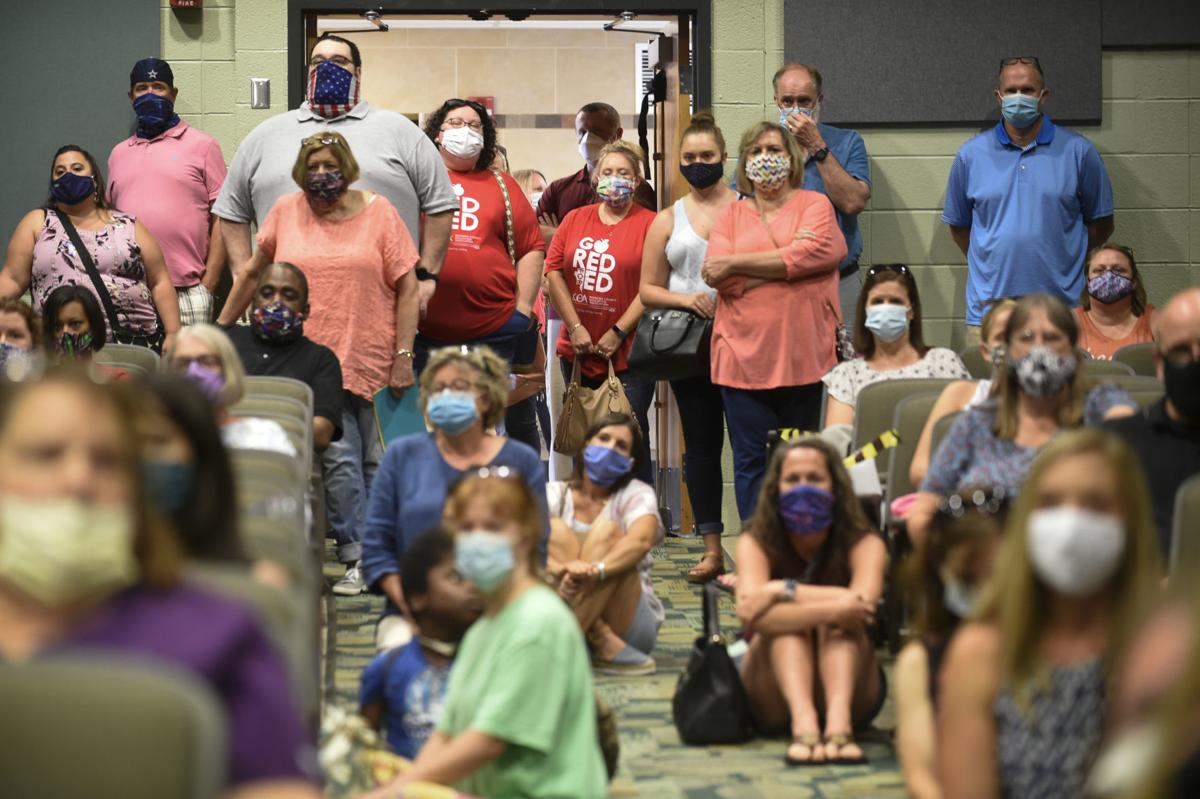 How should Roanoke County reopen its public schools in the middle of a pandemic? That question is raging right now. And though it hasn't yet been decided, already we've seen some eyebrow-raising consequences amid the debate.
One was the sudden resignation last week of Don Butzer as chairman of the Roanoke County School Board.
Butzer quit the chairmanship (though not the board) after some other members, behind his back, met with a group of "Reopen" parents who are pushing for a more expansive school reopening plan than the one proposed by county schools Superintendent Ken Nicely.
Nicely's proposal was formulated in accordance with guidelines issued by the Virginia Department of Education, which in turn were informed by public health experts. Under Nicely's plan, students from pre-K through second grade would return to school five days per week.
Students in grades three through 12 would attend in-person two days per week, and engage in remote learning the other three days. Nicely has said it's possible he might recommend third graders return to school five days per week, too.
Some of the local "Reopen" parents want all elementary grades back in school five days per week. Some others are pushing for grades pre-K through 12 to reopen fully. (In any of the aforementioned scenarios, all students would have an option for 100% remote learning.)
It's hard not to sympathize with parents who want their kids back in school. That's especially true of households with two working parents and multiple elementary students.
In many ways, the schools shutdown in March has greatly affected their lives, and forced hard decisions in terms of careers, supporting a family and staying healthy. It's also important to recognize that while schools' chief purpose is education, they also provide much more to society.
School is where kids learn important socialization and athletic skills. Schools, combined with aftercare programs, perform important childcare functions for working parents. For some students, school meals are the best nutrition they get most days of the week — and that's vital to their development. A school nurse may be the most frequent health care provider students see.
For all those reasons, nobody should discount the importance of reopening schools, or the desires of parents who want their kids back in classrooms and would like life to return to "normal," the way things seemed back in January and February.
Unfortunately, little is "normal" right now in America. The COVID-19 pandemic is still raging. Depending on where you are, the situation is actually more dire now than it was in March.
Thursday, there were more than 56,000 new cases in the U.S. — the highest number of any single day since the pandemic's beginning. And that's not simply because we're testing more. In some states, the rate of increase of infection is outpacing the rate of increase in testing.
In one state alone — Florida, population 21.5 million — there were more than 10,000 new cases Thursday. (Compare that to Germany, population 83.7 million, which had 503 new COVID-19 cases.) The virus is also spreading out of control in Texas and Arizona and elsewhere.
One thing those three states have in common is, each of their governors bowed to political pressures of "Reopen" movements. They ignored guidelines published by the White House Coronavirus Task Force, in terms of when they should reopen and how, and instead pushed ahead early.
And now they're paying the price for those mind-boggling screwups.
For example, on April 27, Gov. Greg Abbott banned local governments in Texas from requiring that citizens wear faces masks in public. But as new cases skyrocketed in the Lone Star State, Abbott on Thursday abruptly reversed course. He mandated that people in most Texas counties wear face masks in public. Repeat offenders are subject to a $250 fine.
By contrast, Virginia authorities have proceeded more cautiously. The commonwealth has much more closely adhered to the White House task force's reopening guidelines. As a result, the seven-day moving average of new coronavirus cases in Virginia as a whole has been trending downward since May 20. Since then, it's declined by more than half.
However, that's not true for Southwest Virginia. According to the Virginia Department of Health, the incidence of COVID-19 has risen steeply in this region during the same time frame. On May 20, our seven-day moving average was 36. By June 26, it had more than doubled, to 75. This region is heading in the wrong direction.
Though the number of cases here remains small relative to Northern Virginia, the virus is highly transmissible. The state of Florida used to have far fewer coronavirus cases than New York. But recent upward trends in Florida and downward trends in New York suggest the Sunshine State could eclipse the Empire State in the total number of cases by early August.
And that's why school leaders in Roanoke County should closely heed Virginia Department of Education recommendations, rather than bowing to the political pressures of any "Reopen" movement.
Reopening too many classrooms too soon could easily boomerang, just like efforts to halt the spread of the coronavirus have already boomeranged in Arizona, Texas and Florida.
The virus won't respect the imaginary borders of the Roanoke Valley's political subdivisions. And that means the wrong decision could affect not only Roanoke County, but everyone in the valley as well.
Concerned about COVID-19?
Sign up now to get the most recent coronavirus headlines and other important local and national news sent to your email inbox daily.