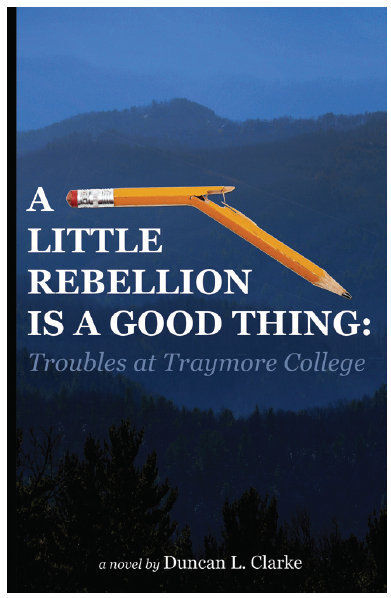 Traymore is an all-female state teachers' college nestled off Interstate 81 in a tiny mountain burg that bears the same name. It's ruled by Elzic Barton, a prudish autocrat who routinely has student dorms searched and professors' mail opened.
The ex-Navy captain actively discourages any whiff of dissent on campus. Professors who grow beards risk their "merit" raises. Barton censors the student newspaper and imposes an ironclad curfew on students. Even those of drinking age could be booted for a slight whiff of beer on their breath.
And then the late 1960s come along. Gusts of rebellion blowing across America reach Traymore and stiffen the spines of some students and younger faculty members. One is David Pritchard, a newly hired associate professor of political science who also holds a law degree.
Barton cracks down and hires private detectives to surveil faculty and students. Soon, lawyers from the American Civil Liberties Union begin sniffing around campus. Barton's victims begin winning civil rights lawsuits, and that threatens his 20 years of leadership at the college.
That's the plot of "A Little Rebellion Is a Good Thing: Troubles at Traymore College," published this month by Virginia-based Belle Isle Books. Although it's a novel, only some of it is fiction, said author Duncan Clarke.
Clarke, 79, is a professor emeritus from American University who lives in California. He's previously written nonfiction tomes covering international relations and national security. "A Little Rebellion" is his first novel.
It's a thinly fictionalized account of the launch of Clarke's long career in academia, which began in 1969 at then-Radford College. Professor Pritchard is based on Clarke himself. He spent much of the year rebelling against the dictatorial control of then-President Charles Martin. By then, Martin, a stalwart member of Virginia's establishment, had ruled the college for 20 years.
"I have never forgotten that one year at Radford," Clarke told me Thursday. "It was quite traumatic. It almost put an end to my academic career." It also turned him into a civil libertarian, he said.
I learned about "A Little Rebellion" from Charlie Boswell, a Roanoker who provided narration for the novel's audio book version. In that era, Radford had about 4,000 students. Among them was Boswell's sister and his later wife.
Martin, Boswell told me, used to stage fire drills in dorms. As the students evacuated and stood around outside, he'd have campus police search their closets and footlockers for contraband such as tobacco and alcohol.
Professors could get on Martin's bad side by simply not attending church, or not shaving, or hosting forums on subjects Martin disapproved of, such as the Vietnam War. Clarke did that once, at the invitation of the student Honor Society president. Martin noted his disapproval in no uncertain terms, Clarke said.
"One administrator told me if I continued doing what I was doing, 'I'll make sure you never get a job in the state of Virginia or anywhere else,'" Clarke said.
"It's historical fiction," said Boswell, "but [Clarke] said almost everything in the book actually happened."
Clarke told me Martin hired him into a tenure-track associate professor's position after a single brief interview, only days after he'd defended his doctoral thesis at the University of Virginia. At the time, that was unusual, Clarke said. Most newly minted PhDs could at best hope for a lower-echelon assistant professor gig.
"He wasn't interested in my academic background," Clarke told me. "What he saw on my [resume] was that I had worked two summers as an analyst at the CIA and I had a [law degree].
"Martin said, 'I like that. You're not one of those radicals like those pinkos in Blacksburg,'" Clarke recalled. "The ACLU was like the Politburo of the Communist Party to Martin."
At that time, Clarke said, Radford was a repressive place. He served as advisor to chapters of the Young Republicans and Young Democrats. Leaders from both groups were in his office every week, complaining about the same things.
"I'd never been in an environment where you couldn't say what you want to say," Clarke told me. "It's hard to realize how much courage it took in that day."
"Times changed and [Dr. Charles Martin] didn't," said Jack Chamberlain, an education writer for The World-News who covered much of the turmoil.
That year, Clarke said, "saw decisive lawsuits against the college and its repressive president which, in time, led to the removal of the longest-serving college president in Virginia, coeducation and the founding of Radford University, and restoration of long-denied academic freedoms and civil liberties for faculty and students."
One of events that drove Martin bonkers was a laudatory letter tenured professor Edward Jervey wrote to Redbook magazine in 1968, about a previous Redbook article advocating birth control and premarital sex. In the letter, Jervey said he might use elements of the article in history courses he taught.
The wife of Radford's history department chairman read Jervey's letter one day while thumbing through a Redbook as she stood in a supermarket checkout line, Boswell said. The result was scandal. The next semester, Jervey was reassigned to teach introductory freshman courses, Boswell said.
In a later lawsuit that Jervey ultimately won, the professor claimed the letter had cost him a $1,200 raise. Another professor charged that Martin had him disciplined after Martin opened a letter the professor had written to the University of Chicago.
Some professors organized a chapter of the National Society of Professors, an offshoot of the National Education Association. The NEA sent an investigator to Radford's campus and later issued a report that recommended Martin's dismissal.
Instead, the college's board of visitors "promoted" Martin to the post of chancellor and hired Donald Dedmon as president. Under Dedmon, Radford became a co-ed university.
Martin ended up resigning the chancellor's post in 1972 and moving to North Carolina. His final interview with The Roanoke Times — written by the late Joe Kennedy in 1973 — was full of bitterness and snubs he blamed on Dedmon. Martin died in 1987 in South Carolina.
So far, I've only barely cracked "A Little Rebellion." But it looks like an exciting read. The names of a lot of real-life people have been changed, and Clarke conjured parts of the story from his imagination. But the guts appear rooted in many uncomfortable realities from 50 years ago.
I'd say it's worth a read, or at least a listen.
"The headline should say, 'Great audio book available,'" Boswell cracked.
Be the first to know
Get local news delivered to your inbox!