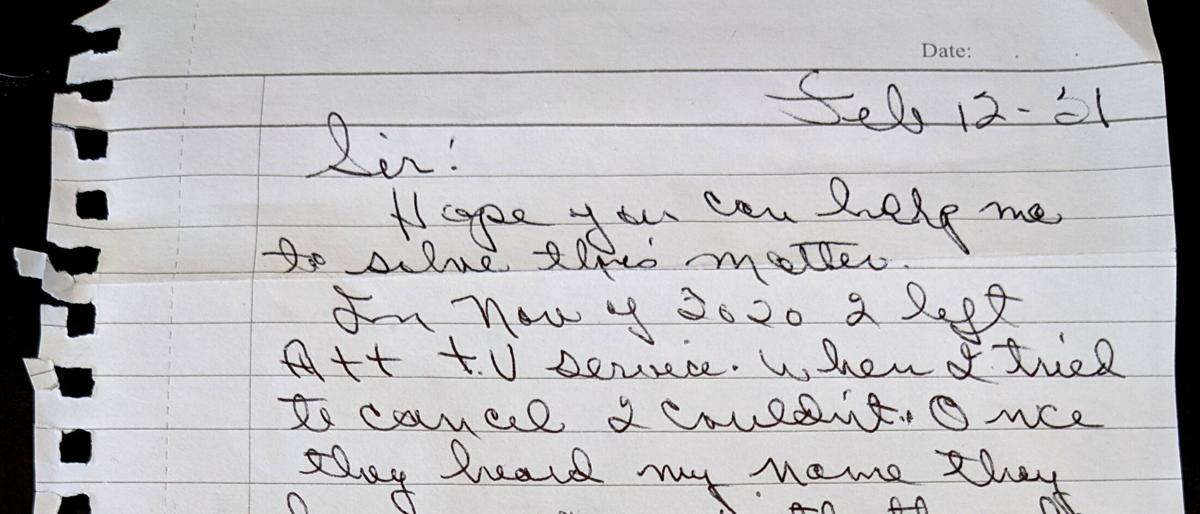 Sometimes it's useful to adopt a nautical perspective. Like waves in the ocean, life presents a constant stream of big and little issues. Occasionally, as with wind-blown sea swells, those problems loom larger the longer they persist.
Pat Shield's consumer dilemma totaled out at roughly $260. Though a relatively small sum, it grew larger each month. That concerned the 83-year-old, who lives on a fixed income in Roanoke County and values her credit score.
To Shields, the issue seemed insurmountable. She tried to cancel her DirecTV satellite television service herself, but for five months got nowhere. So she mailed a handwritten plea to this newspaper.
"Maybe someone can help," the note ended. It landed on my desk.
Shields signed up for DirecTV (owned by communications behemoth AT&T) about six years ago. In a somewhat old-fashioned practice, she used to pay her monthly bill in person at a Roanoke AT&T store, she said. And she was always on time.
Mostly, the service was trouble-free. But on a couple of occasions, Shields noticed the picture and sound would mysteriously go out on her television. The company sent a repairman to her house at least twice. She said he would fiddle with her remote and fix it.
"Whatever he did for a couple of minutes with the remote, it came back on," Shields said. "I said, 'What happened?' and he said 'I don't know.'"
Sometime last fall, Shields said she got fed up with AT&T because of another dispute with the company over a cellphone she bought at the store in September. That left her highly frustrated. And when she lost her satellite reception again around that time, Shields decided to end her relationship with the company.
On a few occasions, she tried to cancel the TV service by calling a DirecTV customer-service line. That didn't work, either when she called from home, or using the phone at an AT&T store on Orange Avenue. In the latter case, a customer service rep hung up on her, Shields said.
When the company sent her another bill in October, she decided to pull the plug on DirecTV literally. Shields yanked the wires from its satellite modem to her 55-inch flat screen. Shields pulled the modem's power cord from her wall outlet, too.
On Nov. 5, she boxed up the modem and its wires and, via United Parcel Service, sent the package to an Illinois address on the bill. She knew it got there, because she had a UPS tracking number. But the company continued to dun her.
Employees at AT&T's Orange Avenue store told her they couldn't help, Shields said. She also complained, in writing, to the Better Business Bureau, and sent the complaint and her documentation to an address in Georgia. Shields still hasn't heard from the BBB, she said.
It seemed time for yours truly to give it a stab, eh? So on the internet, I searched for "AT&T media contacts." Soon, a webpage with some names and email addresses (no phone numbers) popped up on my computer screen.
It warned, "AT&T media spokespersons do not have access to customer records and are unable to respond to customer inquiries." Most definitely, this was a customer issue. But hey, what was there to lose?
The top listed flack was Daphna Avila, so I started with a March 23 email to her. A day passed with no response. So on March 24, I emailed Jim Greer, the second-listed AT&T media contact.
He forwarded my message to Hannah Niemeier, who's based in Texas and handles public relations for AT&T's customer-service department. She emailed me quickly, requesting Shields' contact information.
Now we were getting somewhere.
I gave Niemeier Shields' phone number. Shields doesn't do email, I explained, and she doesn't own a computer. By then, Shields had another low-cost cellphone with a different provider. But she hadn't configured it to accept voicemail messages, I informed Niemeier.
"I am going to ask someone to look into this for her," Niemeier wrote me. But by March 29, they had struck out. "We have tried several times to reach the customer unsuccessfully," Niemeier reported.
That day I called Shields a couple of times, and she didn't pick up for me either. But she did on the third call. Turned out her phone had put itself on silent mode. I understood. My phone does that sometimes, too. What a pain.
Anyway, I gave Niemeier's number to Shields. In the meantime, Niemeier emailed me contact information for a customer service caseworker in Arizona named Sandra. "She will be much more helpful than me!" Niemeier wrote.
So I called Shields back and gave her Sandra's number. And they connected.
It took a few phone calls between the two, and some research on Sandra's end. Among other things, Sandra confirmed Shields had returned the modem and its wires back in November. And then Sandra phoned Shields with the good news.
Sandra closed Shield's account, and wiped out the $260 balance owed.
"She said it was all settled!" Shields said in a tone that melded joy with relief "[Sandra] told me 'it was not your fault,' and that 'You didn't do anything wrong.'"
"You are fantastic," Shields added. "Look at how fast it was taken care of! I thank you from the bottom of my heart."
What had gone wrong? How? And why? I received no answers to those questions. Below is what I got, from Lesley Merritt, AT&T's lead public relations manager for corporate communications.
"Customer service concerns and cancellations may be addressed through customer service 24 hours a day, 7 days a week, online at directv.com or by phone at 1-800-288-2020," she wrote in an email Friday. "Customers wishing to cancel DIRECTV service would need to call to be assisted by a representative."
It might be useful for AT&T to analyze why Pat Shields was twisting in the wind for five months. She's not the only person who's had trouble extricating themselves from DirecTV. On the company's message boards, one can find similar accounts from other dissatisfied customers.
If AT&T fixed little issues like those quickly, it could pay off in terms of its reputation. On the other hand, ignoring customer-service ripples is the wrong strategy.
Because like waves on a windy ocean, they tend to build, gain speed and loom higher.